Donny Osmond's Children and in-Laws Post Heartfelt Tributes as They Celebrate His 63rd Birthday
Donny Osmond turned 63 on Wednesday and was at the receiving end of cute messages and tributes from his children and daughters-in-law. 
American singer Donny Osmond's family celebrated him on Thursday as he marked his 63rd birthday by posting loving and well-deserved tributes to him on Instagram. 
Donny shared some of the wishes on his Instagram Story. Christopher Osmond, Donny's fourth-born son, shared a picture showing the celebrant and his wife, Debbie Osmond. 
In the snapshot, the cute couple posed with Christopher's newborn daughter Aussie Ray, whom he shares with his wife, Alta. Accompanying the picture was a message wishing his dad a happy birthday. 
Christopher posted another picture that showed him and his dad posing as they enjoyed a boat ride. In the caption, he said Donny is his hero and joked that he should stop getting older.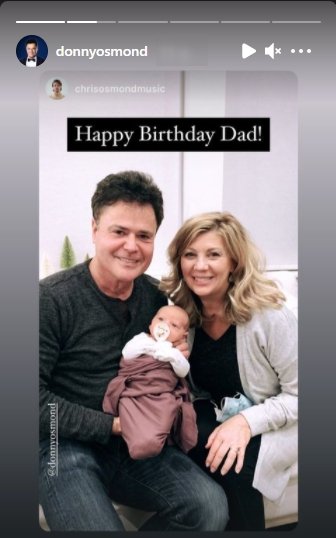 Christopher shared another photo that showed Donny babysitting his daughter, Aussie, and wrote that the adorable baby is excited to make countless memories with her grandfather. 
Donny also shared a post from Summer Osmond, his son, Joshua Osmond's beautiful wife. In the post, Summer shared a picture from her and Joshua's wedding that showed them posing with Donny and Debbie. 
He said the family is blessed to have her.
She captioned it by wishing Donny a happy birthday, describing him as her amazing father-in-law. Meanwhile, Melisa Osmond, the wife of Donny's second son, Jeremy Osmond, also wished him well. 
Donny shared a picture Melisa posted that showed the Osmond family members posing for a photograph during her and Jeremy's wedding. In the caption, she wished Donny a happy birthday, calling him "Our Bapa."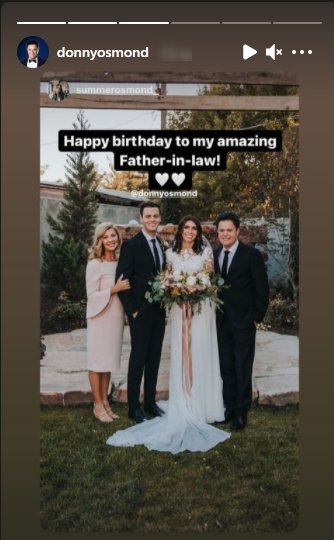 Donny thanked her for the birthday wishes as he shared the post on his Instagram Story. Melisa shared more pictures from her and Jeremy's wedding as she celebrated her father-in-law's wedding. 
In the caption to one of her posts, she said the 63-year-old is the best father-in-law and remarked that he has 11 grandkids and counting. Melisa also shared a picture from the Osmond's family trip.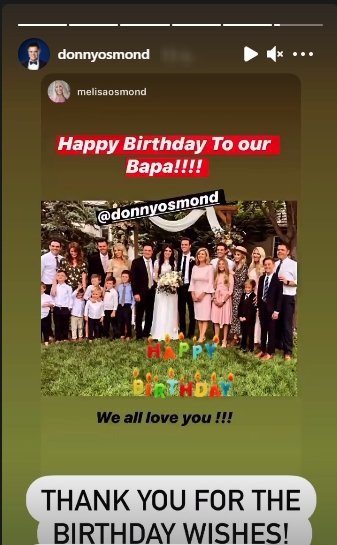 She described it as the best trip, adding that she is excited for 2021 and loves the Osmond family. Melisa also wished Donny a happy birthday. 
The posts show the incredible bond Donny has with his five sons, Donald Clark Osmond Jr., Jeremy, Brandon Michael Osmond, Christopher, Joshua, and their beautiful wives.
On Monday, the loving father-in-law paid tribute to Summer as she celebrated her 22nd birthday. He said the family is blessed to have her and is thankful Joshua is spending his life with someone as beautiful as her. 
Donny is a proud grandfather to 11 grandkids. That number will be 12 soon following the singer's announcement in August that his eldest son, Donald Clark, and his wife, Jessica, are expecting their fourth child.