Savannah Chrisley Gained 30-40 Lbs after Medication Therapy — Check Out Her Body Transformation
Due to medication for her endometriosis, Savannah Chrisley gained 30 to 40 pounds. The reality star took to social media to share her experience.
Reality star Savannah Chrisley took to Instagram to share a photo of herself as she opened up about her weight gain. She wrote in the caption:
"This photo was taken when I had an IUD and was on a medication at the highest dosage for 6 months."
STRUGGLING WITH HER WEIGHT
Taken in 2019, the photo shows her wearing a black strapless jumpsuit. In August, the "Chrisley Knows Best" star revealed that her endometriosis medication led to her gaining 40 lbs. 
The 23-year-old reality star also said she was about to undergo a third surgery. She talked candidly about how she had struggled with her weight because of her ailment. 
She said she was "insanely self-conscious" and felt her body had given up on her. Chrisley was diagnosed with endometriosis at 18 years old. 
Endometriosis, which causes inflammation, pain, and scarring, is when the uterine lining grows outside the uterus. Its symptoms include painful, irregular, or heavy periods.
Chrisley also opened up about the pressure she has faced growing up on TV.
HEALTH AND RELATIONSHIP WOES
The pain, she said, was oftentimes unbearable and had taken a toll on her mental health. She revealed that she had anxiety and depression. 
Another blow came when she and Nic Kerdiles called off their May wedding. Although they said they did not split, their decision sparked rumors.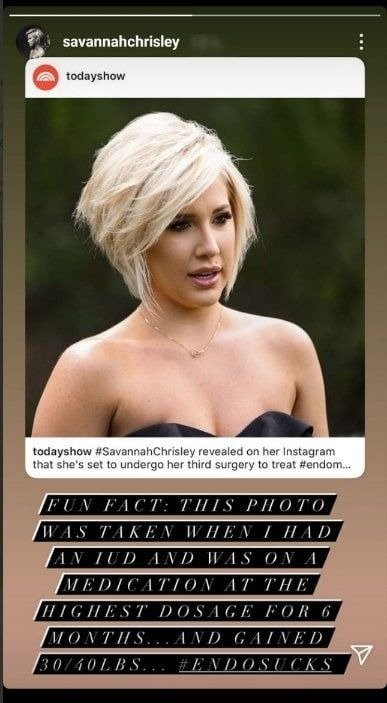 Chrisley also opened up about the pressure she has faced growing up on TV. She said she has struggled to try to live the kind of life that people expected of her.
Back in February, the reality star also shared how she lost 20 pounds. She credited a diet program called South Beach Diet for her weight loss.
Chrisley added that after losing 20 pounds, she gained 10 pounds back by building muscles, which she achieved by lifting weights. She said she was proud of her fitness progress.
As someone who had struggled with low-self esteem for most of her life, Chrisley said she realized what makes one truly happy is self-love.