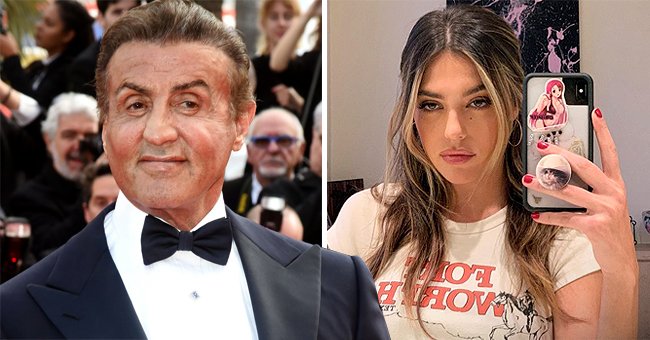 instagram.com/sistinestallone GettyImages
Sylvester Stallone's Daughter Sistine Is All Grown-up Wearing White T-Shirt in Her New Selfies

Sistine Stallone, daughter of "Rocky" legend Sylvester Stallone is all grown-up in new selfies she posed to Instagram posing in a white T-shirt.
Posing in a white T-shirt celebrating Texas, Sistine Stallone, the daughter of "Rocky" legend Sylvester Stallone looks gorgeous pouting for selfies the old fashion way by pointing the camera at a mirror.
The 22-year-old Sistine shared three images on Instagram this week wearing t-shirts repping the town of Fort Worth in Texas, one photo she is looking toward her phone's screen, and the second her eyes shine while looking straight at the mirror.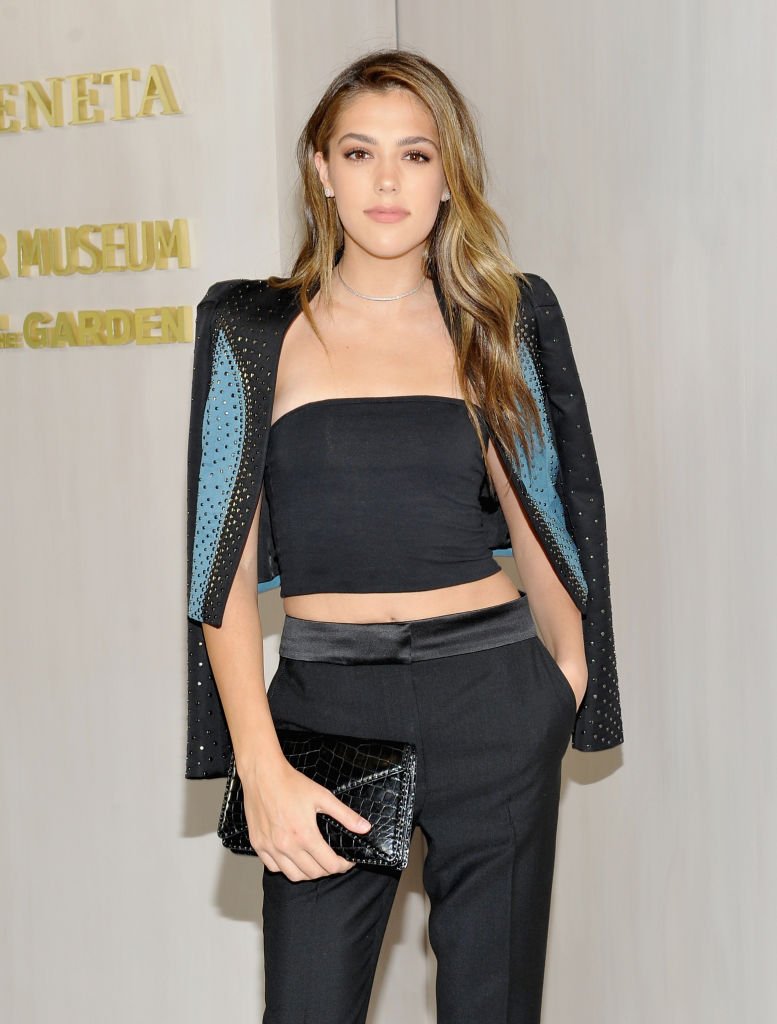 Sistine Stallone at the 15th Annual Gala of the Hammer Museum. | Photo: Getty Images
The "47 Meters Down: Uncaged" actress received so much support from fans for her bathroom mirror selfie, she has half her hair tied in a ponytail and an adorable kitten design on her phone's pop socket.
Sistine shared a smiling baby goat photo with the two stunning selfies which had many over her fan's comment jokes in relation to the goat photo as well as many users commented compliments to her, one user wrote,
"Not even going to lie, I liked this for the goat and then you."
Of course, Stallone's Instagram is filled with absolutely amazing photos of her, like this one for her styling a school-girl inspired look. In the last photo, she holds but a boutique of flowers in front of her face.
The two photo post is captioned with a purple heart. She makes the sweet school-girl look edging by styling it was black heeled lace-up boots and a small black purse with a chain handle.
Sistine Stallone is not only a beautiful face she is funny, creative, and smart. She and her old sister, Sophia have a podcast together where they talk about all different things, such as their love life, and even plan to have their parents on the show.
Recently they discussed that a potential boyfriend must be approved by all of the family members before he is welcomed into the house. The sisters shared that dad, Sylvester gives them great advice when it comes to boys,
"He actually gives the best dating advice, in terms of what to say if we don't know how to answer a guy's text."
Their show is called "Unwaxed" and released new episodes every Tuesday. The podcast can be streamed by subscribing to the show on Itunes and Spotify.
Sophia and Sistine have taken similar footsteps careerwise as they are both interested in fashion. They have a young sister, Scarlette is 18 years old and perhaps have a similar career to her sisters.
The sisters have two half brothers, Sage and Seargeoh. Sage tragically passed away in 2012, while Seargeoh has kept his life very private. Slyvester had his two sons with his ex-wife, Sasha Czack.
The sisters' mother is Jennifer Flavin. Flavin had been a model when she met Sylvester, the couple hit it off and were married in 1997 and had 3 beautiful girls together.
Please fill in your e-mail so we can share with you our top stories!