Shaquille O'Neal's Ex-wife Shaunie Praises Their Son on 2nd Anniversary of His Heart Surgery
Proud mom Shaunie O'Neal paid tribute to her son Shareef O'Neal on the second anniversary of his heart surgery, saying he is the strongest man she knows. 
On the second anniversary of her 20-year-old son Shareef O'Neal's heart surgery, proud mom Shaunie O'Neal took to her Instagram story to pay him a loving tribute on Sunday. 
Shaunie shared a picture that showed Shareef flanked by two female medical professionals after his surgery. One of them held his shoulder and back while the other, who was in front of him, held his waist.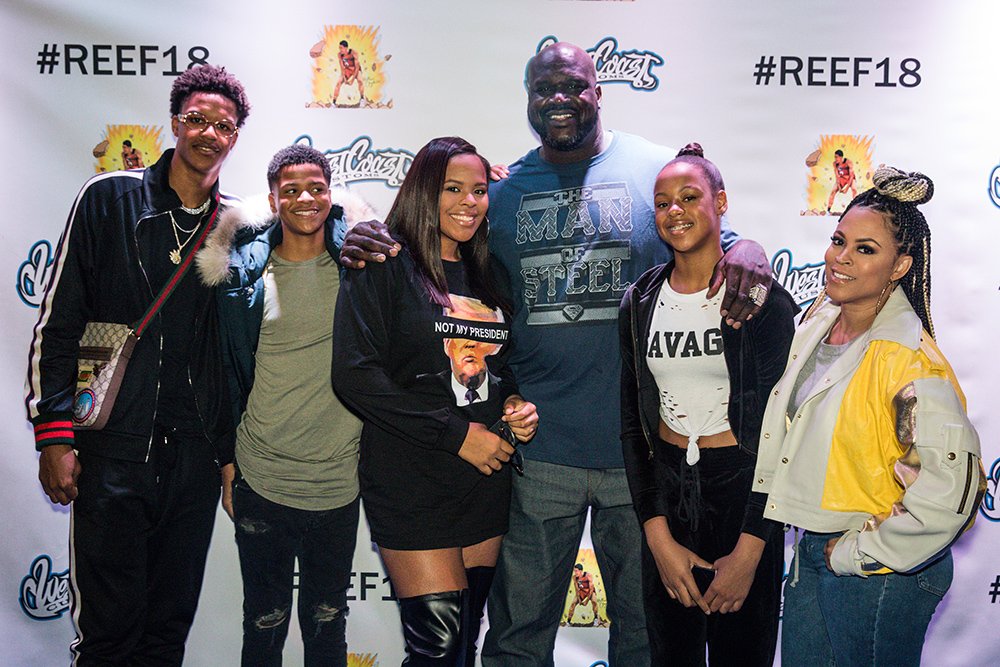 Shareef sat on his hospital bed while the women attended to him, looking straight ahead of him as they did. He had a plaster on his neck and some EKG lead wires attached to his chest. In the post's caption, Shaunie wrote,
"2yr anniversary. Strongest and bravest man I know @Shareefoneal." 
Shareef also made a similar post on his Instagram page. He shared a video showing the female medical professionals helping him sit up after his surgery. The video showed there was another woman who held the EKG wires attached to his body. 
A second video saw Shareef being assisted by his dad, Shaquille O'Neal, and some doctors as he walked for the first time after his surgery. 
He needed to undergo the operation after it was discovered that he had an irregular heartbeat.
In the post's caption, Shareef said those steps were his first as a new man. He noted he has a love and hate relationship with surgeries but is glad he made it through.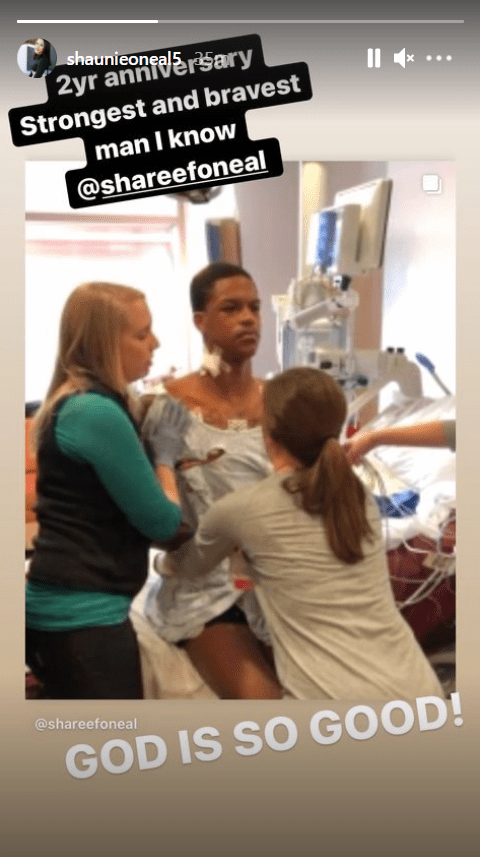 The period before, during, and after Shareef's heart surgery was filled with emotion. Shaunie had her fans in their feelings on the morning her son went in for his surgery by sharing a picture of him on his hospital bed, captioning it:
"This morning was by far my toughest moment being a Mom. If only I could take his place today..."
The loving mom further said it was a heartbreaking moment to watch her son being separated from her when he was wheeled off to the operating room. However, she trusted God that Shareef would be fine. 
After the operation, Shareef shared a post-operation update with his fans. He uploaded a picture of himself on the hospital bed after surgery. In the caption to the post, he announced that he made it. 
Shareef thanked his fans for their love and support, noting it helped him get through the operation. He further said he was on the road to recovery and would be back soon. 
The operation caused Shareef to take time off from playing college basketball. He needed to undergo the operation after it was discovered that he had an irregular heartbeat, which could be fatal if left untreated. 
However, after the surgery, he was certified clear of the condition, with his mom also sharing a video of him on a treadmill. She captioned it, "CLEARED with NO LIMITATIONS!" She also thanked her fans for their support and prayers. 
Shareef is one of Shaquille's children who play college basketball, with his daughter, Amirah Sanaa, being the other one. Besides Shareef and Amirah, the former NBA star also shares a son, Shaqir, and a daughter, Me'arah, with his ex-wife Shaunie. 
Shaquille also has a daughter, Taarirah, who he shares with his ex-girlfriend, Arnetta Yardbourgh. He also has a stepson, Myles, who Shaunie had from a previous relationship.