Timothée Chalamet's Dating History, Including His Relationship with Johnny Depp's Daughter
Talented actor Timothee Chalamet has racked up an exciting dating history highlighted by his sweet romance with Johnny Depp's daughter Lily-Rose Depp.
Timothee Chalamet can best be described as a breath of fresh air for most female fans, who have for so long been suffocated by Hollywood's stereotypical casting of 6-foot-5 muscular-build men for heartthrob roles.
With his slender frame perfectly complemented by his dark curly hair and delicate features, Chalamet has raced into the hearts of women and even men ― after all, his breakout movie "Call Me By Your Name" is a love story about two guys.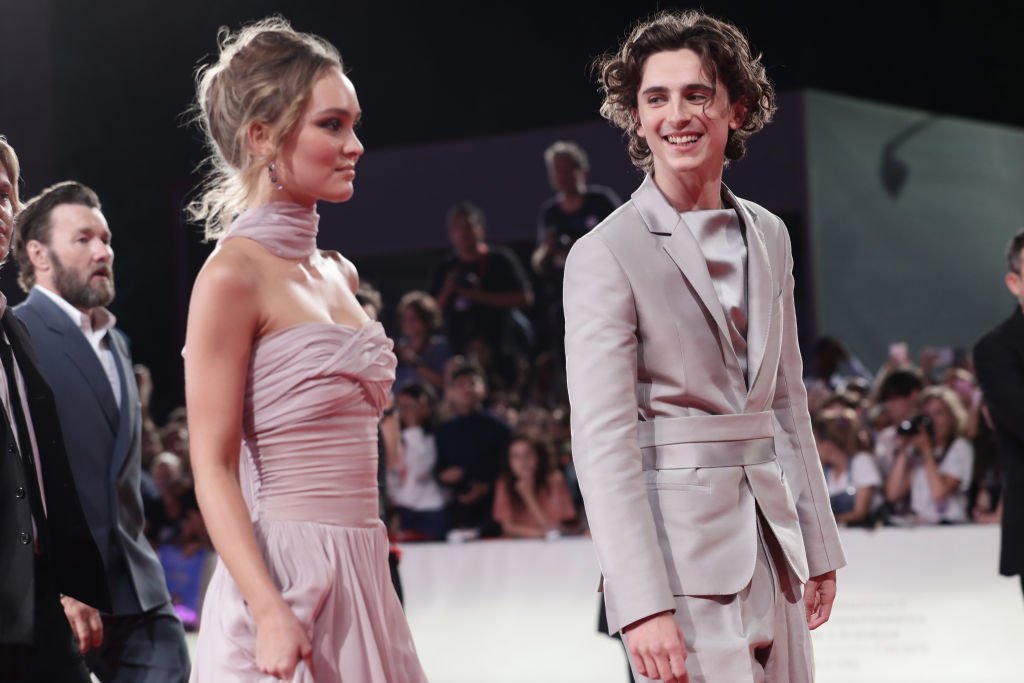 Interestingly, the Chalamet craze has also found its way to female celebrities, with actress Jennifer Lawrence famously swooning over him during a 2018 interview. 
The excessive thirst for the actor has unsurprisingly led to quite a fascinating dating history over the last few years. Most notable amongst his relationships was his well-publicized romance with iconic actor Johnny Depp's daughter Lily-Rose Depp.
TIMOTHEE CHALAMET'S RELATIONSHIP
Lily-Rose Depp was born in France, and she is the oldest child of actor Johnny Depp and singer Vanessa Paradis. Lily-Rose has enjoyed a relatively successful acting career, and she is also a Chanel brand ambassador.
Chalamet and Lily-Rose reportedly began dating in late 2018, after meeting while filming Netflix's "The King." The two made several public appearances together and were famously photographed sharing a kiss in the rain during an outing in New York.
Nearly a year later, Chalamet and Lily-Rose were spotted together at the film's premiere during the Venice Film Festival. Following the premiere of their movie, the pair went on a vacation to Capri, Italy.
In Italy, they were photographed enjoying a steamy kissing session on a boat. The photos generated a media storm, with many describing the vacation photos as a PR stunt by the duo.
Meanwhile, Chalamet maintains that such claims could not be further from the truth. Despite all the drama surrounding the pictures, Chalamet still recalls the moment fondly. During a recent interview, the 24-year-old actor gushed:
"I went to bed that night thinking that was one of the best days of my life. I was on this boat all day with someone I really loved,...'That was great.'"
The last pictures of Chalamet and Lily-Rose together were from September 2019. And by April 2020, it was confirmed that the duo had split after Chalamet was described as "currently single" in the May 2020 issue of British Vogue.
There was no official reason given for their split, but it has been speculated that Chalamet's busy schedule was a contentious issue leading up to their eventual break-up.
INTERESTING DATING HISTORY
Soon after his breakup from Lily-Rose Depp, Timothee Chalamet sparked dating rumors with Mexican actress Eiza Gonzalez after the two were spotted kissing during a vacation to Cabo San Lucas in June 2020.
Chalamet and Gonzalez appeared to enjoy each other's company in the photographs as they showed off some PDA. Despite the photos, neither of them came out publicly to confirm or deny the dating rumors.
However, Chalamet's surprising summer romance with the "Baby Driver" actress was short-lived, and by fall, the two were reportedly no longer an item. 
Apart from Gonzalez and Lily-Rose, Timothee Chalamet's dating history has also seen him romantically linked with veteran singer Madonna's daughter Lourdes Leon. In fact, that was his first known high-profile romance.
The two reportedly met while attending LaGuardia High School in New York City. According to several media reports, Chalamet and Lourdes began their romance in 2013. 
However, the two remained very coy about their relationship status during interviews, so it has been challenging to ascertain their relationship timeline.
Even though the two are no longer an item, they have still maintained a close friendship. During a 2017 interview with Andy Cohen, Chalamet revealed he had spoken to Lourdes about his role in the 2017 romantic drama "Call Me by Your Name."
Chalamet is currently single, but that may change very soon if Director Greta Gerwig has her way. Earlier in the year, she sensationally claimed she was trying to set Chalamet up with his "Lady Bird" and "Little Women" co-star Saoirse Ronan.
Nonetheless, Chalamet is unbothered about the constant female attention and seems to be focused entirely on his acting career. He currently has several new jobs lined up for the coming year.
TIMOTHEE CHALAMET'S ACTING CAREER
Since making his acting debut in the television drama series "Homeland," Timothee Chalamet has enjoyed a meteoric rise to stardom.
Chalamet made his feature film debut in the drama "Men, Women & Children." She subsequently landed a role in the 2014 Christopher Nolan science-fiction film "Interstellar."
In 2017, Chalamet finally landed his breakthrough role in the dark comedy "Call Me by Your Name." He received critical acclaim for his role in the film and was nominated for the Academy Award for Best Actor. 
Since then, the 'Interstellar" star has built up an enviable career in the movie industry and is currently regarded as one of Hollywood's most promising young stars. 
Chalamet's unique good looks have undoubtedly made him one of the most loved actors of the present generation. However, his enormous talent has etched his name in history, and much remains to be seen from the fast-rising actor.