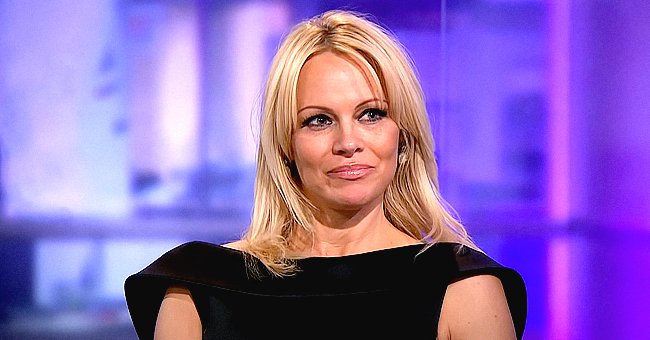 Getty Images
'Baywatch' Star Pamela Anderson Delight Fans Posing in a Stunning White Dress in a New Photo

Pamela Anderson gives fans a seductive over the shoulder look, sitting in front of a mirror, wearing a stunning white dress in her latest Instagram post.
Actress, Pamela Anderson looks alluring in her latest snap shared to her more than 1 million followers of her dressed in an incredible white dress. A new series depicting her life with ex-husband, Tommy Lee is also said to be in the works.
The 53-year-old model has shared a black and white photo of her sitting on the floor, looking back into a large floor mirror leaning against a large, black vase.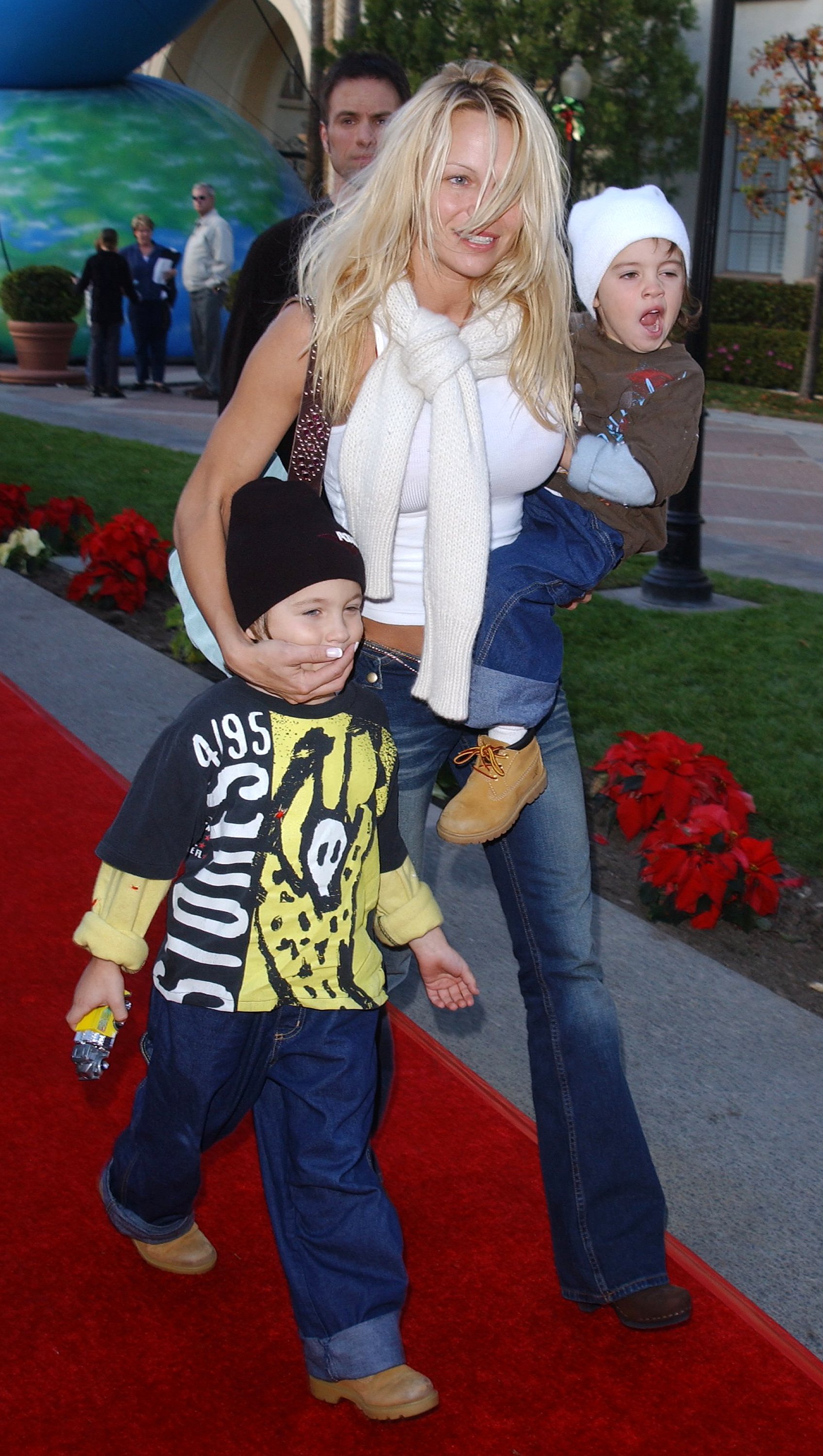 Pamela Anderson walking the red carpet with sons Dylan and Brandon at the Premiere of Jimmy Neutron on December 9, 2001 in Hollywood, CA. | Photo by Vince Bucci/Getty Images
Her platinum blonde hair drapes down to her shoulders and is parted to reveal her gorgeous face enhanced with minimal make-up.
She wears a sleeveless white dress, that reveals her tiny waist before it curves around her perky bottom. Her caption draws only a few responses in the form of emoji's and is simply:
"All I want for Christmas."
Fans of the iconic blonde bombshell are in for a treat, thanks to a new Hulu series set to depict Anderson's relationship with her ex-husband, Tommy Lee, titled "Pam & Tommy.
The series will star Lily James and Sebastian Stan in the roles of Anderson and Lee. It will also recount the time when Anderson and Lee's infamous sex tape was made public, prompting Anderson to file a lawsuit that was settled in court.
She believes doing shoots in the buff makes one come across as skinnier in the images.
The one thing she is famously known for was having a weak side for 'bad boys.' Anderson's previous romantic dalliances have been linked to Ray J, French footballer Adil Ramey and her famous ex, Lee.
Even though some might assume she's got a wild side, Anderson proved to pretty demure, having previously admitted to not knowing enough about adult toys, and looking down on threesomes. Though, she once told Piers Morgan:
"I think vegans have a better sex life for sure. Male and female."
Anderson built her career on being a sex symbol, having been adored by millions of men around the world when she first burst onto the scene through "Baywatch".
She's a self-proclaimed exhibitionist and has enjoyed doing nude shoots since her Playboy days. She believes doing shoots in the buff makes one come across as skinnier in the images.
Earlier this month, Anderson also treated fans to a collection of black and white photos from different moments throughout her career.
Snaps include imagery of her emerging from the sea in a short inspecting her oven in nothing but her underway in the kitchen, and lying on the bed in a silk robe.
Please fill in your e-mail so we can share with you our top stories!