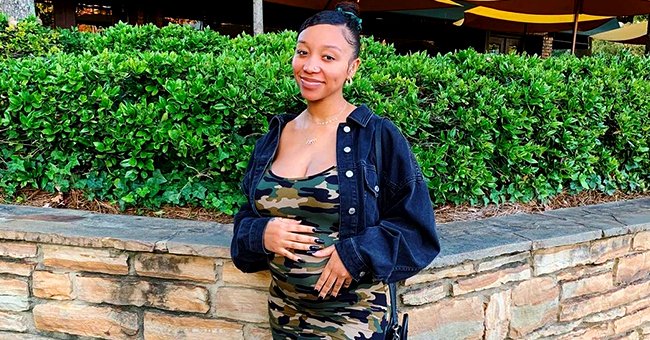 Instagram/zonniquejailee
Here's What Tiny Harris Revealed about Her Grandbaby after Daughter Zonnique Gave Birth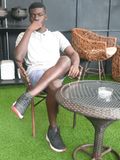 Tiny Harris has given an update on her daughter, Zonnique, who recently gave birth to a baby girl, revealing the latter is so fat and cute in a recent Instagram post.
Tiny Harris cannot hide her excitement as she continues to celebrate the birth of her granddaughter. In a new post on her Instagram page on Wednesday, the proud grandma shared a video that showed Zonnique getting set for a performance.
In the caption to the video post, Tiny highlighted her and Zonnique's striking resemblance, revealing she thought it was her in the video until the latter turned around.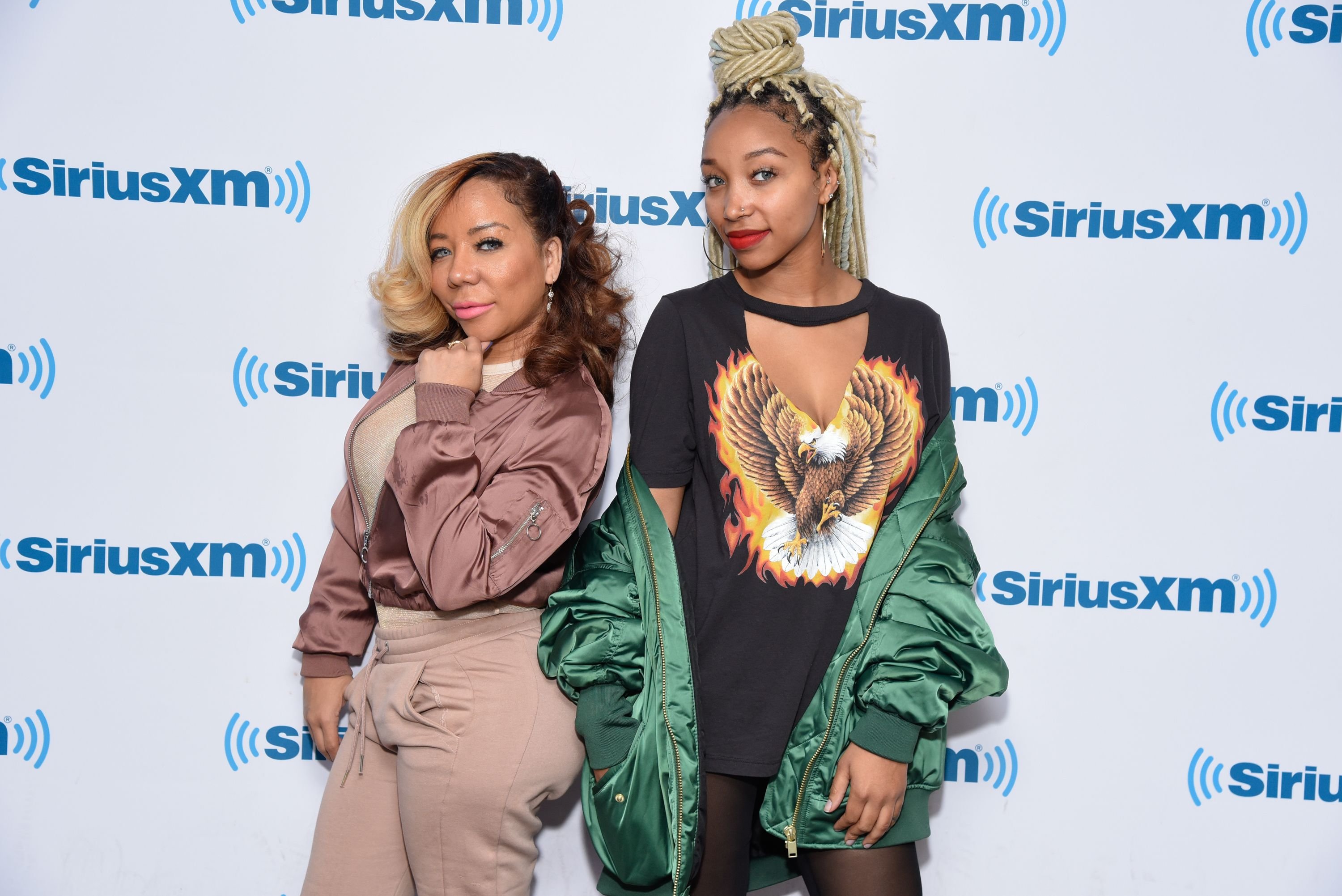 Tameka "Tiny" Harris and Zonnique Jailee Pullins visit SiriusXM Studios on April 19, 2017. | Photo: Getty Images
She thanked Zonnique for giving her a beautiful grandbaby, saying she is itching to get her hands on the newborn girl. Earlier on, Tiny announced her granddaughter's arrival in an Instagram post.
In that particular post, she congratulated Zonnique, who she tagged as her first love, before revealing that her newborn granddaughter is "so fat and cute." Tiny also said her grandbaby is just how she dreamed she would be.
Zonnique's newborn baby girl is the first for her and her boyfriend rapper Badhunta Izzy. The news was also shared by the reality television's star's co-hosts on "The Mix."
Zonnique's co-star Romeo Miller noted that she was not present with them on the night's show before excitedly revealing that she just had her baby.
...the controversy changed her family's dynamics and made T.I. step back to reevaluate his approach to his daughters.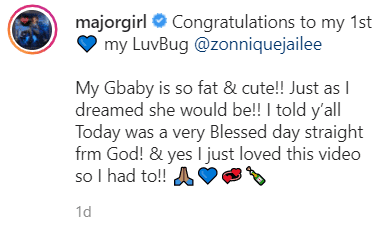 The caption on Tiny's post about her daughter, Zonnique's new born baby girl | Photo: Instagram/majorgirl
Miller gave further details about the baby, saying she was born at 6:27 AM, weighing 8lbs 8oz and measuring 21 inches long. He said they were yet to see her but knows she is a beautiful and amazing strong princess.
Zonnique is Tiny's oldest biological child from a previous relationship with Zonnie "Zeboe" Pullins. This means she is Tiny's husband, rapper T.I.'s stepdaughter.
T.I. played a significant role in raising Zonnique and shares a very close and playful relationship with her, which fans get to see on "The Family Hustle."
Zonnique even surprised T.I. with the news of her pregnancy during the premiere episode of "The Mix" on August 4, showing their playful relationship.
T.I. was caught in a controversy last year following the comments he made about going to his teenage daughter, Deyjah Harris's appointments with the gynecologist to check her virginity status.
In a recent interview, Zonnique gave an update on how the controversy changed her family's dynamics and made T.I. step back to reevaluate his approach to his daughters.
She said he is learning certain things concerning his daughters and how to go about such things. There is no doubt T.I. will be excited with the news of Zonnique's childbirth and, like Tiny, also itching to hold her baby for the first time.
Please fill in your e-mail so we can share with you our top stories!