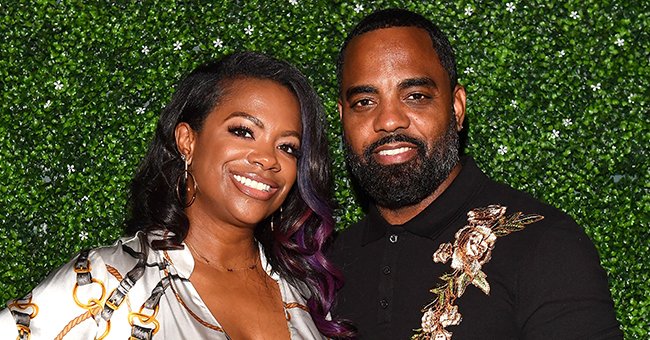 GettyImages
Kandi Burruss Looks Stunning with Her Husband & Their Kids Posing in Front of a Christmas Tree
American singer and television personality Kandi Burruss looked gorgeous as she posed with her husband and their kids in front of a Christmas tree in a recent photo on her Instagram feed.
With Christmas just a few days away, several people across the world have fully settled into the holiday spirit. Among them is the singer Kandi Burruss, who took to her Instagram feed to post a lovely family photo.
The shot, posted just yesterday, was a holiday-inspired photo that showed the star, her husband Todd Tucker, and their kids impeccably dressed as they posed in front of a gold elaborately decorated Christmas tree.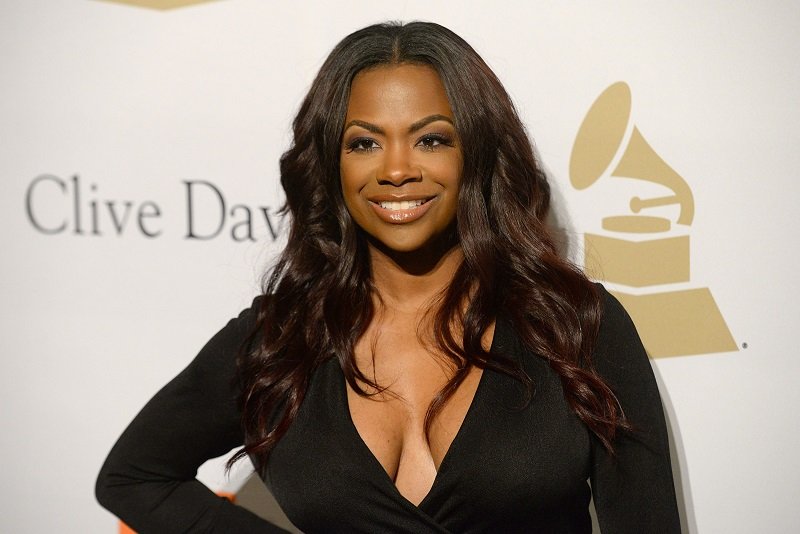 Kandi Burruss on February 11, 2017 in Beverly Hills, California | Photo: Getty Images
Burruss was clad in a shimmering silver and gold dress with padded shoulders and a simple pair of open toe heels. With her face perfectly made-up, her hair was styled up into a ponytail, and she had on long dangling earrings to finish the look.
Tucker, on the other hand, had on a trim black tuxedo paired with shiny black shoes and a gold watch. Their adorable son, Ace Wells, was dressed just like his father, and he stood behind him on a chair.
The other daughters, Riley and Kaela, also looked stunning in their outfits. They both wore lovely sparkling dresses and gorgeous makeup with their hair perfectly styled.
The baby of the house, the cute Blaze, was perched comfortably on her mother's legs. She had on a white and gold dress with puffy shoulders and shining silver shoes. Her hair was also styled to the back with a gold headband.
She then added that some family members even tried to make her feel guilty for not carrying the child.
Seeing this family photo, it is clear that they share a tight bond. That being said, it is no surprise that they never fail to dazzle fans with posts on social media showing heartwarming moments in their lives.
In August, during Tucker's birthday, Riley posted a wholesome photo of him happily receiving a candlelit cake from the family. Burruss also posted a heartfelt message to him that detailed her love for him and many more.
The pair met in 2011 on the set of "The Real Housewives of Atlanta " while filming season 4 in South Africa. After dating for two years, Tucker popped the question on New Year's Day in 2013.
They eventually tied the knot on April 4, 2014. Six years later and their love seems to be waxing stronger. There were, however, rumors that they encountered a few ups and downs in their marriage.
They once admitted that they did not have time to be happy; nonetheless, they loved themselves to death. The lovebirds are also fantastic parents to their children as they share 4-year-old Ace and 1-year-old Blaze.
Riley is Burruss's daughter from a previous relationship while Kaela is from Tucker's. It goes without notice that Blaze was born with the help of a surrogate mother.
The 44-year-old singer later revealed that though it was a tough decision at first, she would not change a thing. Burruss added that some family members even tried to make her feel guilty for not carrying the child.
Despite all the negativity, the television star has fully embraced her role as a mother to all the children and even gushed about how much she loved and supported her stepdaughter, Kaela, in an Instagram shoutout post this year.
Please fill in your e-mail so we can share with you our top stories!