Magic Johnson's Son EJ and Wife Cookie Look Stunning in Trendy Outfits Holding Valentino Bags
Retired NBA star Magic Johnson's son EJ and wife Cookie Johnson pose up a storm in glamorous outfits while holding similar Valentino handbags.
Over the weekend, NBA legend Magic Johnson's wife Cookie Johnson and son EJ Johnson set social media on fire with a series of beautiful snaps of them in trendy outfits.
The Johnson family matriarch took to her Instagram page to share the series of pictures of herself and her son posing up a storm in eye-catching ensembles.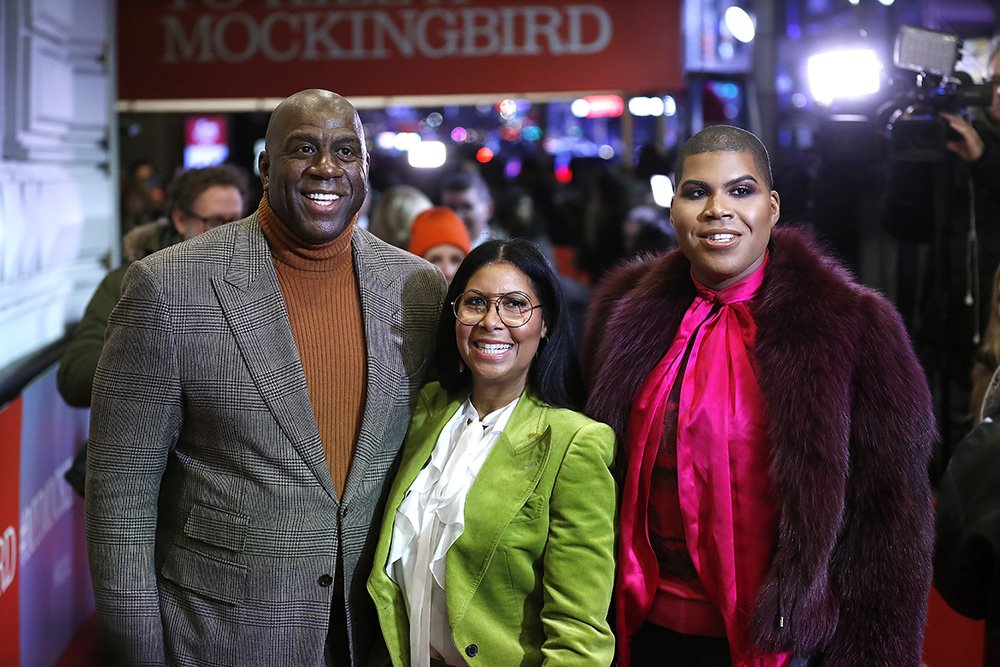 In one of the photos shared on her page, Cookie and EJ looked stunning while posing outdoors beside a swimming pool. Cookie wore a beautiful white gown that featured a delicate bow tied around the neck.
EJ was equally impressive in a flower print robe dress that showed off his chest and legs. He accessorized the outfit with a silver choker, and the duo completed the look with similar Valentino bags. Cookie captioned the photos, writing:
"Family fun in Valentino."
The mother and son switched their looks for another set of photos, where they pose indoors at the foot of a beautiful staircase. Cookie looked gorgeous in a wine cape blouse and pink pants.
Meanwhile, EJ went for a less dramatic look but was all shades of beauty in a long black dress and black boots. The twosome completed the chic look with Valentino bags and belts.
Since EJ came out as gay in 2013, Cookie and Magic have remained very supportive of his lifestyle.
EJ also took to his Instagram page to share the same photos. EJ is the oldest child of his parents and is also an openly gay New York University graduate who shot into fame in the reality TV series, "Rich Kids of Beverly Hills."
Apart from EJ, Magic and Cookie share an adopted daughter Elisa Johnson. Meanwhile, the former NBA player also fathered a son, Andre Johnson, from another relationship.
Magic and Cookie have known each other for 42 years and they celebrated their 29th wedding anniversary back in September, amidst the novel coronavirus pandemic.
Even though the pandemic prevented the couple from throwing a lavish party as they usually do, the two still took time to pay tribute to each other with special words.
The couple has passed through some challenging times in their marriage in the past. However, it only strengthened the bond that exists between them and their closely-knit blended family.
And their three successful kids is evidence of their excellent parenting. While their other kids prefer to maintain a low profile, EJ hugs the spotlight and is best known for his exquisite fashion taste.
Since EJ came out as gay in 2013, Cookie and Magic have remained very supportive of his lifestyle. More importantly, his relationship with his mother has been a joy to watch, and it is always great to see them sizzling the internet with high-end fashion.