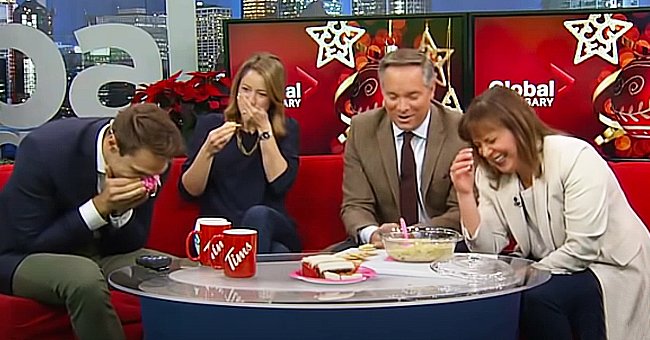 youtube.com/Global News
Remember These News Anchors' Hilarious Reactions to Their Colleague's Terrible Holiday Dish?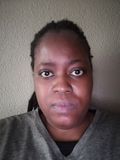 Just in time for the holiday season, a viral clip of a news anchor's colleagues reacting to her holiday dish is making the rounds on social media again. The dish got the most hilarious reactions you'll ever see!
During a live recording of a holiday episode, Leslie Horton, from Global News, shared her favorite holiday dish with her colleagues. She made an artichoke dip that received unpleasant reactions from her colleagues.
Horton confessed that the recipe had gone "terribly wrong" after they'd tasted it. When her co-anchors Scott Fee, Amber Schinkel, and Meteorologist Jordan Witzel gave it a go they couldn't help but agree with her.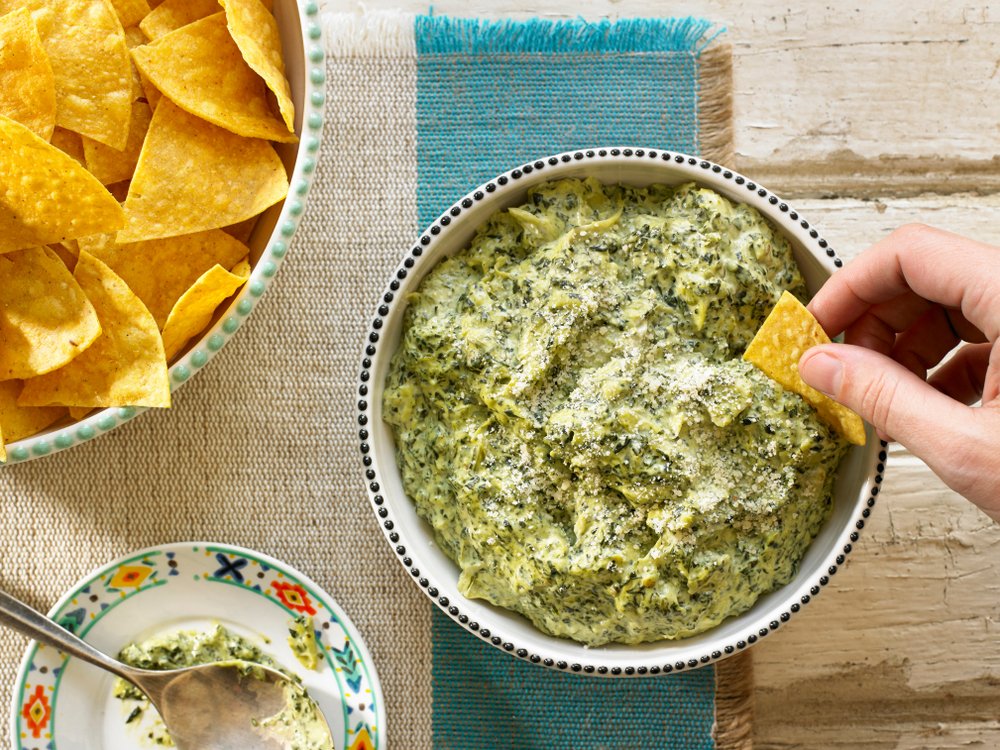 Spinach artichoke dip with tortilla chips | Photo: Shutterstock/Michael Kraus
The viral clip started off with Horton sitting down with Free, Witzel, and Schinkel before showing off her dish. She admitted to them that the dish hadn't come out the right way.
The anchor explained that she hadn't wanted to bake the treat but was forced to because her family demanded it. She also whipped out some fruit cake that she'd prepared for th occasion.
Wanting her colleagues to taste her dish, Horton dished up a little for each person. Schinkel noted how it smelled like vinegar while Free complained that she'd dished up too much for him.
Horton did note that the recipe didn't work out but her colleagues still braved it. After looking straight at the camera briefly, Witzel took a dive and swallowed his portion whole.
Apprehensively, Free asked him if the dish was edible as Witzel kept chewing. The anchor explained that it wasn't that bad but complained that the vinegar was too overpowering for him.
The meteorologist started reacting badly as his taste buds reacted to the concoction. Horton exclaimed that there was no vinegar in the dish and Schinkel just seemed scared for her life.
Schinkel took a small bite and started laughing before confessing that it burnt. Witzel couldn't pretend and tried to spit out the dish into a napkin while Horton laughed at his reaction.
Schinkel covered her mouth as she appeared to gag a bit. The meteorologist tried to be polite by explaining to his colleague that he really wasn't trying to be rude, while Free and Schinkel laughed.
Witzel ended up drinking some water from a cup on the table to try and cool off the burning sensation he was experiencing. Horton couldn't understand what went wrong and asked if they thought something had gone off.
The meteorologist just wanted to know what she'd done to the recipe for it to become so bad. Horton revealed that she'd used an orange instead of a lemon because she didn't have the fruit.
Free and Schinkel just continued laughing uncontrollably while Witzel tried to get himself under control. The meteorologist felt his Global News Calgary colleague just combined the wrong ingredients.
Schinkel wasn't enjoying the dip either but Horton seemed to be okay with their reaction as she laughed along. The clip eventually cut off with the anchors sharing that the original recipe was on the news site.
Horton eventually figured out that the thing that made the dish go wrong was that she'd used pickled artichokes instead of normal ones. The hilarious video initially went viral in December 2016.
For those who wish to make some delicious (honest) artichoke dips, we've found a few recipes here. You can make Mexican spinach-artichoke dip, Cheesy bacon spinach dip, and so much more.
Please fill in your e-mail so we can share with you our top stories!