Magic & Cookie Johnson Pose in a Heartwarming Pic in Matching Dodgers T-Shirts with Their Kids
Former NBA player Magic Johnson and his wife, Cookie, recently posed for an epic pic of themselves and their big family. The cute pic features the couple in matching Dodger's T-shirts with the kids.
Basketball Hall of Fame athlete Earvin "Magic" Johnson and his wife Cookie Johnson have successfully raised a beautiful family with their legacy carrying on to their kids and grandchildren.
The three generations got together over the Christmas holiday and memorialized the special day with an epic pic that the doting matriarch, Cookie, shared on her Instagram page.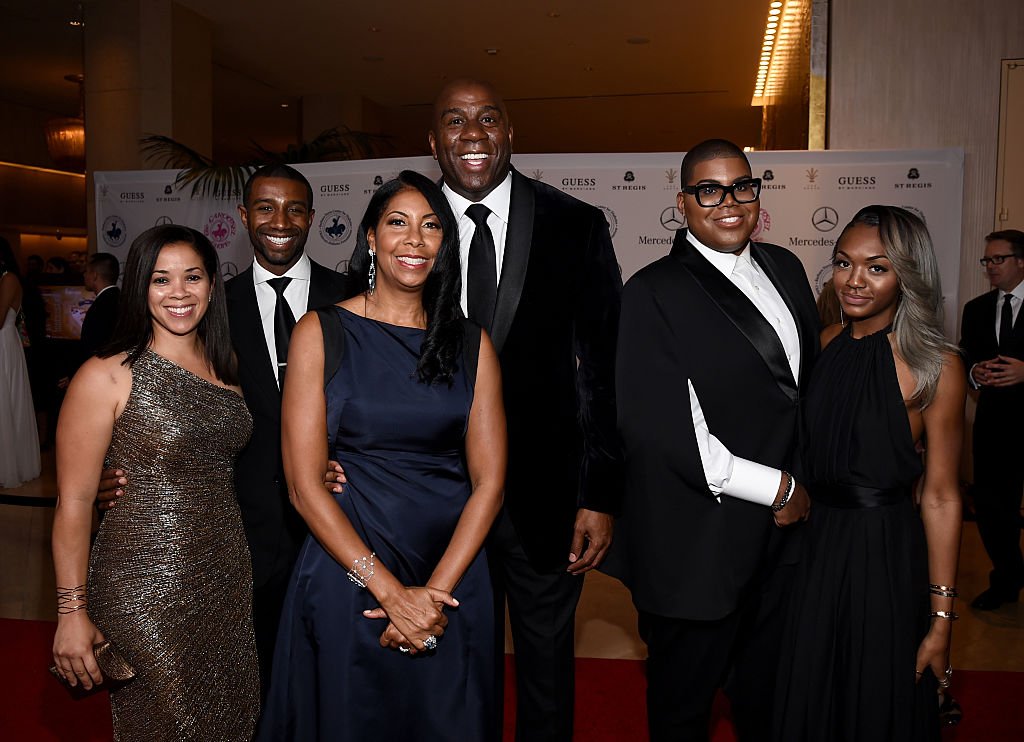 The Johnson's were captured posing in front of a large building. All eight family members rocked matching blue and white Dodgers' jerseys and blue jeans. The pic was captioned:
"Merry Christmas, may your blessings be many and may your joy be great!!"
The photo featured the former NBA player Magic, towering over his wife with his hands rested on her shoulders. Next to Cookie was their daughter, Elisa, 25, who stood out with her blonde highlighted hair.
Earvin "EJ" Johnson stood next to Elisa with his T-shirt cinched at the waist, a statement cross chocker, and a pair of ripped jeans shaping his long legs.
Johnson's eldest child, Andre, was pictured posing next to his son Avery, and his daughter, Gigi, who is just as tall as her mom, Lisa Meyers Johnson.
The former Los Angeles Lakers player announced that he was HIV positive in November 1991.
The epic photo was a hit for fans of the Johnson family, who took to the comments section and echoed the Christmas holiday wishes back to the famous crew.
The Johnson family would frequent the news for many reasons, most notably in the past was Magic's HIV status. The former Los Angeles Lakers player announced that he was HIV positive in November 1991.
The news came as a shock to both the star and his wife, Cookie, whom Magic had wed less than two months before the diagnosis. She was also carrying the couple's first child, EJ.
Cookie's love and support for the basketball star never wavered, and the couple recently celebrated 29 years of marriage in September, and in the same year, EJ celebrated his 28th birthday.
The year 2020 had one more milestone for the Johnson family to celebrate. Magic's former team, Los Angeles, won their 17th NBA Championship and gifted him and Cookie with his 11th Championship ring.