Instagram / Nick McGlashan
'Deadliest Catch's' Nick McGlashan Wrote Ominous Tweet about Trauma Weeks before Sudden Death

Nick McGlashan, star of "Deadliest Catch" wrote a grim tweet weeks before he died. The crab fisherman spent seven years on the Discovery Channel reality TV show and struggled with drug addiction for many years.
The morning of December 10 saw Nick McGlashan (real name Bruce McGlashan) take to Twitter to post a tweet that now reads in a haunting manner, following his death on December 27.
The tweet talks about McGlashan dealing with trauma, and how it was putting him to sleep as well as forcing him to wake up haphazardly. One commenter, Corey Ann, responded with a GIF of a hug, in an attempt to comfort him.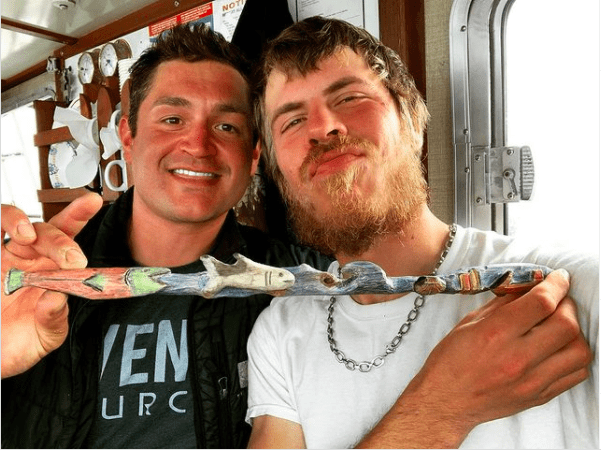 Nick McGlashan and a friend, Jesse Madden show off the totem pole they made, July 13, 2020. | Photo: Instagram/Nick McGlashan.
More comments follow, with another sharing the personal relationship he had shared with McGlashan that lasted seven years. He refers to the late crab fisherman as a jewel, applauding him for leading the way in the profession.
Others offer messages of condolences to McGlashan's family, with the hope that he now rests in peace. A heartbreaking note of sadness and regret is amongst the comments, with its author writing:
"Nick, I pray you are at peace. I wish I or someone could've helped with what you were going through. You will forever be missed, loved and honoured."
Nashville first responders were reportedly called to The Holiday Inn on West End Avenue at 12.30 pm to see to a man who had been found unresponsive in one of the hotel rooms by his friend.
According to a statement, the man in question, Bruch McGlashan, was found dead by police offers and paramedics. The medical examiner's office is yet to release an autopsy report confirming the cause of death.
McGlashan entered the crabbing profession at age 13.
A friend of Nicks', who wished to remain anonymous, told The Sun they had heard rumours of McGlashan falling off the wagon and feared the worst. McGlashan checked into rehab in 2016 following a battle with drug and alcohol addiction.
According to one of McGlashan's castmates, Clayton Gore, he had been in a good mood when he spoke to him the day before he died. To his knowledge, McGlashan had flown from Seattle to see another friend in Nashville, with Gore adding:
"Nick was the biggest motivator in the sober community. He helped me find the sober life."
McGlashan entered the crabbing profession at age 13, and later joined the cast of "Deadliest Catch" at the age of 25 in 2013. The show depicts the events of fishermen as they navigate the treacherous waters of the dangerous profession.
He was descended from a long line of crab fishermen, with his great uncle who had served as one of the crew members on the first U.S. crab boat. He also had two aunts who worked as crabbers, with one lost at sea following a boating accident.
Sadly, some of McGlashan's lowest moments of him grappling with his addiction played out on camera, while he worked on the Summer Bay, culminating in his suspension from the show in 2017.
This would serve as the turning point, which McGlashan used to get sober, as well as become an advocate to others for what overcoming drug and alcohol addiction looked like.
Please fill in your e-mail so we can share with you our top stories!