Suzanne Somers Poses with Grandkids Violet and Camelia – Inside Their Relationship
Suzanne Somers shared an adorable snap on Instagram with her gorgeous look-alike granddaughters, Camelia and Violet Somers just weeks after her 44th anniversary.
"Three's Company" star Suzanne Somers is as stunning as ever and she proved it by sharing a photo alongside her husband Alan Hamel, and two of her grandchildren, Violet and Camelia Somers.
Suzanne, 74, has been happily married to Alan for 44 years, and the two share a blended family which includes his two sons, Stephen and Leslie, and the actress' only child from her first marriage, Bruce Somers Jr..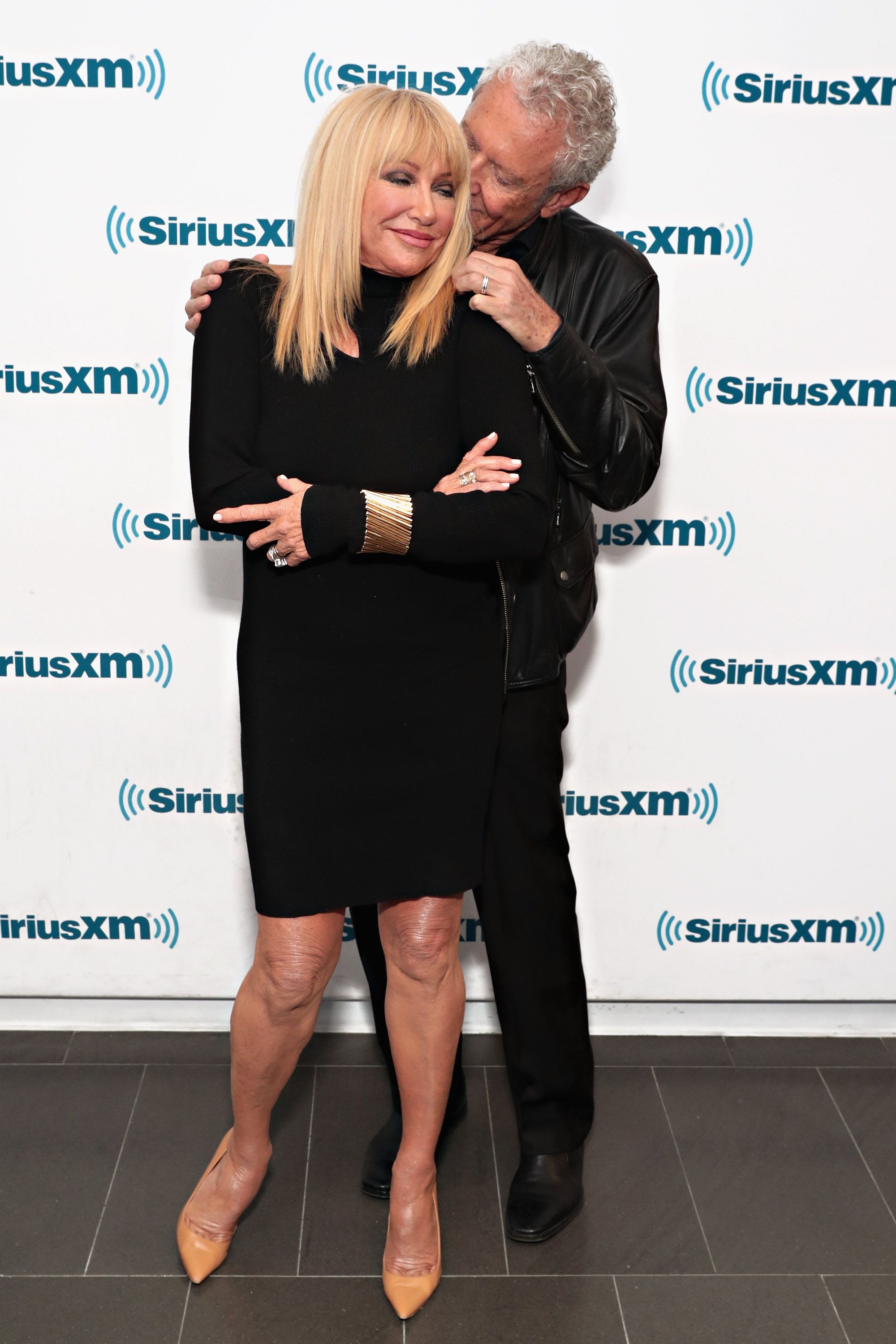 CELEBRATING LOVE
Suzanne shared a photo on Instagram of herself, her beloved husband Alan, and two of her granddaughters, Camelia, 25, and Violet, 22, embracing each other affectionately. She captioned the snap:
"Beyond blessed with our beautiful grandchildren ✨@violetsomers ✨@cameliasomers."
The two girls are the younger daughters of Suzanne's only son Bruce. Their older sister Daisy Hamel-Buffa, 26, is a singer who fronts her own band, but all three girls are creative. 
Violet, who is a fashion designer with her own line of custom sneakers to her credit was caught by the COVID-19 pandemic during a trip to Italy and was forced to remain in the country for a few months.
Suzanne and her husband recently celebrated their 44th wedding anniversary, on November 11, 2020.
Camelia is following in her grandmother's footsteps as an actress and has been working on the daytime soap opera "The Bold and the Beautiful"  in the role of Charlotte since 2015.
The stunning blond is now dating actor and singer Chord Overstreet, best known for his role in "Glee." Overstreet was previously in a romance with "Harry Potter" star, Emma Watson.
53 YEARS TOGETHER
Suzanne and her husband recently celebrated their 44th wedding anniversary, on November 11, 2020. The couple had met on " Anniversary Game," which Alan hosted, and fell in love. 
At the time, Alan was still married to Marilyn Hamel, and the couple had to wait for his divorce before formalizing their relationship in 1977. Although the family is now happily blended, the beginning wasn't easy for the actress. 
Alan's two sons were teenagers at the time their father married Suzanne, and they had a hard time accepting her into their lives, which placed pressure on the couple. Suzanne said:
"The unwillingness to accept a new parent put a strain on everyone."
Fortunately, Alan and Suzanne never gave up, and today, after more than 50 years together they have a big happy blended family, with lots of grandchildren -- and who knows...Soon Suzanne may become a great-grandmother.