Tiffany Stewart Shares 3 Kids with 'Shark Tank' Star — Get to Know Mark Cuban's Wife
"Shark Tank" star Mark Cuban has been married to Tiffany Stewart for almost 20 years. Although they are incredibly rich, they try to make life as normal as possible for their three children.
Tiffany Stewart and Mark Cuban might be well-known for their long marriage and wealth, but they have managed to keep most details of their relationship away from the spotlight.
For that reason, there are conflicting reports as to how they met for the first time. Most sources, including Business Insider, state that they met at the gym in 1997.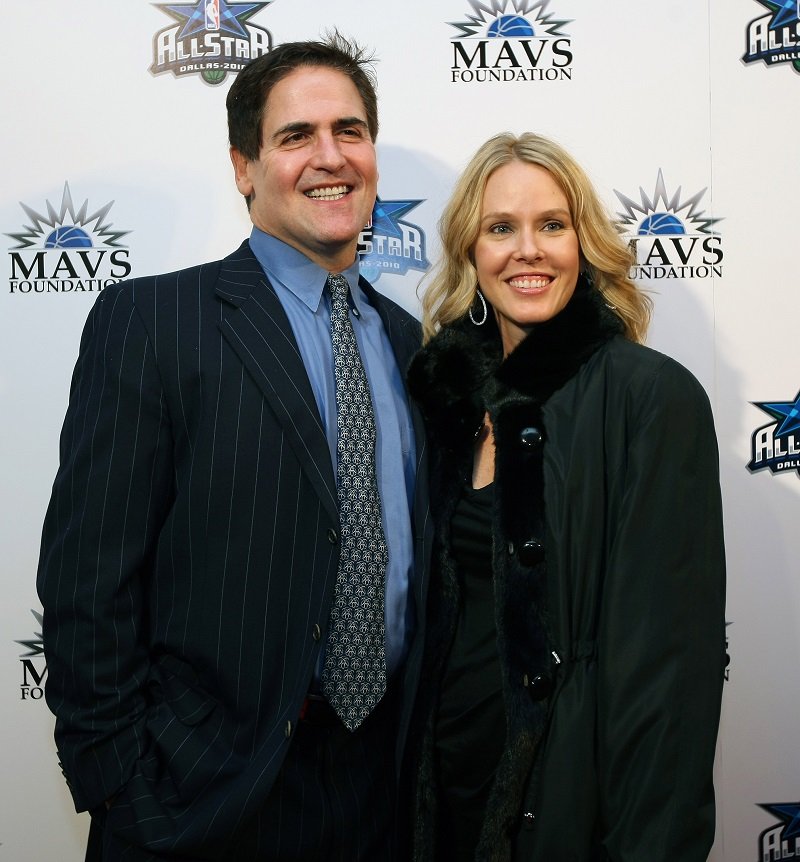 TIFFANY STEWART AND MARK CUBAN
However, different media outlets claim that photographer Danny Bollinger, who had been dating Stewart's sister, Jamie, introduced the two. At the time, Stewart was a 27-year-old advertising executive.
On the other hand, Cuban, 39, was an important investor and entrepreneur who had already launched Broadcast.com, bought by Yahoo in 1999 for $5.7 billion.
Cuban and Stewart dated for about five years, and during that time, the entrepreneur made some important decisions related to his business, including buying the NBA team Dallas Mavericks in 2000.
Shortly after, he bought a 24,000 square-foot chateau north of Dallas, where Stewart moved into with her then-boyfriend. Then, in 2002, Tiffany Stewart and Mark Cuban tied the knot.
Initially, they planned to walk down the aisle in Jamaica, but Tropical Storm Isidore made it impossible, so the couple ended up getting married in a small ceremony in Barbados.
While some people might believe that marrying a billionaire is easy, Stewart knows firsthand that it is not. She once admitted she needed "great patience" to adjust her life to her partner's while they were still dating.
Stewart, who described herself as middle class, kept driving her Honda to her advertising job and considered that their chateau was "impractical." They also struggled with scheduling problems.
According to Mark Cuban's wife, she knows she's not going to be his priority. She added that he used to divide his days into "blocks of seconds" and couldn't turn his computer off, even in the nights.
He paid his son to not watch [Minecraft] videos for two months.
MARK CUBAN'S FAMILY
Fortunately, they have managed to work things out, and, at the moment, they share three children, daughters Alexis and Alyssa, and son Jake, the youngest member of the family.
Although Cuban and Stewart have enough money to live a very lavish life (or even two), they are focused on making life as normal for their three kids as possible.
Instead of hiring private chefs or butlers, Cuban or Stewart cook dinner for the children and put them to bed each night. They also have a nanny only during the workweek and weekend mornings.
One of Stewart and Cuban's main goals as parents is to avoid raising their children to feel spoiled or, as the Dallas Mavericks owner once said, "to be entitled jerks."
MARK CUBAN AS A FATHER
Over the years, Cuban has revealed some details of himself as a father, including that he probably hugs his children "much more" than other dads. About his and Stewart's parenting skills, he said:
"We are firm. Set the rules. Make sure they are followed. But we don't yell, hit, scream, or cause drama. Our kids do enough of that."
Cuban has also expressed frustration about his children liking Netflix and watching Minecraft videos better than reading. He even said he paid his son not to watch those videos for two months.
Tiffany Stewart and Mark Cuban have taught their children the importance of hard work and that they will eventually have to carry their own weight. What a beautiful couple!