Getty Images
Here's How Elizabeth Hurley, 55, Says She Attempts to Keep Her Spirits up Amid Lockdown
In a recent candid Instagram post, English actress and businesswoman Elizabeth Hurley revealed that she often tried to keep her spirits up amid the gloomy days of lockdown.
As 2020 came to an end, the world prayed for a change with the seemingly never-ending COVID-19 pandemic. However, it sure seems like the story never changed with the new spike in cases.
With the world once again at a standstill, several celebrities have a lot to say about the tragic development. One of them is famous actress Elizabeth Hurley who took to her Instagram to talk about the lockdown's pains.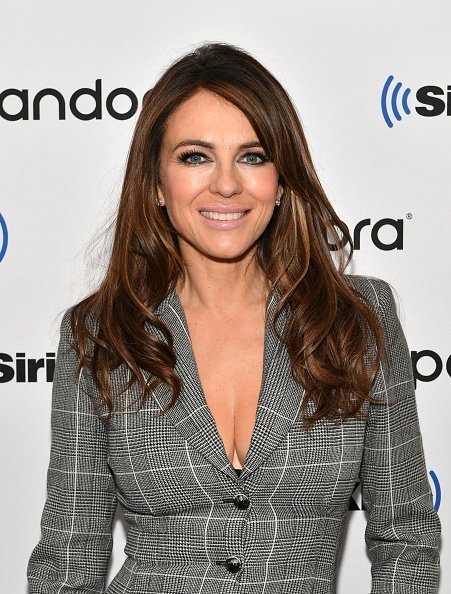 Elizabeth Hurley at the SiriusXM Studios on December 11, 2019 | Photo: Getty Images
She explained that it was hard to keep her spirits up during such a gloomy time in the post. She buttressed that she had a trip booked and should have been shooting her new beachwear campaign but had to postpone as it did not seem right to go on with the activities.
The star then added that she stays at home, gardening and tidying her sock drawer. However, a couple of times a week, she dresses up, lights, candles, and dances away the frustration.
The message was accompanied by gorgeous shots of the 55-year-old looking half her age in a stunning outfit. She was clad in a lovely bright pink dress that perfectly wrapped around her trim figure.
She combined it with dangling gold earrings and had her face beautifully made-up. The photos were taken in a cozy-looking, intricately designed room, and the actress stared into the camera with different facial expressions.
Hurley then finalized that she would put her headlamps on full beam when it was over and make an effort to find love.
In the first slide, she leaned against an animal-print bar stool and enjoyed herself as she drank from a disco-shaped cup in her hand. The second shot showed Hurley standing behind a polished glass table, showing her perfect reflection.
The post comes a few days after she shared a super hot photo of herself sitting in front of the fire in a low-cut sequined wrap dress that gave a generous view of her bust.
The star was also seen rocking a sequin dress in another recent Instagram post. She had termed it a lockdown photoshoot, and she was fully dressed in a plunging white sequined dress with large sleeves.
She had on glamorous make up that perfectly accentuated her age-defying features, and her luscious dark hair fell to her shoulders in healthy waves. Hurley struck quite the sensual pose with her hands resting on her head as she gazed into the camera.
The actress was undoubtedly out to steal hearts as she once revealed that she was more than ready to fall in love after the lockdown. She added that the possibility of that happening while locked up at home with blood relatives was very slim.
Hurley then finalized that she would put her headlamps on full beam when it was over and make an effort to find love. Since the star has maintained her good looks and charming personality, this should not be a hard feat.
Please fill in your e-mail so we can share with you our top stories!