Marjorie Harvey's Ex Was Pardoned after Getting a Life Sentence — Who Was Her 1st Spouse?
TV host Steve Harvey's wife Marjorie Harvey has endured a couple of complicated relationships, including her marriage to Jim Townsend, a convicted drug dealer. Here is all you need to know about her troubled past.
Marjorie Elaine Harvey is an American fashion icon and internet personality who burst into the spotlight mainly for being the wife of famous television host comedian Steve Harvey. 
Over the years, Marjorie has contributed so much to Steve's success and happiness. Along with their seven kids (from previous relationships), the couple is a perfect picture of what a harmonious family looks like.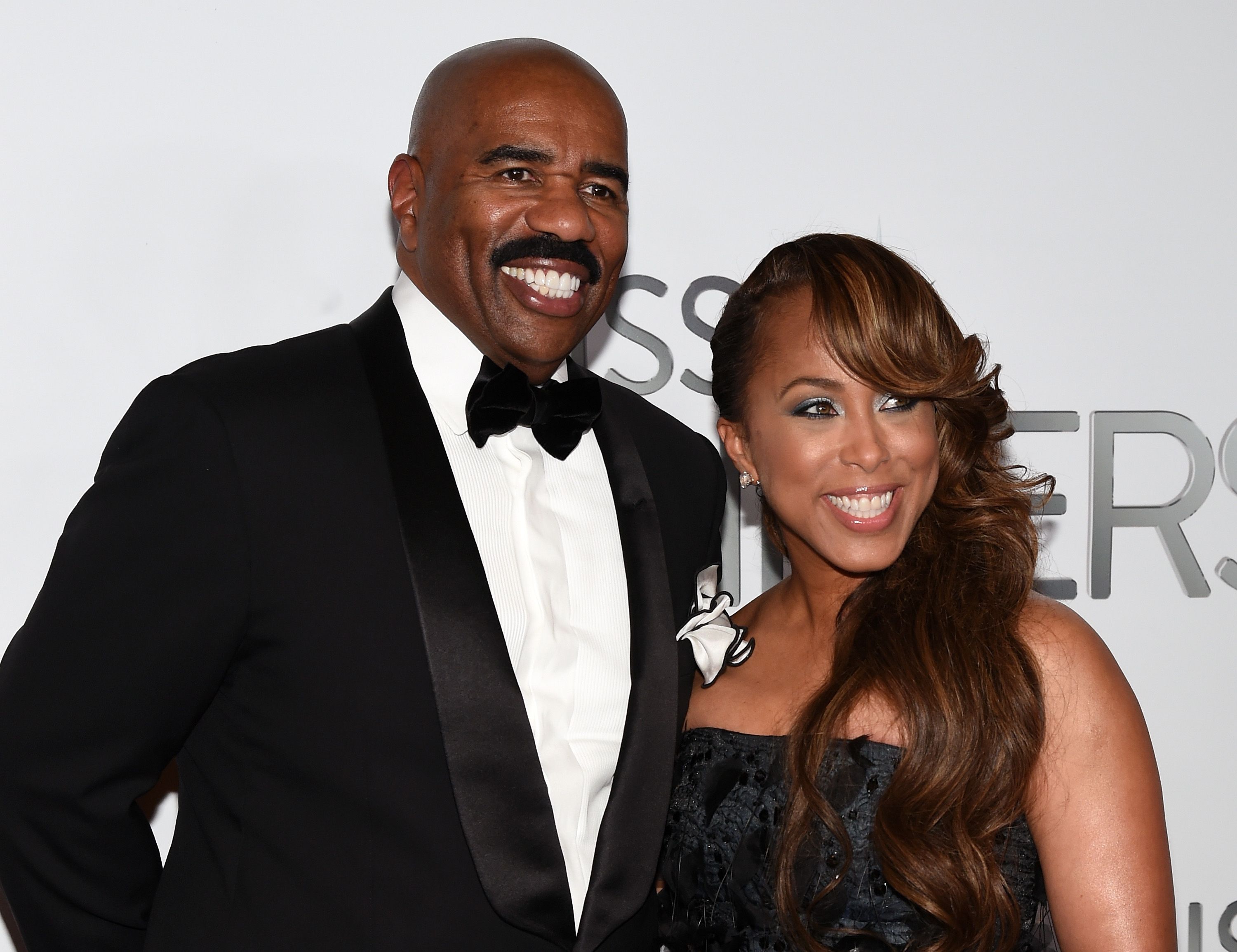 They also never shy away from flaunting all that happiness on social media. Still, beneath all the glitz and glam of celebrity life, there is a story of a strong woman who has clawed her way out of the past to build a beautiful life for herself and her closely-knit blended family.
Much of Marjorie's dark past surrounds her marriage to convicted drug kingpin Jim Townsend. And recently, Townsend crept out of obscurity with a tell-all memoir that detailed their complicated marriage and run-ins with the law. 
MARJORIE'S MARRIAGE TO JIM TOWNSEND 
Back in the 90s, Marjorie was married to Townsend, who was a drug kingpin. During their marriage, the duo reportedly ran a drug ring together.
Before long, the duo's illegal activities caught both the FBI and DEA's attention. The authorities later approached Townsend with substantial evidence of Marjorie's involvement in his drug ring and threatened to arrest her if he did not cooperate with their investigations. 
Marjorie Harvey's ex-husband was later convicted for attempting to buy 40 kilos of cocaine and was sentenced to life imprisonment in 1992. Meanwhile, Marjorie was never charged for her alleged involvement in the drug ring. 
Less than five years into Townsend's life sentence, Marjorie divorced him. Fortunately for Townsend, he was released in January 2017 after serving 26 years of his sentence following a pardon from President Barack Obama.
Meanwhile, Marjorie got married for the second time to Darnell Woods, a drug dealer. Not much is known about Marjorie's marriage to Woods or the circumstances surrounding their split.
However, the couple welcomed three children together, Morgan, 33, Jason, 29, and Lori Harvey, 24. Marjorie Harvey's kids were all adopted by Steve after they got married in 2007.
STEVE AND MARJORIE'S LOVE STORY
For most of his life, Harvey did not always get it right when it came to love. His two previous marriages did not bring him much joy but produced four children — Karli, 38, Brandi, 38, Broderick Jr., 29, and Wynton, 23.
Things finally changed for good when Steve got married to Marjorie — but their journey to the altar was not straightforward. The lovebirds reportedly met in 1990 while Steve was performing at a comedy club in Memphis, Tennessee.
According to the couple, Marjorie shows up late to one of his shows, and while she was making her way to her front-row seat, Steve was utterly blown away by her beauty and just stopped the show to stare at Marjorie. 
After regaining his composure, Steve turned to the crowd and right there promised to marry the 54-year-old fashion guru someday in the future. During a 2010 interview with ESSENCE.com, Marjorie revealed she also felt an instant attraction to Steve when they met. In her words:
"I was over the moon for Steve when I first met him, so to trust my heart and go back to the man that I once loved was really easy."
Despite their connection, the couple could not get together because Steve was still married at the time. They began dating after Steve's marriage crashed, but their romance was short-lived due to the distance from living in different cities. 
Thankfully, fate brought them back together in 2005, and after dating for two years, Steve finally made good on his promise of many years ago when they exchanged marital vows on June 25, 2007.
The couple has been married for 13 years, but they have managed to keep their romance fresh over the years. The twosome regularly dotes on each other on their social media pages, and many of their fans see them as relationship goals. 
Despite the numerous divorce rumors that have trailed their marriage for several years, the two have remained committed to each other and continue to prove all the doubters of their love wrong.
MARJORIE HARVEY'S BIG FAMILY 
Following their marriage, the couple decided to blend their families, and Steve made the bold decision to adopt Marjorie Harvey's kids as his own.
As noble as the move to blend their families might have been, some of their kids did not buy the idea. While the media mogul simply put his foot down, Marjorie adopted a more subtle approach and eventually got everyone pulling in the same direction.
Today, the relationship between their kids is quite solid, and the family has even welcomed new additions over the years. The couple is now proud grandparents of five grandchildren — Benjamin, Elle, Noah, Rose, and Ezra.
Steve and Marjorie's kids are all grown up and currently pursuing different careers under their parents' guidance. However, Steve Harvey's stepdaughter Lori Harvey is the most famous of their children.
Lori is a model who has walked down runways for Dolce & Gabbana during Paris and Milan's Fashion Weeks on multiple occasions. She also reps various brands, including Hermès and Chanel, on her Instagram page.
Before modeling, Lori pursued a career in horseback riding and was quite good at it. However, her equestrian career ended after she broke her back and tore her MCL during a showjumping competition.
More recently, Lori became most ladies' envy after it was confirmed that she was dating actor Michael B. Jordan, 33, who was recently crowned PEOPLE's Sexiest Man Alive 2020.
On Monday, January 11, the lovebirds made their relationship Instagram official with a series of photos taken by photographer Leo Volcy. Ever since the couple made their social media debut, the two have been setting couple goals with their public show of affection for each other.
Lori Harvey may be sweeping headlines with her romance with Michel B. Jordan, but her parents' 13-year marriage remains the perfect blueprint for all lovers who are seeking to build a happy home.