'Sister, Sister' Star Tia Mowry Recalls Matching Hairstyles with Twin Tamera in Throwback Pic
"Sister, Sister" star Tia Mowry took a nostalgic trip to the past with a sweet throwback photo of herself and her twin sister, Tamera. Here's what she loves the most about it. 
It seems like yesterday when Tia Mowry and her twin sister, Tamera, made a cute debut in "Sister, Sister." The then-12-year-olds stole hundreds of fans' hearts with their sweet chemistry. 
The show premiered on April 1, 1994, and ended on May 23, 1999, after six incredible seasons, but fans still remember the twins. The sisters love taking a walk down memory lane every now and then with throwback pictures. 
One such picture came from Tia this time. The actress shared a heartwarming monochrome snap of herself and Tamera, where they looked adorable in matching collared tees. 
These days, Tia loves to have fun with her hair, but not in a conventional way.
In the caption, Tia shared what she loves the most about the picture. "It's the hair for me!" she wrote. The twins were flaunting their dark curly hair in all its glory back then. 
"[Sister, Sister] is literally the best show!" one of their fans gushed. It is amazing how fans are still watching the show and loving it all the same after all this time.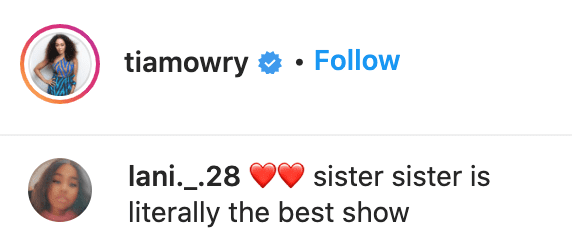 These days, Tia loves to have fun with her hair, but not in a conventional way. She has set an example for many by embracing her naturally graying hair. 
She debuted her gray hair in an Instagram post back in August 2020. In an interview with Today, she revealed why she chose to embrace her graying roots instead of dying them like people usually do. 
Mowry said she is all about authenticity. She told Today that no matter how she looks at the moment, she is going to share just that. She further said:
"I'm not about hiding who I am. I'm all about wanting to change the narrative that people think they need to be perfect. Growing older is a blessing."
Tia and Tamera celebrated their 42nd birthday the same day she debuted her graying hair. She proved that the only way to make peace with life is by embracing changes. 
As for what she thought of all the positive reactions her photo garnered, Tia said she had no idea it would make such a huge impact. It was all about being who she truly is.