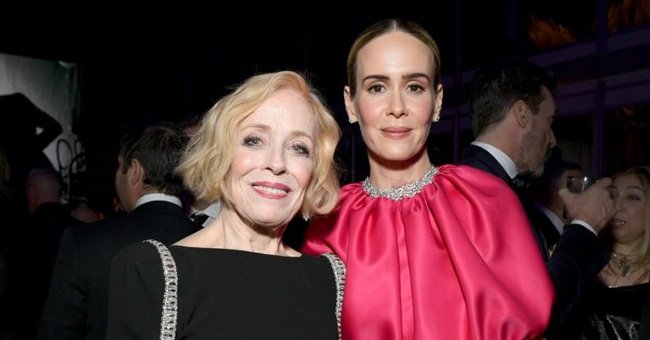 Getty Images
Sarah Paulson Posts Touching Tribute to Girlfriend Holland Taylor in Honor of Her 78th Birthday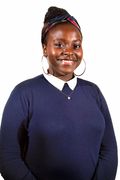 Sarah Paulson took to her Instagram page last Thursday and posted a sweet birthday tribute in the captions dedicated to her longtime girlfriend, actress Holland Taylor, who turns 78 this year.
Sarah Paulson, 46, posted a black and white candid of Taylor on January 14 to celebrate its 78th birthday. In the captions, The American Horror story star called her longtime girlfriend perfect.
Paulson, hilariously hinting at their closeness, called Holland an idiot if she did not like the picture. The acclaimed actress adds the image to her list of public tributes to Holland. The pair came out as a couple in January 2016.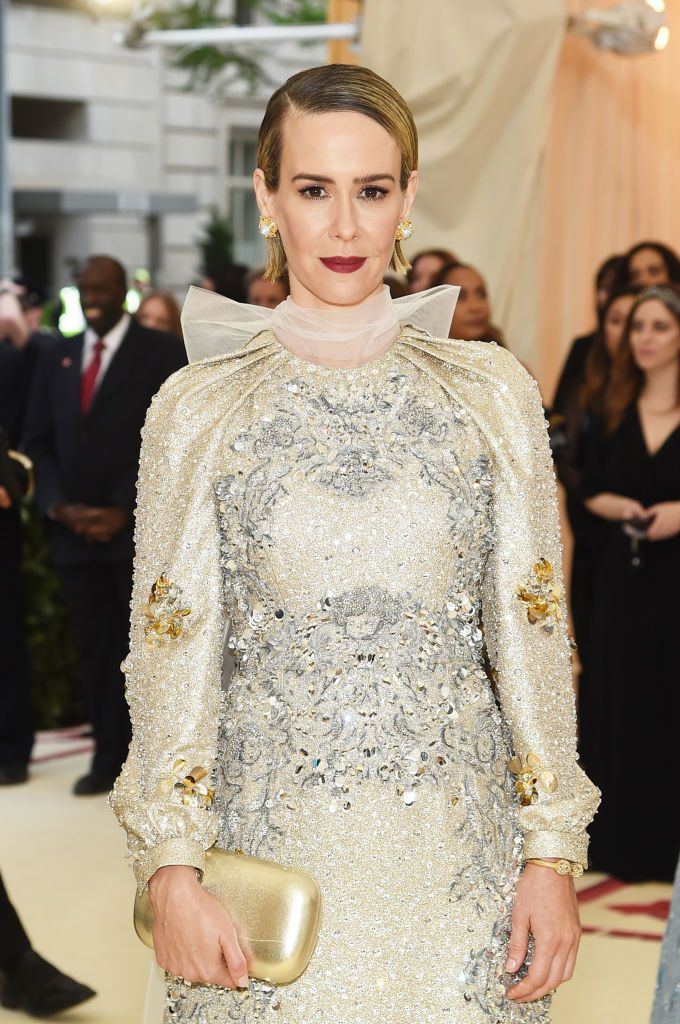 Sarah Paulson attends the Heavenly Bodies: Fashion & The Catholic Imagination Costume Institute Gala at The Metropolitan Museum of Art. | Source: Getty Images
Holland often talks of her old-fashioned ways, but the actress took a very modern method in approaching Paulson. After meeting when doing PSA's for an organization, the two followed each other on Twitter.
Holland then began talking to Paulson on the app, and soon their conversations led to romance. At the time, the couple saw other people, but it was the event; however, Paulson explains contributed to their relationship.
"We sort of breezed by each other and then started following each other on Twitter … and then—"
The couple shares a 32 year age difference between them, a point of scrutiny to many. In an interview with the New York Times, Paulson maintained the gap brought about a valued sense of time in their relationship.
Often vocal with their affection for one another. Paulson and Taylor never shy away from showing the world how proud they are of each other. Notably, Paulson's speech during her first Emmy win told Taylor she loves her.
Paulson, who wanted a career just like Julia Roberts, has since changed her views.
At first, the two, however, shared differing views on breaking the news of their relationship to the public. In a 2018 interview with Instyle, Taylor stated she came from an age where personal news in the press was rare.
Paulson, however, changed the actress's mind. Paulson wanted to use her relationship to inspire others in situations where they may be judged by showing she lived an authentic life. To that, Taylor agreed, saying:
"It was hard for me at first to go through that membrane of being a private person. But it's been good for me to do it in such a lovely way."
Paulson and Holland live in two separate homes despite their longtime relationship. The pair's Los Angeles homes are just five minutes from each other, and they often spend time at one another's properties.
During the Covid-19 pandemic, however, the busy actresses have taken turns quarantining together. Holland and Paulson, who enjoy their independence, spend a few days at each other's property before switching to another.
Paulson, who wanted a career just like Julia Roberts, has since changed her views. Despite many canceled shows in her filmography, Paulson decided to make her career her own, and it has paid off.
The couple is currently starring in two successful Netflix hits, both directed by Ryan Murphy. Paulson can be found playing Nurse Ratched in the show "Ratched," while Holland stars in an alternate history show, "Hollywood."
Please fill in your e-mail so we can share with you our top stories!