TI & Tiny Harris Look Sweet Together during a Date Night — See the Romantic Photo
Tameka "Tiny" Harris shared a picture on social media of her and her husband TI Harris during a date night in celebration of DJ Greg Street. 
Sporting emerald green hair and leather boots, the Xscape singer Tameka "Tiny" Harris looked dashing next to her husband of 11 years on their romantic night out together, with the couple seeming comfortable and relaxed. 
Tiny shared the picture of the couple with her 6.6 million Instagram followers, who were all elated to see the married pair looking happy together whilst celebrating DJ Greg Street.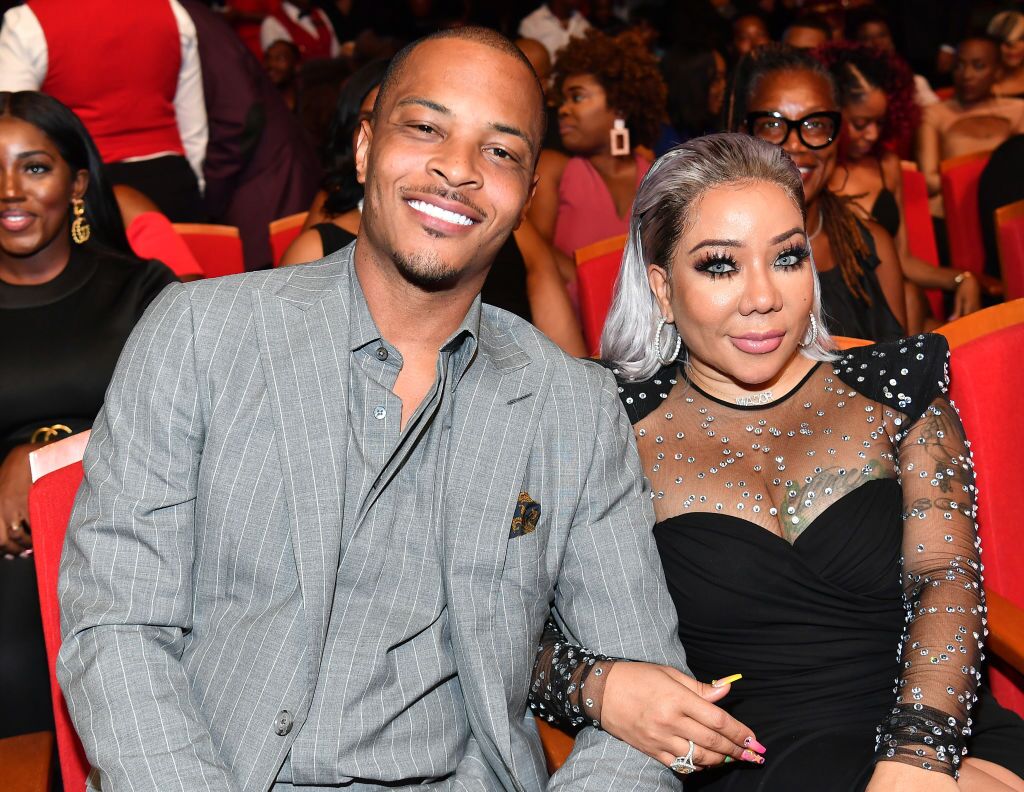 HAPPILY IN LOVE
After over 21 years of being together and being married for 11 years, the MC TI and singer Tiny are still very much in love. The singer explained the secret to their long-lasting relationship by saying: 
"For us, I think that it's all in love, we just have a lot of love for each other. A lot of years in it, too. It brings us back to being on a certain page that we just can't keep running from." 
Over two decades spent together is not all that this famous couple shares as they have seven children between them, three together and four from previous relationships. The couple's history evidently contributes to why they are still together.   
DENYING DIVORCE
Although the couple appears very settled and happy at the moment, they can't seem to ditch the divorce rumors. Reports of TI being unfaithful, as well as conflict arising between the pair, caused a buzz last year December. 
The new mother and baby received tremendous support from her boyfriend and family.
Although Tiny filed for divorce in 2016, the couple never legally separated, but the rumors about the couple haven't died down since. Tiny spoke out against the most recent reports of the two splitting up, saying that the couple was in a good place. 
BECOMING GRANDPARENTS
Another factor contributing to why the couple is doing so well could be that Tiny and TI recently became grandparents. Zonnique Pullins, Tiny's oldest daughter, had her first child with her boyfriend, Bandhunta Izzy, in December 2020.
Although the new mom was initially sad to find out she was pregnant because she would have liked to wait before having children of her own, Zonnique was excited by the prospect of growing and maturing by becoming a mother. 
SHOCKED AND OVERJOYED 
Zonnique wasn't the only one shocked by her pregnancy, as her family was also a little taken aback by the news. Nonetheless, the new mother and baby received support from her boyfriend and family and were excited about the new arrival. 
The new grandparents both proudly shared the new baby's arrival on social media. TI, who is clearly smitten with his granddaughter, shared a photo of her lying on his chest as the two napped together with the caption: 
"Completely In Love ? We've been blessed beyond measure time & time again ?? God is The Greatest ?."
Regardless of the rumor mill suggesting that there is internal strife in the Harris household, Tiny and her family's updates seem to disagree strongly. Not without their troubles, Tiny and TI remain a power couple who are doing well together. 
With the addition of a new grandchild and their effort to spend time with one another, the Harris family seems to be doing better than ever. Perhaps it is time to start taking the Harris' at their word where their family is concerned.