Dale Moss Confirms Split with 'Bachelorette' Star Clare Crawley after Getting Engaged Last Year
Dale Moss takes to Instagram to confirm his engagement with Bachelorette's Clare Crawley is over. The couple made "The Bachelorette" history when they got engaged on episode 4. 
Dale Moss has shared a lengthy explanation on his Instagram, which confirms the end of his engagement to Clare Crawley. This is Crawley's second failed engagement after Benoit Beausejour-Savard, who she dated during the show's 2018 season. 
Athlete Moss wrote that the pair believed strongly in honoring their true feelings, which is a trait both he, 32, and hairstylist Crawley, 39, had been taught by their respective families.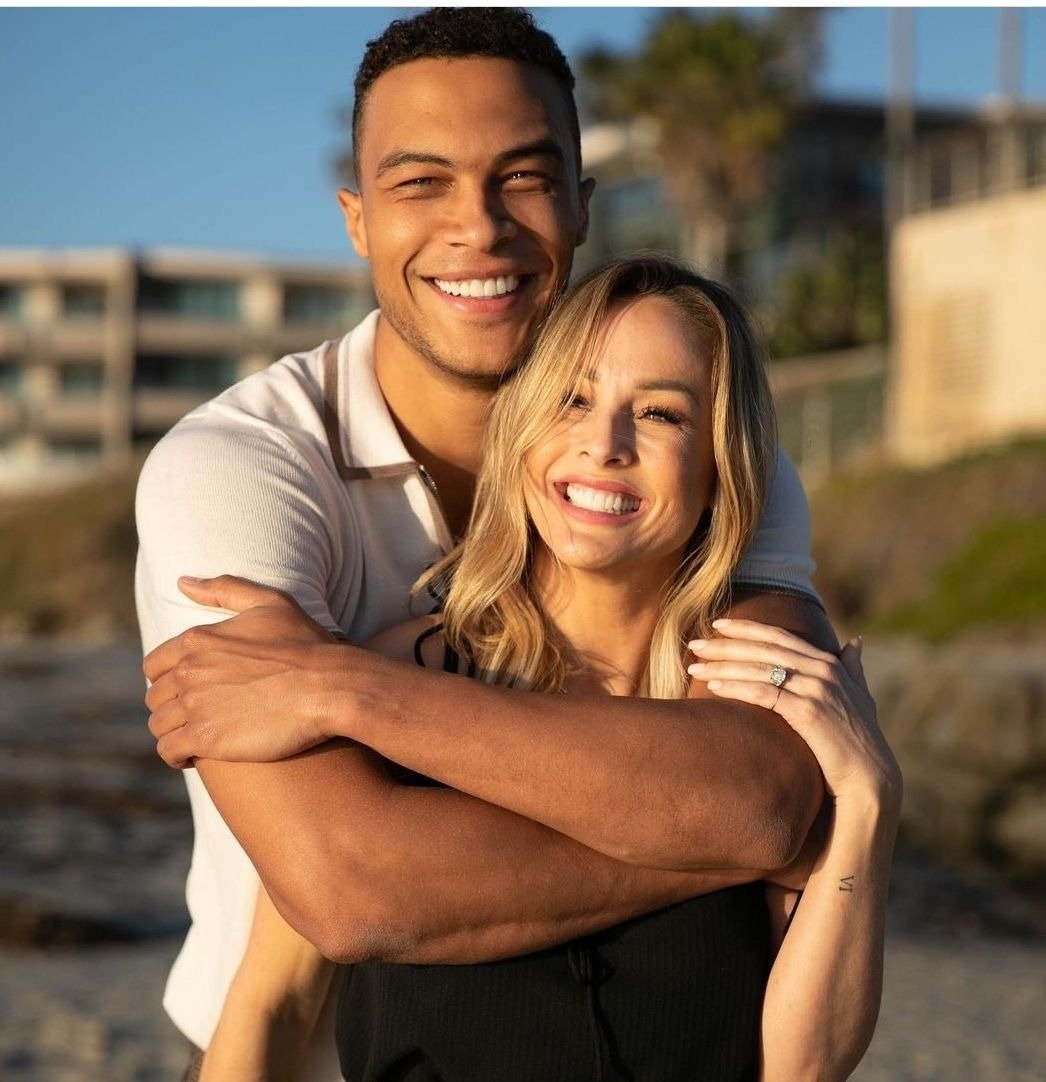 Having previously spoken publicly about addressing their serious relationship issues, Moss reassured fans the pair still had love for one another and wished each other happiness without going forward. 
Moss remembered to show his gratitude for all the affection and support they had received from people. He said the two of them would work through the break-up together and included in his caption: 
"This is the healthiest decision for both of us at this time."  
A week ago, Moss revealed on the "Raising The Bar with Alli and Adrian" podcast that he repeatedly refused to go on the dating show after being nominated. He only agreed to join after Crawley was announced as the contestant. 
Before the break-up, the pair spent Thanksgiving and Christmas together. They even visited their respective hometowns in an attempt to spend time with their families, as part of a cross-country trip they took together. 
Chris Harrison and the producers of "The Bachelorette" were left panicking after Crawly quit the show early.
Crawley made Bachelorette history when she accepted Moss' proposal during episode 4 of the show, which led to an early exit from the production. The pair got engaged after having known each other for just two weeks! 
As a result of the unprecedented fast bond the two developed, the show's Chris Harrison asked them whether or not they had spoken before meeting each other on the show, which they both denied. Crawley went on to say:
"I just feel it to my core, and whether it took 1 day, or 10 days, or 2 weeks, or 2 years, this man makes me happy."
Harrison and the producers of "The Bachelorette" were left panicking after Crawly quit the show early, not knowing what they were going to do. It was later reported Crawley locked herself in her room and refused to continue filming. 
Acting fast on their feet, a decision was taken to go back into the archives of women who had previously been vetted and considered for the show but never made it. That is how Tayisha Adams was cast to continue with the show. 
Moss and Crawley have had to defend themselves against those who criticized their lightning-quick romance. Dale responded by saying Crawley had ignited a flame in him, and he was comfortable to go all in, as he wasn't afraid of commitment. 
Crawley echoed Moss's sentiments, saying even he hadn't proposed to her after two weeks, the two would have still left the show together. But with news that the two have now gone their separate ways, it seems the naysayers got the last word.