Getty Images / facebook.com/DowntonAbbey
Maggie Smith and More 'Downton Abbey' Stars Then & Now

"Downton Abbey" was aired from 2010 to 2015 and was loved by audiences. Here is a look at the show's stars from then and now!
"Downton Abbey" truly is a classic. The show aired during 2010-2015, but fans have watched long after the finale episode. Read below to see what the stars of the show have been up to since.
The most famous and well-known person on the cast when the show was first released is Dame Maggie Smith. The actress played the iconic Professor McGonagall in Harry Potter.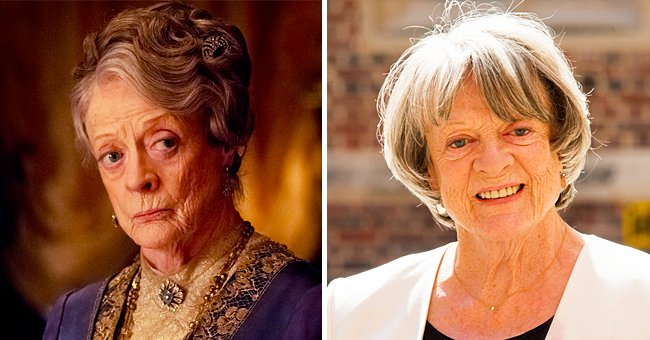 Maggie Smith as Prof. McGonagall and a photo of the Death Hollows premiere. | Photo: Getty Images / facebook.com/DowntonAbbey
She has not been up to much in recent years, and she definitely deserves the break. Her only forthcoming film is "A Boy Called Christmas." If you need a Smith to fix, perhaps a marathon of the "Harry Potter" films is in order.
Let's see what Hugh Bonneville has been up to since his role as Robert Crawly, Earl of Grantham. He earned two Emmy nods and a Golden Globe nomination for this performance in the show.
After "Downton Abbey," he went on to appear in the Paddington films. In 2017 he played the role of Lord Mountbatten in the movie "Viceroy's House." He was named a Deputy Lieutenant of West Sussex, England, in 2019.
Jessica Brown Findlay, who played Lady Sybil, actually had an exciting career before her time on the show. As a child, the actress had studied at the National Youth Ballet and the Associates of the Royal Ballet.
She then changed her career path and started acting. Recently from 2017 to 2019, she acted in the Tv series "Harlots." In 2020 she wedded her boyfriend of 4 years, actor Ziggy Heath.
Laura Carmichael, who played Edith Pelham, reprised her role as the character for the 2019 film adaptation of "Downton Abbey." She has been dating the actor who played Ander Parker, Michael C. Fox.
Actress Lily James who played Lady Rose Aldridge has had an extremely successful career after her 4 seasons on the show and went on to star in lots of movies.
She starred in the 2017 movie "Baby Driver," the musical "Mamma Mia! Here We Go Again" in 2018, "Yesterday" and most recently, she starred in the movie "Rebecca" in 2020.
Allen Leech A.K.A Tom Branson from "Downton Abbey" starred along with Rami Malek in the super successful 2018 Freddie Mercury biopic "Bohemian Rhapsody."
To read about more stars from "Downton Abbey" and what they are doing now, check out this list from Us Magazine to seeing what your favorite character is up to now.
Please fill in your e-mail so we can share with you our top stories!