Naomi Osaka Sports a Navy Top with Matching Mini-Skirt as She Flaunts Her Long Fit Legs (Photo)
Tennis superstar Naomi Osaka looked gorgeous in a new Instagram post as she gave fans a glimpse into her newest gig as brand ambassador for Tag Heuer.
Naomi Osaka's new Instagram post was nothing short of breathtaking as she posed casually in a chic, gold zipped hoodie and white trainers, spilling the beans about her collab with Taghuer.
Not only is Naomi Osaka the world's youngest tennis prodigy, but she's also renowned for her remarkable experimental fashion style. No surprise that she has big brands chasing after her as Osaka continues to prove that her star power extends way beyond the tennis court.
TAG HEUER'S NEWEST AMBASSADOR
Osaka's incredible ability to express herself using fashion and her universal appeal were enough for her to land her partnership with TAG Heuer —she's now the celebrated watch brand's newest global ambassador. In an interview with BAZAAR.com, Osaka says: 
"I'm excited! I know it sounds cliché, but a timepiece is really timeless, and it's important to consider style, quality, and history,"
With three Grand Slam titles under her belt, Osaka lives by the brand's "Don't Crack Under Pressure" motto. Osaka has been under enormous pressure to succeed from a young age and has proven that she has what it takes to reach the very top.
COLLABORATION WITH NIKE
The tennis sensation also made headlines when it was announced that she would be teaming with Nike for one of the brand's many athlete partnerships. Osaka has featured in several of the brand's campaigns and enjoys a lucrative partnership with the brand.
The first time the luxury brand has looked to a professional athlete as an ambassador.
Osaka worked with Nike to release her first apparel collection in November 2019, which she proudly calls an ode to her Haitian, Japanese and American heritages. The collection showcases several fashionable pieces that are both practical and stylish.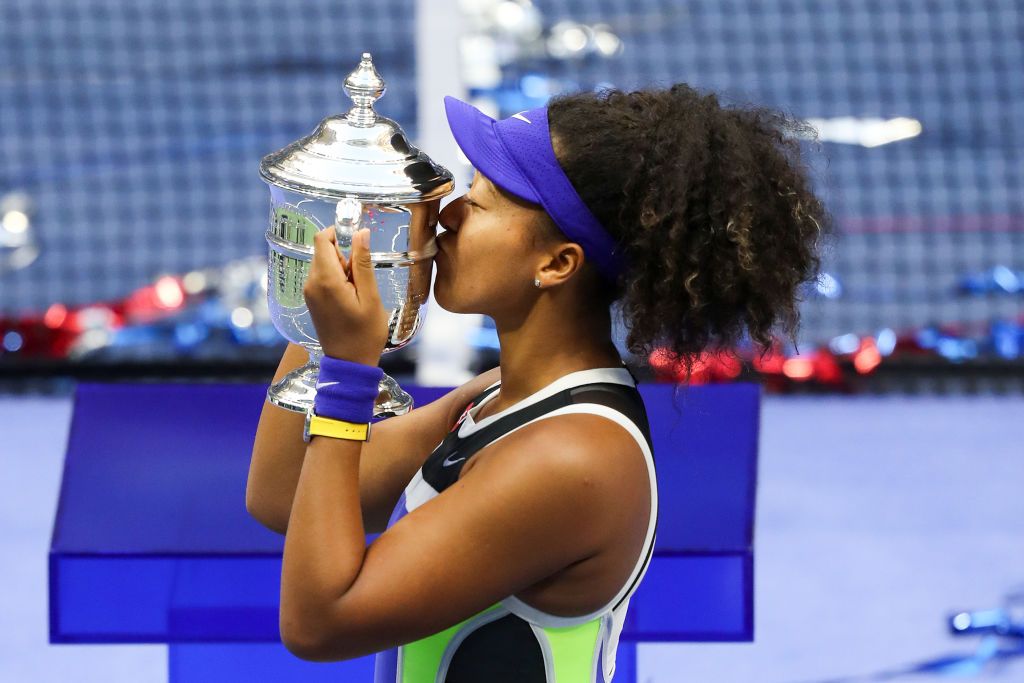 LOUIS VUITTON BRAND AMBASSADOR
Louis Vuitton tapped Osaka as a brand ambassador, historically marking the first time the luxury brand has looked to a professional athlete as an ambassador. Osaka shared the news on Twitter writing:
"Funny story: I first bought my mom an LV bag when I was 16 as a birthday present and it's kinda been a tradition since. Do I call this a full circle moment? Yes."
Osaka will be seen in the brand's spring 2021 fashion campaign photographed by Louis Vuitton, artistic director of women's collections, Nicolas Ghesquière. Yet another incredible partnership for the young sports star.
VOGUE JANUARY 2021 COVER
As if having collaborated with the likes of Louis Vuitton isn't enough, Osaka fulfilled another of her dreams when she featured in the January 2021 edition of Vogue magazine, landing the cover of the prestigious glossy. 
In the magazine, it's reported that from June 2019 to June 2020, Osaka was the highest-paid female athlete ever. According to Forbes, Osaka raked in a whopping $37.4 million, surpassing legends like Maria Sharapova and Serena Williams.
When Osaka is not on the court or promoting power brands, she's an avid activist and actively participated in the BLM (Black Lives Matter) campaign, wearing a black face mask during every match. She continues to support BLM and has thrown her star power into the mix to champion the cause.
The 23-year-old powerhouse is currency dating rapper Cordae, 23, whose full name is Cordae Dunston. The sweet couple made headlines in September 2020 as television cameras caught the rapper jumping out of his seat to pump his fist and pound his chest in celebration of her Grand Slam win.