Nicole Murphy Puts Her Seductive Legs on Display Posing on a Sofa in a White Blouse
Nicole Murphy's recent media update had her looking like the ever-stylish celebrity that she is while enjoying her sexy hour and delighting her admirers. 
Nicole Murphy undoubtedly embodies the "Black Don't Crack" mantra and her media show-offs display how she rocks stylish clothes and keeps her stunning figure intact.
The ever-gorgeous model's latest Instagram post was nothing short of exquisite as the evergreen fashion connoisseur channeled a casual but tasteful look while lounging indoors.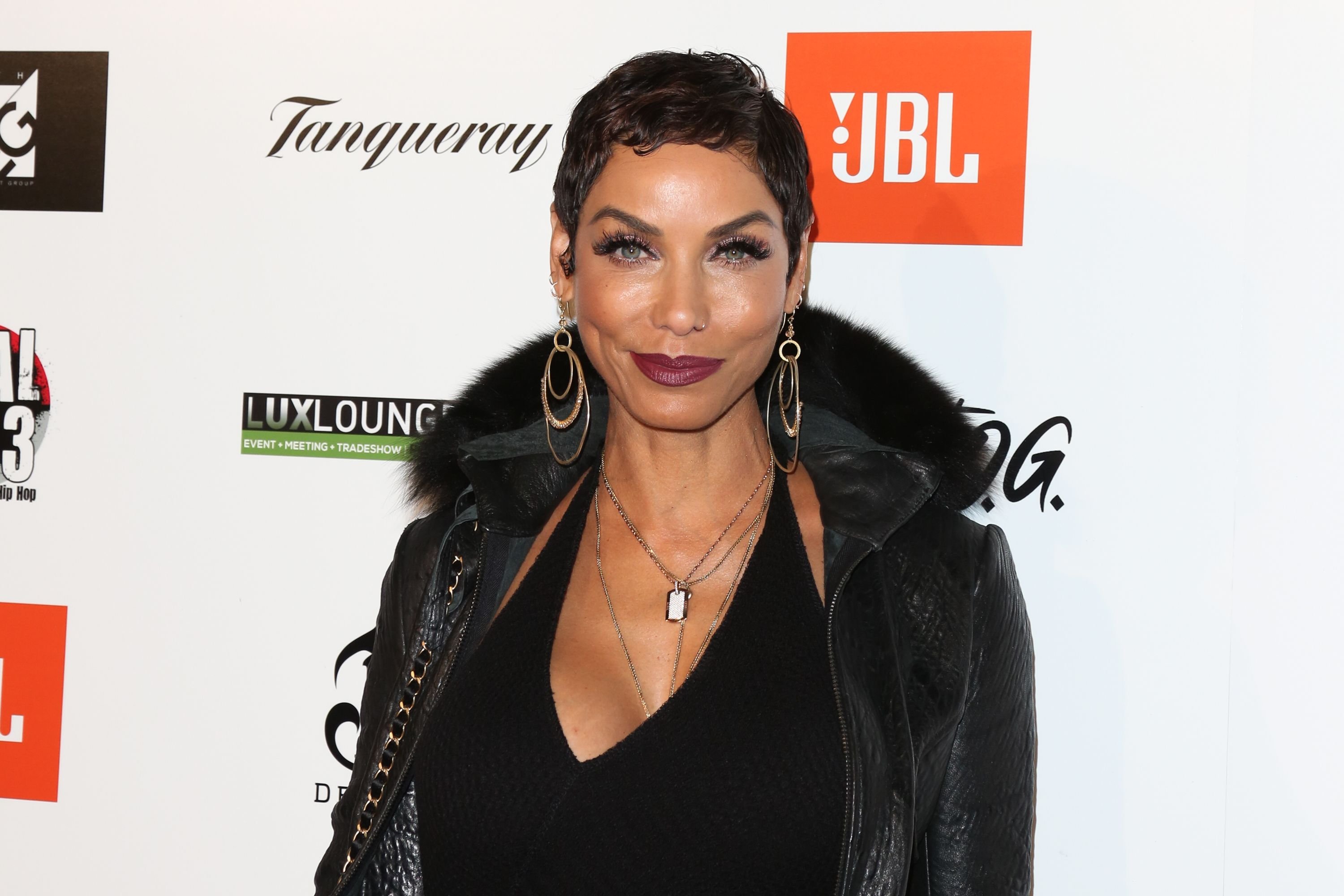 The white-themed snapshot showed Nicole rocking a white buttoned shirt as she put her flawless limbs on display. The "Just Love" actress sported blush pink acrylic on her toenails while her hair was styled in its usual cropped fashion.
A $10 per month subscription gives fitness enthusiasts access to Nicole's fitness secret.
The star reclined on a plush white sofa while resting her back on a gigantic patterned throw pillow with her little dog's coat matching her glam. The former model was photographed throwing her head back for a good laugh as she captioned:
"When things change inside you, things change around you. #yfoy #everdayconfidence #strongwomen…"
It is safe to say that Nicole, who used to be a supermodel, is aging backward. The fashion goddess is the mom to five grown kids and is also a grandmother, but she has no hair out of place. 
Nicole once noted that she owes her ever-youthful figure to her genes, but another huge contribution is the fact that she is a fitness guru. On Nicolemurphyfitness.com, she documents her fitness activities that help keep her figure intact.
Through her website, the Hollywood star reaches out to fans, giving them tips on how to achieve weight loss, lead a healthy life, and maintain toned figures. A $10 per month subscription gives fitness enthusiasts access to Nicole's fitness secret. 
While the 53-year-old mostly connects with fans on social media these days, she once juggled being a model with her acting career. Her most recent movie appearance was in 2018.
The star who has five kids, shares parenthood with comedy icon Eddie Murphy, and they were married from 1993 to 2006. She once noted that although they had been separated for a long time, she and Eddie were on good terms. 
Nicole does not seem to be in a known romantic relationship, but she has been engaged to NFL alum, Michael Strahan, and they broke up after five years. She was also romantically linked to Nick Cannon.