Serena Williams' Daughter Looks Cute on Her IG Story in a Sunflower Dress with Tiger Face Paint
Serena Williams' daughter Olympia Ohanian brought out the artist in her as she painted her face with tiger patterns. She is the cutest tiger ever! Check out the snaps. 
Serena Williams and Alexis Ohanian's daughter Olympia is growing up to be an all-rounder — she already plays tennis, loves to cook, and co-owns a women's football team. How cool is that!
Painting is also one of Olympia's many hobbies. Recently, her mother melted netizens' hearts with a couple of snaps of the little one showing off what she did with colors. 
Olympia painted her face with stripes that looked like a tiger's. Using a black marker and orange paint, she drew lines on her cheek and circled the tip of her nose. 
Not sure what the 3-year-old was aiming to draw on her forehead, but the patterns on the middle of it were abstract. A few strokes around her eyes and Olympia was easily the cutest tiger ever!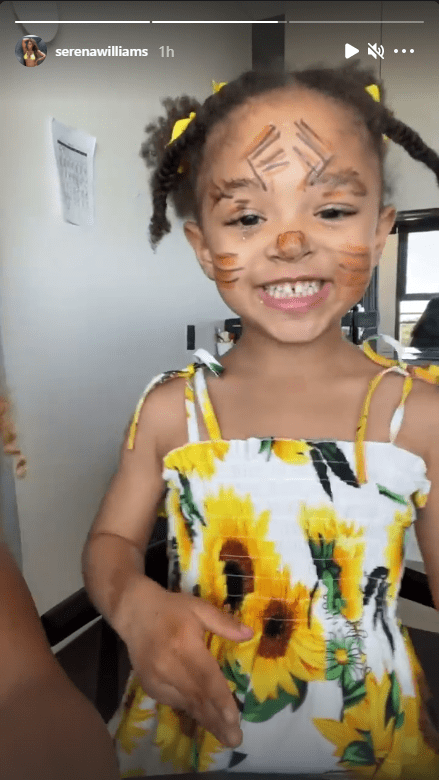 The little one looked pretty in a white dress with sunflower prints. Her hair was tied into multiple braids at the front and cute little buns at the back with what looked like yellow ribbons. 
Olympia has been playing tennis on the family's at-home tennis court.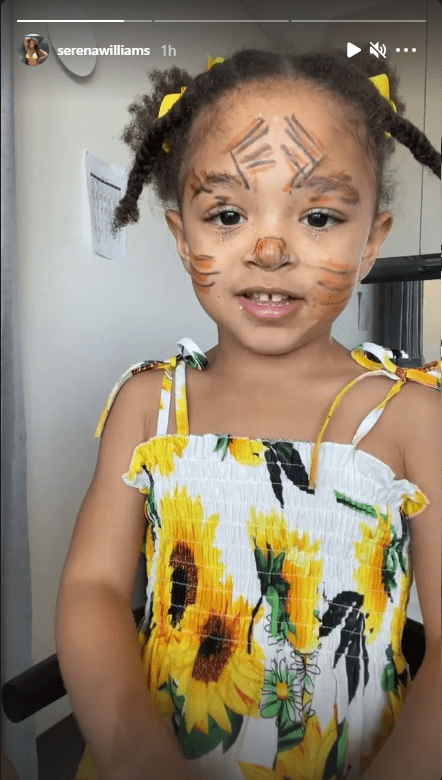 Fans cannot wait to see how Olympia grows up to be. Williams says her daughter is like an extension of herself because when she was young, she was as wild as Olympia is now. 
To the tennis superstar, being wild means showing curiosity, a quality she feels is pretty important for finding who you are. She is forever grateful towards her parents, who allowed her to unleash her wild side with tennis. 
While she did not plan on throwing her on the tennis court, Olympia is already learning how to play and seems to enjoy the game. Fans already consider her a tennis star in the making.
Olympia has been playing tennis on the family's at-home tennis court. Once in a while, Williams delights her fans with photos of the baby girl going all in during practice. 
More recently, she shared a photo of Olympia in action as a tennis ball approached her. With a stance like a pro, the baby girl swung her racket with all her might and prepared to deliver a powerful shot. 
Williams looked on from behind her. Although she had a mask on, one could tell she was proud of Olympia. If she keeps training that way, the little one will be ready to take over the tennis world.