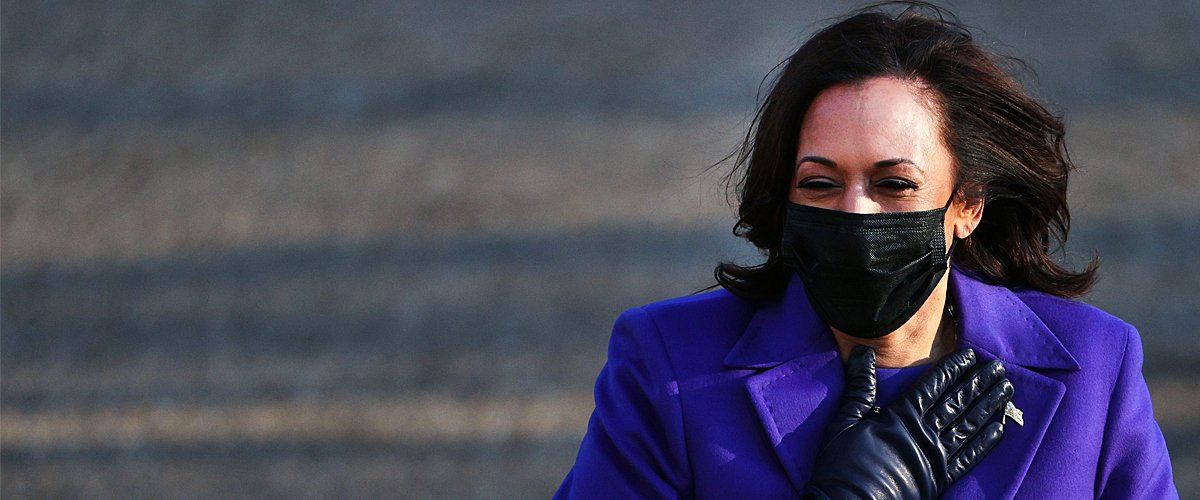 Getty Images
Inauguration Day 2021 Best Looks — Most Outstanding Fashion Moments at the Event

It is no secret that people have always been interested in the fashion choices made for important political events, and Inauguration Day 2021 was certainly no different.
From Jill Biden and Kamala Harris to Lady Gaga and Jennifer Lopez, take a look at the most beautiful ensembles worn during President Joe Biden's Inauguration Day held at the Capitol in Washington, D.C.
Black designers took over 2021 Inauguration Day!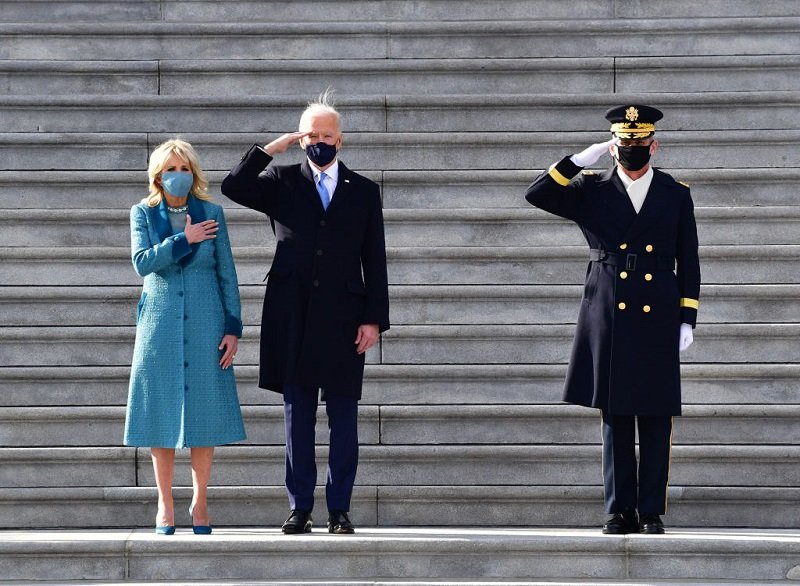 US President Joe Biden and wife US First Lady Jill Biden on January 20, 2021, at the US Capitol in Washington, D.C. | Photo: Getty Images
JILL BIDEN
Dr. Jill Biden, now known as the First Lady of the United States, stole the spotlight with her monochromatic aquamarine outfit designed by Alexandra O'Neill from the New York-based fashion label Markarian.
The FLOTUS opted for a sky-blue tapered dress adorned with pearls and crystals. On top of that, she put on a glimmering coat featuring Swarovski crystals. Finally, Jill Biden wore matching gloves and a face mask.
According to Alexandra, who felt honored that FLOTUS wore her brand for Inauguration Day 2021, they chose blue because it is a calming color that symbolizes trust, confidence, and stability.
KAMALA HARRIS
Kamala Harris attracted a lot of attention not only because she became the first female Vice President of Black and Indian descent but also because of her beautiful purple ensemble.
She looked just like a Royal family member in her knee-length, A-line, deep violet coat that covered her matching dress – a fashionable style created by designer Christopher John Rogers.
Christopher, the 27-year-old queer Black designer from Louisiana who admitted to being honored and humbled, was chosen as the 2020 CFDA American Emerging Designer of the Year.
Former US President Barack Obama and Michelle Obama on January 20, 2021 in Washington, D.C. | Photo: Getty Images
MICHELLE OBAMA
Joe Biden's family wasn't the only one present at the Inauguration Day 2021; the Obamas attended the event, too, and Michelle's outfit was nothing short of remarkable.
The former FLOTUS put on a burgundy monochromatic ensemble designed by Sergio Hudson. Her wide-leg pants, form-fitting turtleneck, and floor-length coat combined perfectly with her gold-buckle belt.
Sergio Hudson is also a Black designer whose fashion brand, launched in 2014, is located and produced in Los Angeles. Black designers took over 2021 Inauguration Day!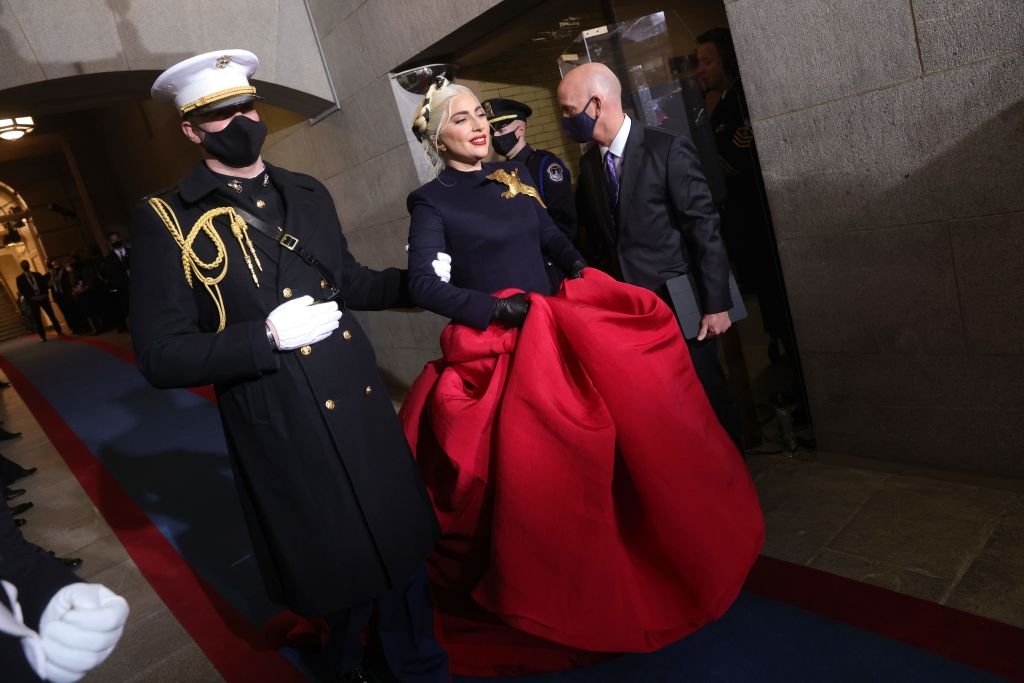 Lady Gaga on January 20, 2021, at the US Capitol in Washington, D.C. | Photo: Getty Images
LADY GAGA
Although Lady Gaga's rendition of the "Star-Spangled Banner" was one of the event's highlights, her outfit made headlines and took the internet by storm.
The singer and actress wore a Schiaparelli Haute Couture by Daniel Roseberry consisting of a cashmere navy blue collarless jacket and a puffy, red silk skirt.
Gaga, who also put on black gloves, gave her outfit that final striking touch with a giant gold dove brooch holding an olive branch – a clear hint to Joe Biden's theme of unity.
JENNIFER LOPEZ
Lady Gaga was not the only singer present at the event. Jennifer Lopez was also at the Inauguration Day 2021 and sang "This Land Is Your Land" and "America The Beautiful."
Lopez wore a long, white winter coat by Chanel that featured silver buttons. Since it was left unbuttoned, her gorgeous sheer blouse and matching pants were also visible.
AMANDA GORMAN
22-year-old poet laureate Amanda Gorman read her original poem, "The Hill We Climb" – about the Capitol riot that took place in early-January – wearing an outstanding Prada ensemble.
It featured a long, bright yellow jacket that covered a white poplin shirt, a black leather skirt, and a bold red headband. Her earrings and rings were presents she got from Oprah Winfrey.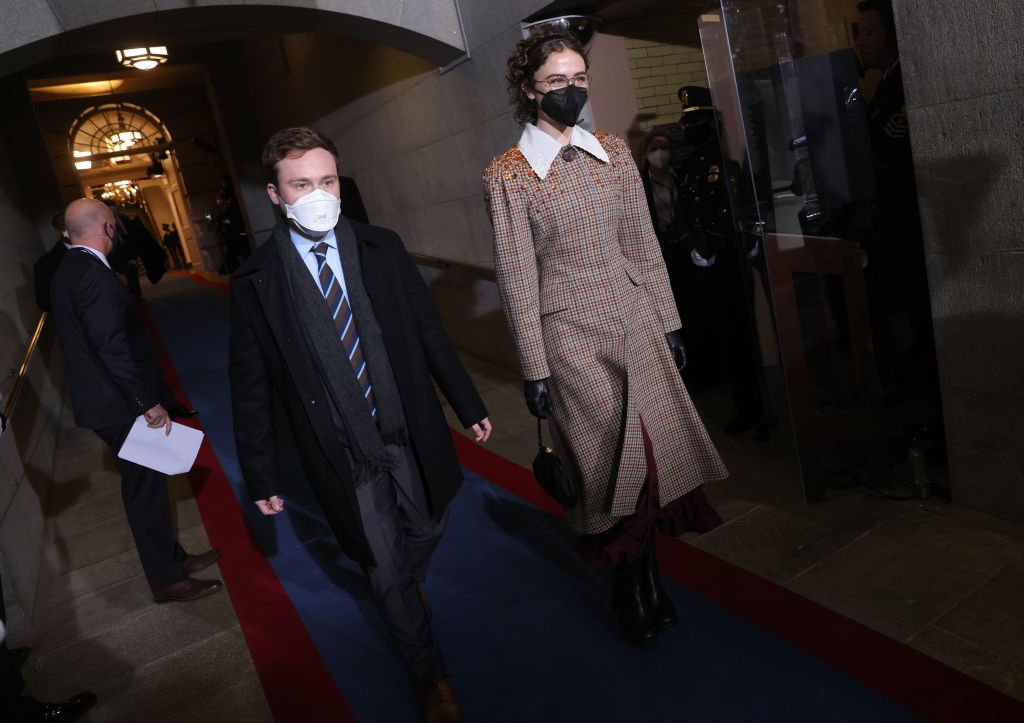 Cole Emhoff and Ella Emhoff on January 20, 2021 in Washington, D.C. | Photo: Getty Images
ELLA EMHOFF
Kamala Harris' step-daughter, Ella Emhoff, attended the event rocking a Miu Miu tartan coat with crystal-encrusted shoulders and a pilgrim collar that covered a burgundy dress designed by Batsheva from New York.
Inauguration Day 2021 was definitely a historical event, and the bold fashion choices made by the people on our list made things all the more enjoyable!
Please fill in your e-mail so we can share with you our top stories!