Glimpse inside Bindi Irwin's Adorable Nursery as She Prepares to Welcome Her Daughter
In the coming months, wildlife expert Bindi Irwin and her husband, Chandler Powell, will be welcoming their first baby, a girl, and they have her room all set up.
Being a mom has been a thrilling prospect for the pregnant wildlife lover, Bindi Irwin, who is bracing up to welcome her daughter into the world in the coming months.
Irwin's post on social media has been full of sweet insight into her pregnancy journey, and she has not failed to keep her fans updated on what is going on with her.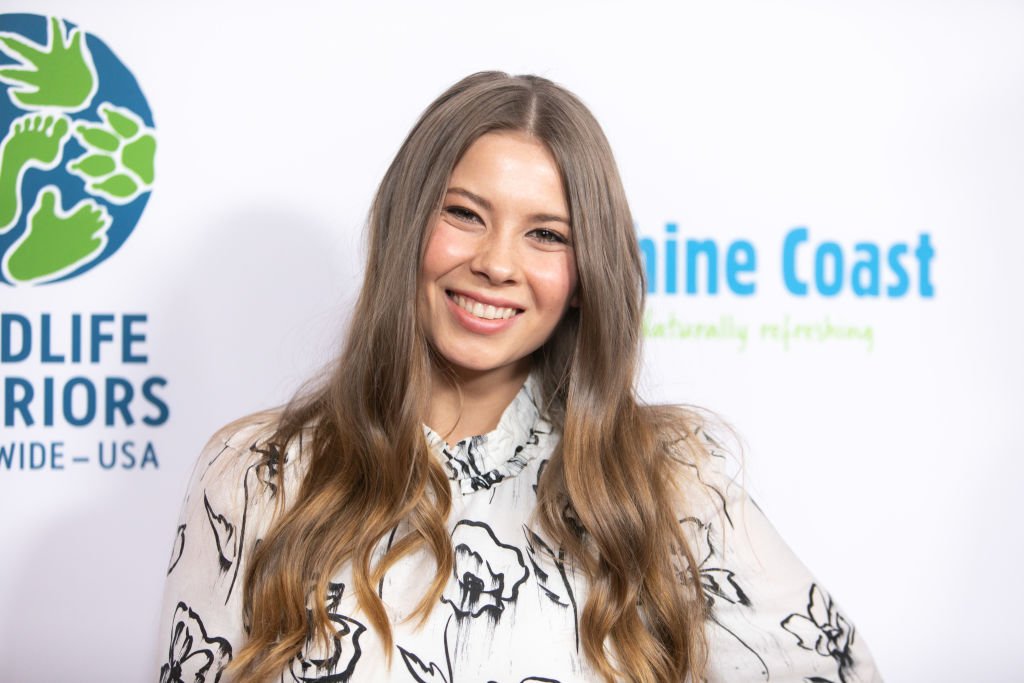 Her recent upload showed her fans a glimpse of how much preparation she has put into welcoming her little girl, who she has continuously said she could not wait to meet.
As the day is drawing closer, the zookeeper has ensured that her preparation is intact. Ahead of her baby's arrival, Irwin has prepared a cute nursery for her little one.
On Thursday, the twenty-two-year-old wildlife conservationist shared a photo on her Instagram showing off her growing baby bump while posing in the room.
The well-decorated nursery is the paradise Irwin prepared for her forthcoming daughter. The room's wall is decorated with cute stickers of butterflies, pink flowers, a moon, and rabbits.
Their fans will be as eager as they are to welcome their daughter when she arrives.
In the caption to the story, Irwin wrote that she could not wait for her daughter to arrive. Irwin, the daughter of late Australian Crocodile Hunter Steve Irwin, is now in her third trimester.
The 22-year-old recently wowed her fans with a cute loved up picture of her and her husband, Chandler Powell, as they looked eager to expand their family.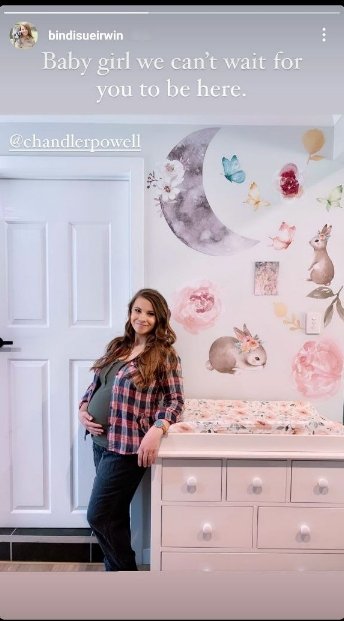 The couple looked tender and loved up, with Powell resting his head gently on Irwin's. The couple is enjoying every moment of their sweet nine months journey.
Since she announced her pregnancy, Irwin has not held back when it comes to sharing pictures with her fans. The expectant mother once shared her sonogram with her fans while cuddling a pet.
 Irwin said that she could not wait to have her girl join the family to learn how to care for the precious gifts of nature. Since her marriage to Powell, the couple has become an inseparable pair.
Irwin and Powell got wedded in a small ceremony at an Australian zoo early last year before the country went on lockdown. Five months down the line, the duo announced that they were expecting their first baby. They asked their fans for support and prayers.
On their part, they keep providing sweet memories for their fans. In one post, the couple shared a clip of their ultrasound with their fans, and their joy was boundless. Their fans will be as eager as they are to welcome their daughter when she arrives.