Kelly Rowland Puts Her 9-Month Baby Bump on Display during an Impressive Workout Session
Acclaimed singer Kelly Rowland has continued to visit the gym, even if she is nearing her due date. She displayed her nine-month bump during a workout session.
Former Destiny's Child songstress Kelly Rowland shows that women still break a sweat even while carrying an unborn child. She and her trainer, Rebecca Broxterman, has evidence to prove it.
Broxterman and Rowland recently took turns in sharing pictures from each of their Instagram stories. Their snaps, especially Rowland's photos, looked empowering.
WORKING WHILE PREGNANT
In Broxterman's photo, Rowland, dressed in a peach sports bra and leggings, was doing wall-sits. The "Motivation" singer proudly flaunted her big and round belly while killing the exercise.
Broxterman was impressed with the 39-year-old singer's drive to work out despite her nearing due date. She wrote on top of her Instagram Story:
"She's still pregnant so we are still working."
In another snap taken by Broxterman, Rowland, who is expecting her second child with Tim Weatherspoon, was doing another round of workouts in the gym.
The R&B-Soul singer was doing squats beside a piece of gym equipment. Broxterman wrote that Rowland was waiting for the "little one" to come out. The singer re-shared the snap and captioned:
"What is this baby waiting for?"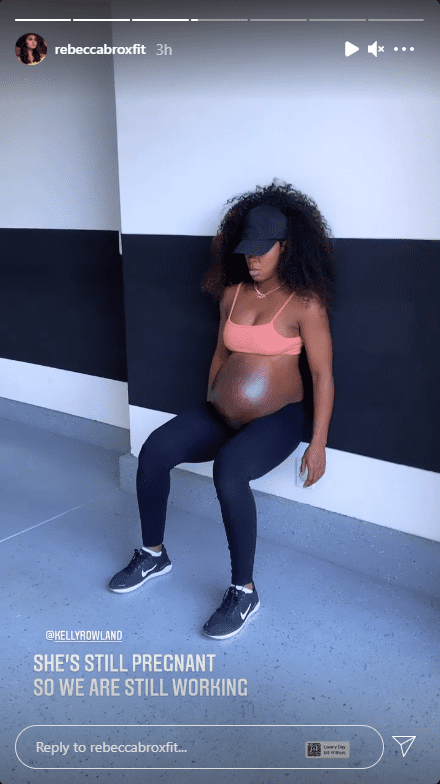 HER FABULOUS PREGNANCY
Having doses at the gym are among the preparations Rowland has been doing before giving birth to her child. She has her own way of making her pregnancy look amazing.
Apart from working out, the doting mother has stunned many fans with her impressive dance moves. She previously kicked off her dance challenge for her new song, "Hitman."
She started the online challenge on her Instagram feed when she was eight months pregnant. The "Coffee" singer did not let her baby bump stop her from showing a move on TikTok as well.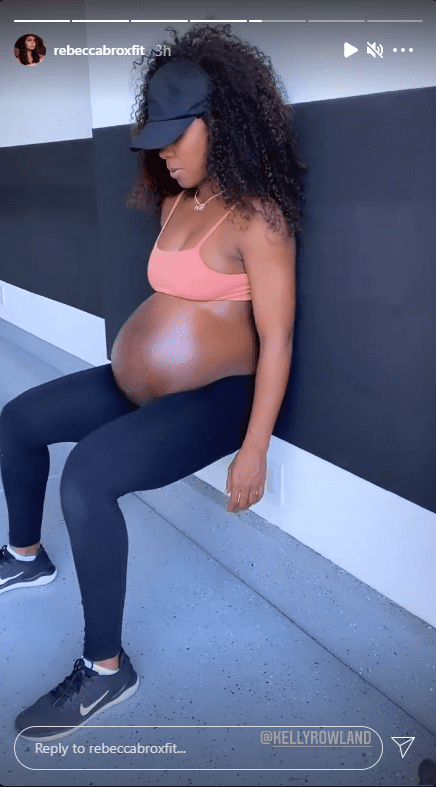 THE BEST WALK
Showing style has been second nature for Rowland. While she loves to wear loose dresses and baggy sweatpants, Rowland also loves to don tight ones that highlight her pregnant belly. 
The Grammy-nominee shared on Instagram a video of herself wearing a sleeveless dark gray catsuit and a striking pair of thigh-high boots. She donned sunglasses and shiny accessories.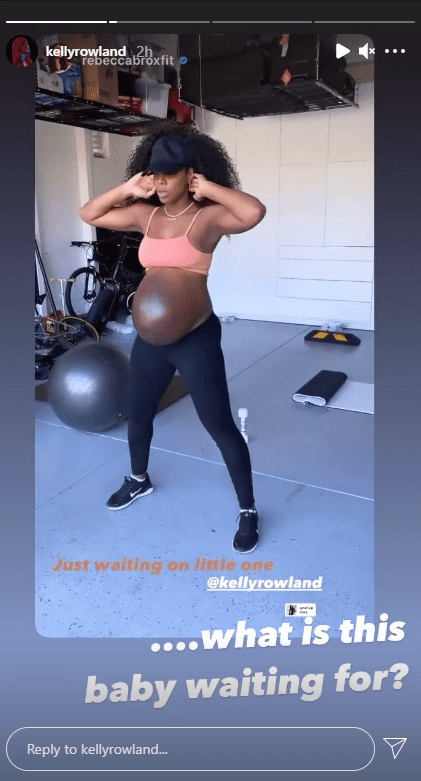 She showed off her model walk to the camera, which only Rowland can pull off while heavily pregnant. Her fans were in awe of her jaw-dropping video.
While some may worry about her walk, Rowland's avid fans supported her outfit. Others noted that the singer was the sexiest pregnant woman who had the "best walk" they've seen on the internet.