'Scandal' Actress Kerry Washington Exudes Glamour in a Plaid Suit with Leopard-Print Boots
Kerry Washington, star of the hit political thriller "Scandal," posted pictures of her in a fabulous gold and blue plaid suit, paired with bold leopard-print boots. 
Kerry Washington shared her glamorous outfit with her 6.3 million followers on Instagram. On her way to the Inauguration Celebration, Washington confidently posed for a few pictures in her chic plaid suit. 
Not one to shy away from standing up for what she believes in, Washington also included a picture of her showing off her red nails decorated with the Biden/Harris campaign logo and red, white, and blue stars.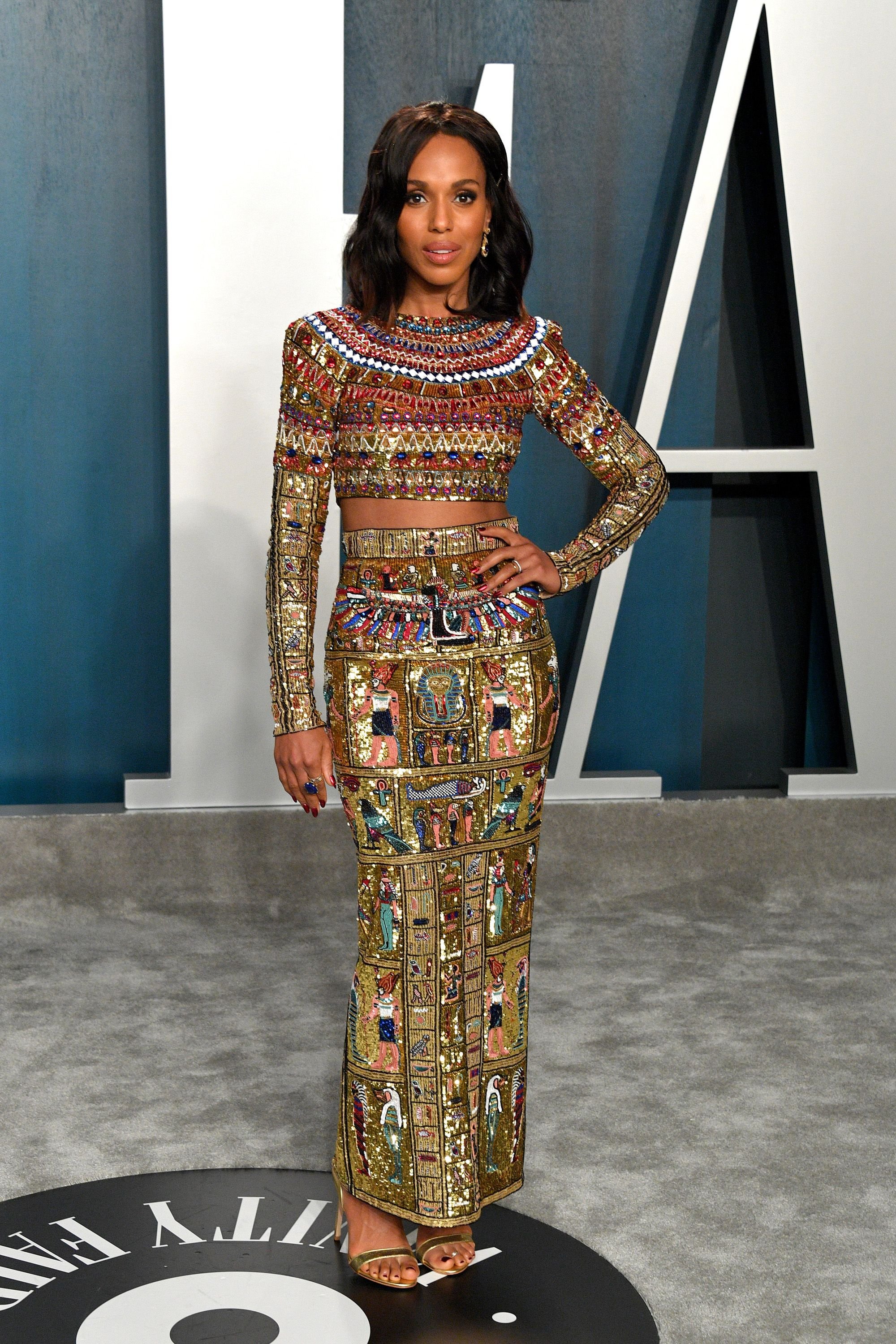 CELEBRATING AMERICA BROADCAST
The gold and blue patterned double-breasted jacket, together with the matching slacks, was an ensemble fitting for the occasion that the actor was attending. Washington choosing to wear a black designer's outfit was a statement in and of itself. 
Washington's plaid suit and leopard-print shoes were chosen for Celebrating America; a function put together by the Inaugural Committee to celebrate the transition of power to the 46th president, Joe Biden. Her post's caption read: 
"Suited up & ready for the Inauguration Celebration ?
ACTOR AND ACTIVIST
Known as an avid supporter of Vice-President Kamala Harris, Washington was one of the celebrity appearances at the event together with Tom Hanks who hosted the evening. Bruce Springsteen was one of the musicians performing. 
The "Scandal" star views her involvement in politics as important as her acting career. Her political standpoint impacts her career decisions as an actor directly, as she sees the two reflecting one another. In an interview, Washington elaborated: 
"I've never been able to divorce political ideology from the choices I make as an actor, because black women in particular have been so marginalised."
POLITICAL ACTOR
Washington best also known for working her magic as the fixer Olivia Pope in the political thriller "Scandal." The actor has also racked up prizes, winning an Emmy and being nominated for two Golden Globes. 
The two got secretly married in 2016 and had their first daughter together, Isabelle, a year after followed by their son in 2016.
However, her breakthrough role was the teen drama "Save the Last Dance," where Washington played the role of Chenille. The movie recently celebrated its 20th anniversary, which had Washington reflecting on its impact on her life. 
BRANCHING OUT
The talent and capabilities of the 43-year-old actor seem never-ending as she has recently shown off her dancing and singing skills in the musical "The Prom." She plays the role of the very conservative PTA-head, Mrs. Greene. 
Washington can also be seen in the hit series "Little Fires Everywhere," where she co-stars with Reese Witherspoon. She recently shared a photo from a scene where she appears to be pregnant, which almost had her fans fooled.
Besides her career pursuits, Washington is also the wife of the football player and actor Nnamdi Asomugha. The two got secretly married in 2016 and had their first daughter together, Isabelle, a later followed by their son in 2016.
Washington plays strong characters in many of the projects that she takes on as an actor, but it is evident that she is a strong character in her own life too. Whether she is an activist, actor, or mother, she does it well.