Whoopi Goldberg, Demi Moore & More Celebs Share Hilarious Bernie Sanders Inauguration Day Memes
US senator Bernie Sanders has become famous among internet users and celebrities alike after his rather drab look at the presidential inauguration was used as a meme.
While many stars made quite an impression with a tasteful show of fashion at the 59th presidential inauguration ceremony of the United States, some did not seem to care much for the "New York Fashion Week-inspired looks."
Topping the list is long-time serving senator Bernie Sanders, who has created his own impression, as well as a popular meme after internet users found his casual glam rather hilarious.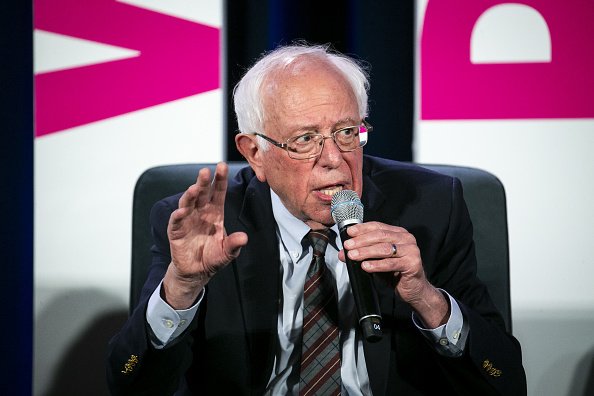 The image circulating the internet showed Sanders looking like he was trying to warm up against the cold in a puffer jacket, a pair of pants, and patterned mittens. The politician sat cross-legged with his back a bit hunched and his face mask in place.
Stars like Whoopi Goldberg, Jennifer Aniston, Demi Moore, Ryan Reynolds, and Reba McEntire, among others, had a field day photoshopping Sanders' photo into different hilarious situations. 
McEntire's post on Instagram showed her sitting with her family and co-TV personalities for a family portrait. The image also included Sanders sitting and getting introduced as a new cast member. 
Sander's candid photo has been busy since the inauguration, probably competing with president Joe Biden's Internet fame.
Goldberg's post on Twitter included an image that was a scene from her classical movie, "The Color Purple," and the politician was edited as though he was part of the gathering.
Jennifer Aniston's Instagram story had her featuring the 79-year-old Sanders in a sizzling photoshoot. While Aniston rocked a sultry look, Sanders looked unbothered in one corner. 
January 21, 2021
Demi Moore's rib-cracking meme sent people reeling on Instagram as the star channeled a pottery scene from her oscar-winning role in 1990's "Ghost." In the movie, Patrick Swayze had played her love interest.
However, the actress replaced Swayze with Sanders' picture, with his mittened hands holding her from behind. Ryan Reynolds opted for a scene in "Deadpool," where he sat on a roof in his full superhero ensemble.
Here, Sanders was conveniently photoshopped looking content with his arms folded and legs crossed. Sarah Jessica Parker thought the American politician was like a needle in a haystack" in her Instagram post.
Parker's image showed him sitting with her and co-stars from HBO's "Sex and the City." It is safe to say that Sanders' candid photo has been busy since the inauguration, probably competing with president Biden's Internet fame.
From being on the runway to performing with Beyonce on stage to sitting with Cardi B at a function, Sanders' picture was pretty much around the world, making special appearances.