Aoki Lee Simmons Shows Her Slim Tummy Posing in Striped Top with Matching Pants — See Her Look
In a recent post on her Instagram story, Aoki, the beautiful daughter of Kimora Lee Simmons, showed off her perfectly toned body in a stunning striped top and bottom. 
In recent times, Aoki Lee Simmons has proved to be more of a fashion head than ever before. With the several stunning posts showing off her fabulous sense of style on her Instagram, she has made it clear that fashion is her forte. 
The 18-year-old is also growing into a beautiful young woman with her head-turning looks and perfect shape. In the most recent post on her Insta Story, she once again flaunted her figure and fashion sense when she donned a stunning body-hugging ensemble.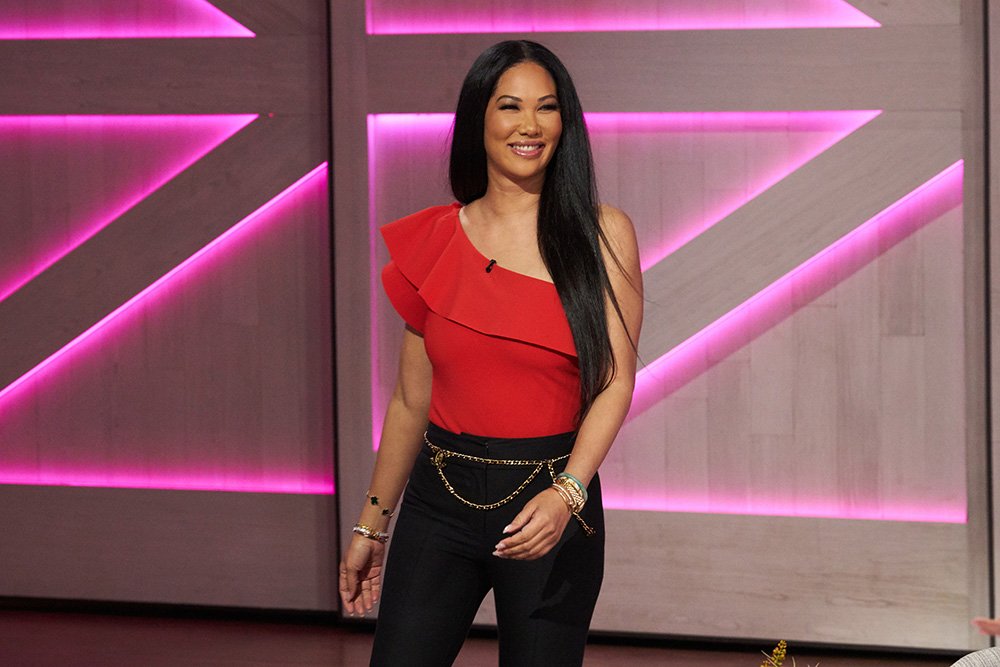 She was clad in a lovely striped cut-out bralette with matching pants that perfectly wrapped around her slender waist. With her smooth slim tummy on display, she slightly angled to the side, giving a good view of her curves. 
The outfit was combined with a gold bracelet and a black face cap with her hair packed in a casual bun. The mirror photo was taken in her luxurious bathroom, and it, no doubt, left her fans wanting more. 
The post comes a few days after Aoki was seen having a swell bonding time with her mother, Kimora Lee Simmons, during a fun beach getaway to the famed St. Barts island last week. 
She was clad in a jaw-dropping black spaghetti-strapped swimsuit and had her signature curly hair framing her beautiful face. The 45-year-old, on the other hand, had on a similar swimsuit, except hers had a plunging neckline that gave a generous view of her cleavage.
Aoki has many interests as she once revealed to her fans that she was going back to ballet after a four-year break.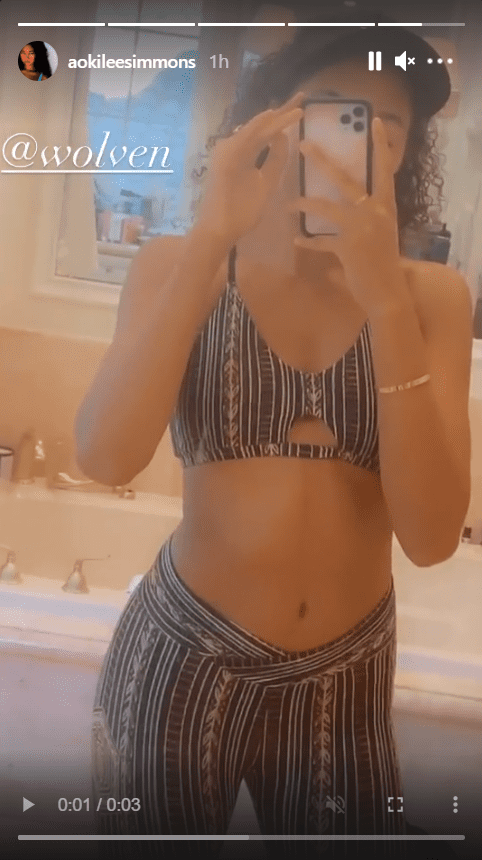 The mother of five also came along with her boys, Kenzo, Wolfe, and Gary, and they all took a fun dip in the water. At some point, the entrepreneur was seen posing for a selfie, and later, Aoki helped her look through the photos snapped. 
With such an evident tight bond, it is no surprise that Kimora collaborated with the college student and her older sister Ming on the first-ever launch of a beauty line called "Shimmer Dreams" for her fashion brand, Baby Phat.
All three came together to design the product set, which comprises a hydrating body lotion, lipgloss, and an illuminating body spray.
With the sets having different fragrances unique to each person, the proud mother revealed that they wanted to create products that had easy multiple uses. 
Aoki added that Kimora got them to bring their ideas to the table and often encourages them to have their voices heard. She buttressed that she wanted them to find out what they cared about in life and combine their different passions into one completed product. 
Aoki has many interests as she once revealed to her fans that she was going back to ballet after a four-year break. She made this announcement during the lockdown with a video of herself practicing the difficult but impressive moves.
The fashionista, who graduated from high school in 2019, will certainly make waves in the years to come with all these skills up her sleeve. One can only wonder what else she has in store.