Michael Jordan's Daughter Jasmine Bewitches Fans' Hearts With Glimpse of Her Abs in Tight Pants
Michael Jordan's daughter Jasmine set her fans on fire with a series of pictures of her flaunting her toned abs in eye-catching pants.
While Michael Jordan used to turn heads with his incredible skills on the basketball court, his beautiful daughter Jasmine Jordan sets hearts on fire off the court.
Jasmine might not be a basketball pro like her dad, but she has what it takes to keep her fans glued to her social media and gush over her, thanks to her sultry and beautiful posts.
Jasmine recently gave her fans reasons to swoon and gush with a series of cute pictures she posted on her Instagram Stories, where she set hearts ablaze with her incredible shape.
From the caption of the post, it looked like she had just finished a session at the gym and decided to give fans a glimpse of her toned body.
Rocking an all-black ensemble, the 28-year-old flaunted her ripped body to the delight of her fans. Jasmine also lifted a part of her shirt, displaying her toned abs.
Jasmine, the youngest child of Jordan and his ex-wife of 17 years, Juanita Vanoy, has been following in her father's footsteps of being a fan favorite.
Jordan has often spoken about the joy of being a grandad.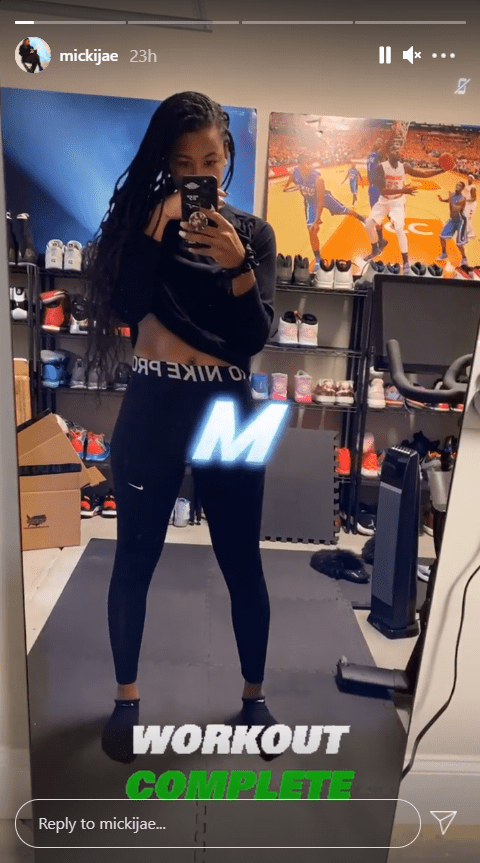 Although she is not known for her progress in the court, it is her exploits off the court that has brought her to the limelight. Unlike her brothers, Jasmine does not have a soft spot for playing basketball.
According to her, it never clicked. However, she enjoys other aspects of sports. Jasmine, a graduate of sports management from Syracuse University, plays a behind-the-scenes role in her father's Michael Jordan brand.
According to reports, Jasmine represents players associated with their brand and those playing for the Charlotte Hornets. Part of her job is to ensure that the players are well represented off the courts and have everything they need for a successful season.
Aside from being the most famous child of Jordan, Jasmine also made him a grandfather.  In 2019, the 28-year-old gave birth to her son Rakeem Michael Christmas.
Jordan has often spoken about the joy of being a grandad and said he sometimes finds it funny. While he is now a grandad, his family got the chance to relive his days as a basketball great when "The Last Dance" was aired.
Jasmine once opened up on what it felt like to relive her father's legacy with the Chicago Bulls and referred to the documentary as eye-opening.  For her, she can never get enough of learning about her famous daddy.
However, she also continues to make him proud by being the best daughter, managing some of his affairs, and giving him his very first grandchild.