Mariska Hargitay Confirms Her Appearance in Christopher Meloni's Spinoff 'Organized Crime'
Mariska Hargitay has delighted fans of the "Law & Order" franchise by confirming her appearance on the spinoff, "Organized Crime," starring Christopher Meloni. The show is expected to premiere this Spring.
Fans of "Law & Order" were beside themselves after Mariska Hargitay, who plays Captain Olivia Benson, shared a selfie with Chris Meloni, who will return as Detective Elliot Stabler the spinoff. 
The photo sees Hargitay, 57, and Meloni, 59, sporting serious faces, dressed in warm winter coats while standing in front of a hearse in a cemetery. The spinoff will see Meloni reprise his role ten years since he left in 2011.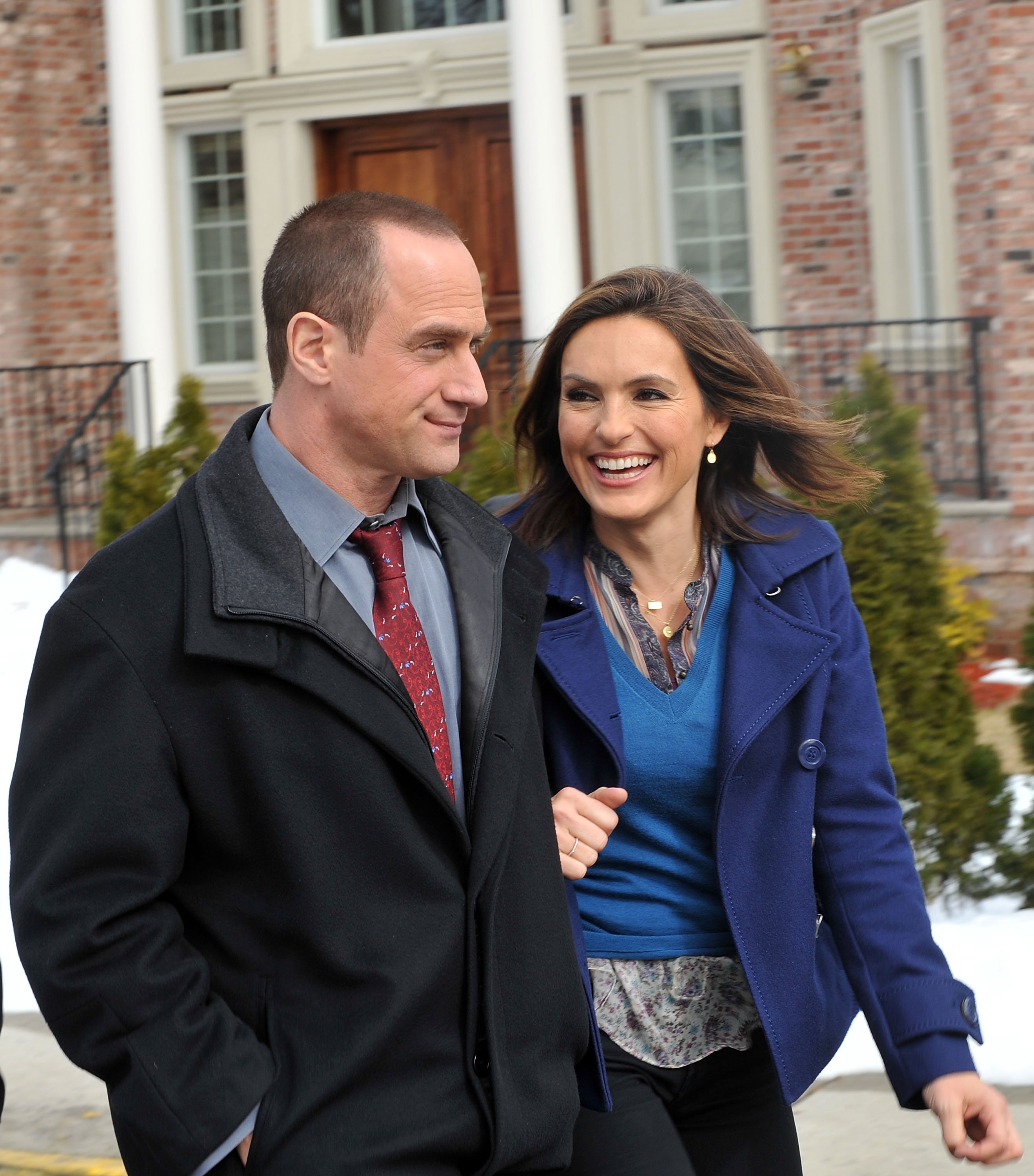 One commenter joked that they needed Oxygen as they couldn't breathe from the excitement. Another wrote her dreams had come true, adding that Meloni's character had a lot of explaining to do when he returns to screen.
The photo was taken on the drama series' Manhattan set, where the two actors were filming. With New York battling Covid-19 cases in the region of millions, the pair were seen wearing masks during filming, as Hargitay wrote in her caption:
"It's all happening... #OC #PFL."
In the "Organized Crime" spinoff, viewers will get to follow Stabler over 13 confirmed episodes as he returns to the force. He'll be leading a new elite task team charged with bringing down crime syndicates.
As part of the storyline, Stabler will also recover from a heartbreaking loss that he's suffered. It's reported Meloni will first appear in "SVU" before "Organized Crime" premieres this Spring.
Organized Crime" was due to start airing in the fall, with reports later putting the start date in the Spring.
Meloni is an original cast member of the franchise, alongside Hargitay when the drama series first launched in 1999. Today, the show has the honor of being the longest-running drama series, as it entered its 22nd season of filming. 
The writers and producers will have their work cut out to explain Stabler's absence for a decade. The character was written out of the show following a contract dispute between Meloni and the show. Speaking on "The Talk," Meloni added: 
"There are a lot of unanswered questions about how he left. And, I think the person Elliot was, we all evolve. All those things are going to be put into play."
If you've tuned in to see Hargitay over the past two decades, you would have also noticed how her hair has evolved with each season. From bangs to shoulder-length hair, and pixie cuts, Captain Benson has worn them all. 
However, producers felt the actress, who has also executive produced seven episodes of SVU, went too short with a pixie cut that had frosted tips in season 3, for which she said she was almost fired. 
Last October, the show's premiere date got delayed amidst news that the show's producer, Matt Olmstead (who had signed a three-year deal with Universal TV), had exited the show. 
"Organized Crime" was due to start airing in the fall, with reports later putting the start date in the Spring. For now, fans will have to be content with more snippets of what goes on behind the scenes, thanks to the stars' social media posts.