Brave 11-Year-Old Honored by St Louis Fire Department for Saving 22-Month-Old Brother from Drowning
The quick thinking of a young boy named Jayden Groves helped save his brother's life. Recently, he was recognized by the fire department in his hometown as a hero.
According to a Twitter post on the St. Louis Fire Department, Jayden Groves, 11, was at Hyde Park in St. Louis on August 8, 2020, when his brother, 22-month-old, wandered away from the family.
During the incident, the toddler ended up face down in a pond. Fortunately, Jayden was quick to take action, and his younger brother wasn't there for long.
For #ThrowbackThursday, we venture back to the afternoon of August 8, 2020 in Hyde Park, to recognize the heroic actions of 11 year old Jayden Groves.

Jayden's 22 month old brother wandered off during a family outing. Jayden discovered him face down in the park's pond. (1/4) pic.twitter.com/r412n7LWOW

— St. Louis Fire Dept (@STLFireDept) January 21, 2021
In an interview with NBC affiliate KSDK, Jayden explained how he pulled the toddler out of the water and immediately placed him in the grass. His family then performed CPR, he said.
Meanwhile, officials from the fire department said Jayden tried to get help from them. Members found the toddler unresponsive and sent him to the hospital, where he made a quick recovery.
The St. Louis Fire Department awarded Jayden the Heroism Award. Fire Chief Dennis Jenkerson and St. Louis Mayor Lyda Krewson presented the award to him.
Jayden told NBC affiliate KSDK that he was considering becoming a firefighter one day.
On Twitter, the department wrote: "We salute Jayden Groves. He. Is. A. Hero!" Jayden's mother, Jocelyn Groves, was present at the outdoor ceremony with his younger brother.
Jocelyn shared on Facebook that she is proud of Jayden after he was recognized as a hero. The doting mother encouraged her son to keep up his great work.
Jocelyn said her baby wouldn't be here today if it weren't for him. "You're a great kid, very intelligent," she wrote. "Continue to stay on the right path. I'm honored to have you as a son."
The mom ended her post with the statement that God will take Jayden places. Meanwhile, Jayden told NBC affiliate KSDK that he was considering becoming a firefighter one day.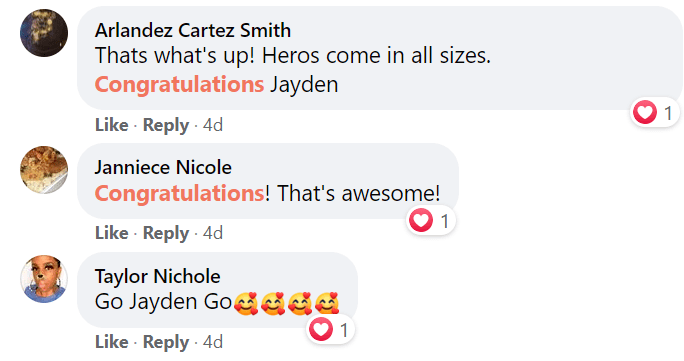 In related news about heroism, Mason Ochoa, 4, was named honorary Placentia firefighter after rescuing his little brother from drowning in the family's pool.
Mason witnessed Nicholas fall into the pool. Afterward, he rushed outside to grab his brother's arm, screamed for help, and managed to keep Nicholas' head above water.