Here's a Closer Look at Family Photos Kate Middleton & Prince William Have on Their Work Space
Kate Middleton and Prince William adorably showed off some family photos placed on a table in a new heartwarming video dedicated to Scotland's health workers.
The Duke and Duchess of Cambridge recently released a heartwarming video, thanking health workers at NHS Tayside and sending them well wishes during Scotland's Burns Night celebration.
While the thank-you video was undoubtedly lovely, one cannot turn a blind eye to Middleton and William's workspace, which featured adorable photos of the couple and their kids.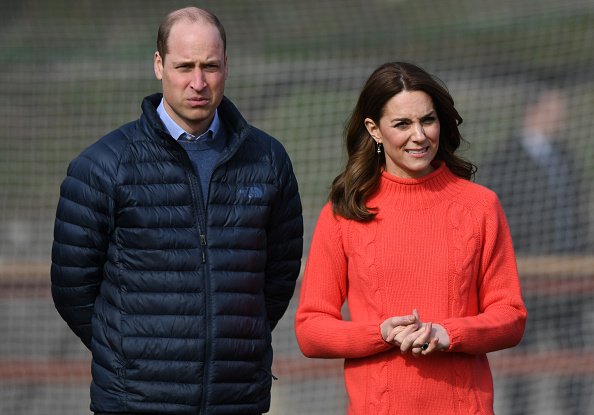 One of the frames was a photo from Princess Charlotte's first day of school last September. The snapshot saw her posing alongside older brother Prince George in their uniforms.
The next frame featured a picture of the couple's youngest child, Prince Louis, posing alongside his mom during a visit to the garden designed by Middleton for the Chelsea Flower.
The last of the family frames saw Prince William flashing a charming smile with his head out of a car window. Unlike the others, this snapshot has never been shared before.
In addition to the family photos, another eye-catching detail about the video was Middleton's outfit choice. The duchess donned a gorgeous red tartan dress that had many talking.
William and Middleton reportedly got a new eight-month-old puppy at the end of 2020.
In the fashion world, it is believed that plaid should be worn only in December. Wearing it in any other month is considered an offense in the unwritten style book.
However, Middleton did not seem to care about breaking this fashion rule as the duchess stunned in the outfit. She topped off the look with her shiny brunette locks falling over her shoulders.
While the reason for her fashion choice is unknown, some believe it could be a sign of respect to the Scotland culture, which is often associated with plaid designs.
In the past, Middleton has often been seen sporting plaid outfits whenever she visits the country. One such time was last December when the duchess was seen with a plaid scarf during a stop to Scotland.
When Middleton and William are not showing off their adorable family or trendsetting fashion style, they are busy expanding the royal family with new additions.
Prince William and Middleton reportedly got a new eight-month-old puppy at the end of 2020. This came shortly before the couple's former dog, Lupo, passed away.
According to reports, Prince William and Duchess Middleton adopted the new puppy with the hope that he would keep Lupo company and give him a little more energy.
However, Lupo soon passed away, and even though his death was heartbreaking to the royals, they take comfort in their new pet. Sometimes, the little things of life bring the most joy.