Demi Moore, 58, Dons Chic Black Outfit during Surprise Appearance in Fendi Fashion Show Opening
Hollywood star Demi Moore, 58, finally had the chance to fulfill a lifelong dream as she stunned in a glamorous black outfit during the Fendi Fashion Show 2021.
For fashion lovers of luxury brands like Fendi, Christain Dior, and Chanel, this is the season to expect new styles and designs, following the Spring 2021 Haute Couture Fashion Week.
Even with the ongoing global pandemic, these fashion companies have found a way to provide their fans with some fabulous must-see attires, with considerations to the regulations set in place to curb the COVID-19.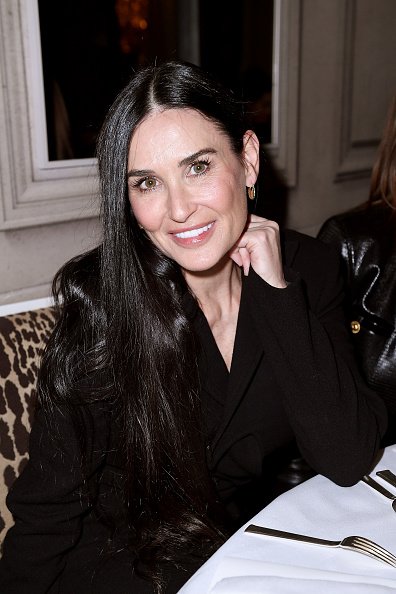 However, Fendi took it to the next level by debuting their show with the appearance of a delectable Hollywood star Demi Moore strutting between dimly lit maze walls.
In a shared clip on her Instagram, the 58-year-old looked breathtaking as she walked rhythmically in her glamorous clothes. The Fendi model wore a wide V-neck off-the-shoulder free satin blouse that matched with flare pants.
She had her hair styled to the back, thereby revealing a perfectly contoured face. The actress's glow-up also involved a clutch purse and dramatic-looking earrings.
Her comment on the photo read: "Fulfilling a teenage dream...Thank you @mrkimjones for having me open the @Fendi SS21 show and congratulations on a beautiful and magical debut!"
She once revealed that her ultimate goal was to be an actress and that she drew inspiration from a 17-year-old.
Despite being a notable actress with a credible passion for her career, Moore has courageously admitted that getting featured by more designer brands is a lifelong dream that is being fulfilled.
Last year, she appeared in the promotional video of Rihanna's SavageX Fenty lingerie brand. A clip posted to her page showed her in fishnet stockings, a lacy bodysuit, and a diamond choker moving seductively as some models hovered around her.
As it is with most brands and their themes, Fenty was out to tell a story. According to the brand owner, it was a movement celebrating all body types. Apart from Moore, other notable stars like Paris Hilton and Bella Hadid were included in the project.
Although the actress is proud of her modeling career, she once revealed that her ultimate goal was to be an actress and that she drew inspiration from a 17-year-old German actress named Nastassia Kinski.
Moore became a household name in 1984, after her feature in "Blame It On Rio," and has since maintained her relevance in the entertainment industry by featuring in other popular films.