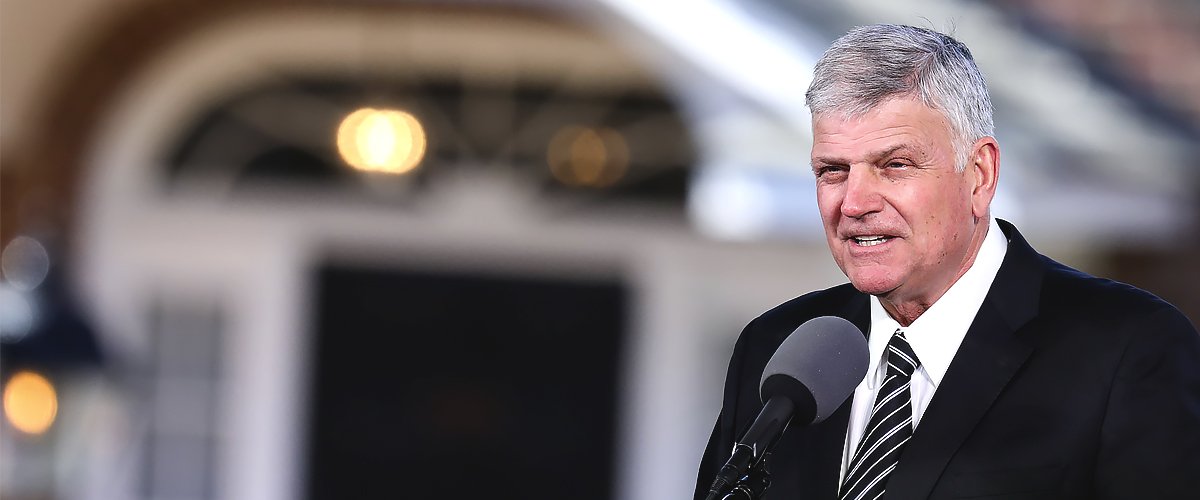 Getty images
Jane and Franklin Graham Welcomed 4 Kids Together — inside the Evangelist's Big Family
Evangelist Franklin Graham's large family with his wife Jane and their four children shows their love, hard work, dedication, and passion.
William Franklin Graham III, 68, known as Franklin Graham, is the fourth child of the world-renowned evangelist and Christian preacher William "Billy" Graham Jr. and his wife Ruth Bell Graham.
Billy Graham's oldest son was born, raised, and educated in North Carolina. Then there he, too, married his wife Jane Austin Cunningham, 70, who is a native of North Carolina in 1974.
ranklin Graham interviewed on CBN News channel in January, 2021. | Image: YouTube/CBN News.
The couple has welcomed four children: William Franklin "Will" Graham IV; Roy Austin Graham; Edward Bell Graham; Jane Austin "Cissie" Graham Lynch. All of them married and with children of their own.
The children were reunited with the entire family at their parents' home in Boone for the holiday season. On his Instagram account, Franklin posted a photo of everyone with the message: "From our family to yours, Merry Christmas!"
ROAD TO FAITH
During his teens and early adult years, Franklin was not exactly a follower of his father's footsteps. In his autobiography "Rebel with a Cause," he explained that being Billy Graham's son does not make him a Christian, that he should follow his own path.
As he later commented, Franklin accepted Christianity in 1974, at age 22 in a hotel room while on a trip to Jerusalem. Later that year he would marry Jane.
PURPOSE AND EVANGELISM
In his twenties, Franklin joined Bob Pierce in Samaritan's Purse for a 6-month evangelism mission in Asia. It was during that tour that the evangelist developed the mission of helping poor people affected by war, disease, poverty, and natural disasters.
Then he began working for the Billy Graham Evangelistic Association. He has traveled and proclaimed the gospel to more than 38 of the 50 states of the USA and in more than 49 countries since 1989. He is currently president of the Association since 2001.
WILLIAM FRANKLIN "WILL" GRAHAM IV
Will Graham is Vice President and Associate Evangelist at the Billy Graham Evangelistic Association and is the third generation of Graham to serve as a preacher. Franklin's oldest son has traveled sharing the gospel like his grandfather and his father.
He has a Bachelor of Science Degree and Southeastern Baptist Theological Seminary, and Master of Divinity degree. Will is married to Kendra Leigh Bengds Graham and they have three children: Christine Jane (CJ), Rachel Austin, William Franklin V (Quinn).
EDWARD BELL GRAHAM
Edward is Franklin's third child and the youngest of his sons, he serving for 16 years in the Army after attending West Point Academy. He currently works at Samaritan's Purse.
Edward is married to Kristy and they both have three biological children and an adopted son Levy, who they brought from China in 2017.
JANE AUSTIN "CISSIE" GRAHAM LYNCH
Cissie Graham Lynch is Franklin's youngest daughter, she is married to former NFL player Corey Lynch. The couple met at Appalachian State University and tied the knot in 2007.
She accompanied her husband during his six years in the NFL along with their two daughters. During that time she shared her faith with the wives of other players. She currently has a website and shares her faith through it and through podcasts.
FAMILY LEGACY
The Graham family has been building a legacy by proclaiming their faith and working for people in need. Not just through the Billy Graham Evangelistic Association, Billy Graham Library, Samaritan's Purse, and other organizations that over the years have developed
Also with their families through the union, commitment, and teamwork that all its members develop today. It is a legacy that the late Billy Graham has passed on to his son Franklin and he at the same time to his son Will.
And nobody cannot ignore the thousands of hours in radio programs, the more than a hundred films, the hundreds of evangelistic events where they have brought the principles of their faith to more than three million people, a figure that also follows increasing.
Please fill in your e-mail so we can share with you our top stories!