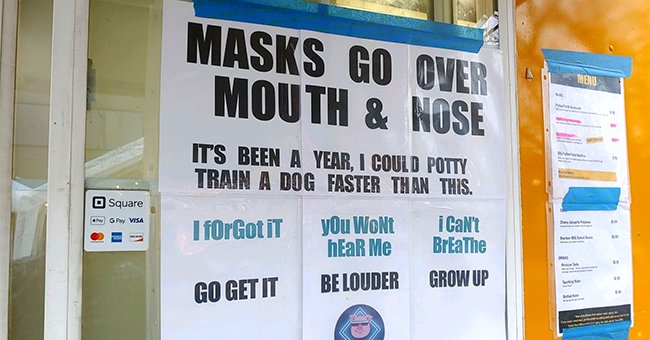 Twitter/KylePlantEmoji
Food-Truck Owner's Sign Encouraging People to Wear Face Masks Goes Viral — See the Poster
A food-truck owner pledged to remind people of the importance of wearing face masks. The owner made a visible sign to capture his patrons' attention so that everyone can see it.
The Food-truck owner named Evan's mask-wearing sign went viral after his friend shared a photo of his policy. Taking to Twitter, a user named Kyle spread the message.
"My buddy who runs the wonderful bbq truck @swineandsteel updated their official policy," he tweeted. Along with the post, the user shared a picture for all to see.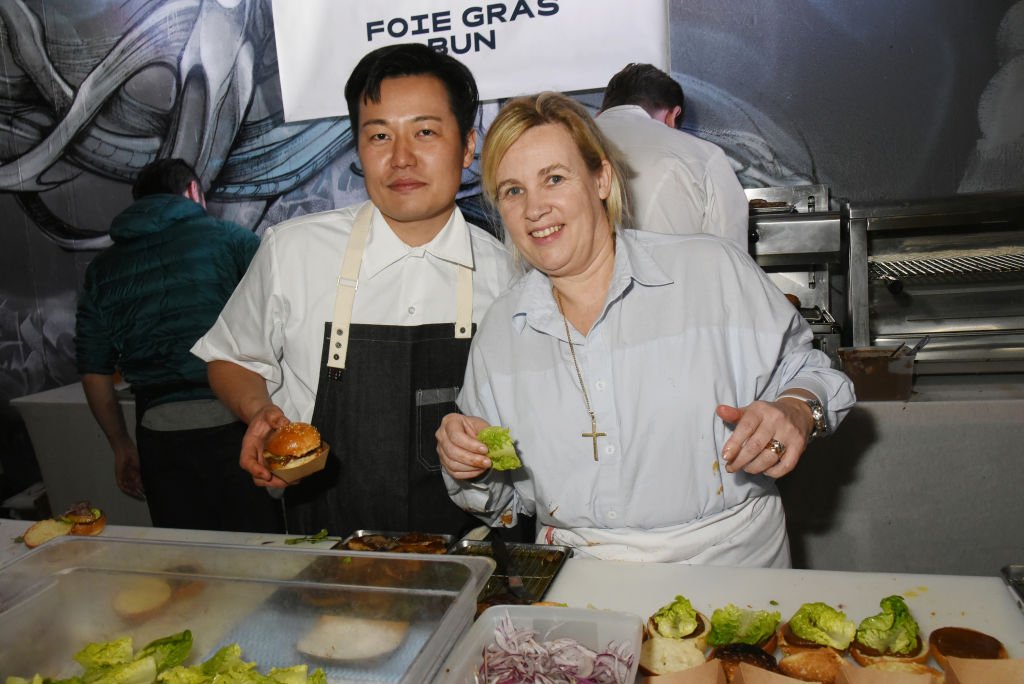 Chef Taku Sekine and Chef Helene Darroze attend the Fooding: - Les Libres Echanges at L'Aerosol on April 12, 2018 in Paris, France | Photo: Getty Images
The up-close shot shows messages written in bold fonts. The first message that can be read from a distance states, "Masks go over mouth and nose." The owner then emphasized that it has been a year since the message has been relayed.
"It has been a year; I could potty train dog faster than this," he wrote. He was referring to how easy it is to train a dog than a human being. His message did not end there.
Regarding people making excuses before buying food, he addressed them all as well. For people who always jump to say that they forgot their masks, he wrote, "Go get it."
For those who say that they will not be heard when they have masks over their mouths, he said, "Be louder." Lastly, for those who claim to be unable to breathe with a mask on, he said, "Grow up."
Addressing the issue, Evan expressed his frustrations about people who do not think of others when taking precautions. In relaying his message, he said:
"I have to worry about every customer that comes after some selfish person who thinks that their needs are the only ones that matter, and I just could not handle it anymore."
Evan has been receiving threats related to the sign; he told Today Food that he made the sign bigger to make his plea crystal clear. He also revealed that customers ignored bigger signs.
Like Evan's business, other restauranteurs complained about patrons who refuse to wear masks. Since the initial lockdown last year, after restaurants opened, owners were happy to continue with their dining services.
However, reopening their doors came with headaches for several eateries. Customers reportedly argued with their mandates and yelled at them.
Others went on social media to blast them just for simply asking them to wear masks. They have escalated the issue with threats in the process.
Despite recommendations from health experts to wear masks in public to prevent the spread of the virus, a new survey found that people do not oblige. A survey conducted by the University of Southern California's Understanding Coronavirus in America study polled more than 6,000 adults aged 18 and up about their mask-wearing habit.
Researchers found that while 83 % of adults agree that wearing a mask is effective, their mask-wearing behavior states otherwise. An infectious disease expert John Sellick, D.O., reportedly said that the findings are disturbing, which is the main reason why there is a continuous rise in cases and deaths.
Please fill in your e-mail so we can share with you our top stories!