'The Bernie Mac Show's Dee Dee Davis Pens Tribute to Co-star Camille Winbush on Her 31st B-Day
Actress Dee Dee Davis recently penned a sweet Instagram tribute in honor of her former "The Bernie Mac Show" co-star Camille Winbush's 31st birthday. 
"The Bernie Mac Show" star Camille Winbush clocked 31 on Tuesday. On the day, the actress was met with sweet birthday wishes from her loved ones and colleagues, including former co-star Dee Dee Davis.
Taking to her Instagram story, Davis shared a throwback photo featuring herself and Winbush standing next to each other as they posed alongside a group of young people.
In the photo, Davis donned a cute green outfit while Winbush dazzled in a black dress with her dark hair falling loose over her shoulders. Davis accompanied the snapshot with a sweet note wishing Winbush a happy birthday.
She continued by wishing her former co-star a great day. Davis and Winbush met on the set of the popular 2001 sitcom "The Bernie Mac Show," where they acted as on-screen siblings alongside Jeremy Suarez.
Created by Larry Wilmore, "The Bernie Mac Show' aired for five seasons on Fox network. With its tremendous and hilarious plot, the show landed several awards, including an Emmy.
The show, which was mostly centered around Bernie Mac's life, saw him struggle to raise his sister's three kids, Vanessa acted by Winbush, Jordan acted by Suarez, and Bryana portrayed by Davis.
The actress recently made headlines after announcing she opened an Only Fans account.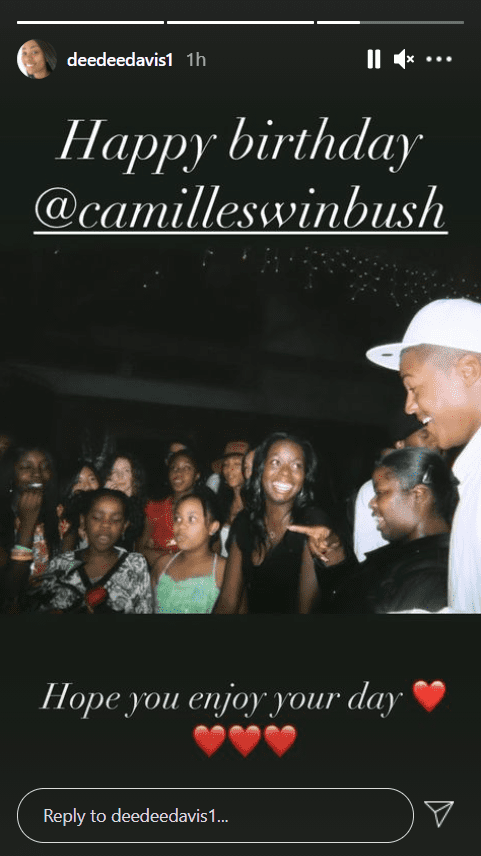 At the time they were cast, Suarez and Winbush were only ten, while Davis, whose character was the youngest of the brood, was only four years old.
With fans watching the trio literally grow up on TV, Suarez, Winbush, and Davis did exceptionally well interpreting their roles, making them loved by many.
By 2006 when the show came to an end, Winbush and Suarez were already budding teenagers, while Davis was only a few days shy of her tenth birthday.
Therefore, it came as a surprise to many when in February 2017, Davis and her boyfriend Smokey Lee Jackson announced they were expecting their first child. The actress welcomed her son a few months later and has since enjoyed her role as a mother. 
In a similar light, Winbush has also evolved over the years. The actress recently made headlines after announcing she opened an Only Fans account.
While this was met with mixed reactions from fans, Winbush was quick to state that contrary to what people think, she is no longer the little girl people saw on TV.
From little girls on the screen to real-life adults, Winbush and Davis have indeed come a long way. Great to see the TV sisters have kept their bond after all these years!