Soccer Stars Ali Krieger & Ashlyn Harris Announce the Adoption of Their Newborn Daughter Sloane
Ali Krieger and Ashlyn Harris are the proud new parents of a baby girl they adopted and named Sloane Phillips. 
Ali Krieger and Ashlyn Harris have given the title "soccer moms" a new meaning, with the two professional soccer players adopting a baby girl named Sloane Phillips. 
The Orlando Pride players took to social media to show off their new daughter after announcing that they had become a family of three on Valentine's Day.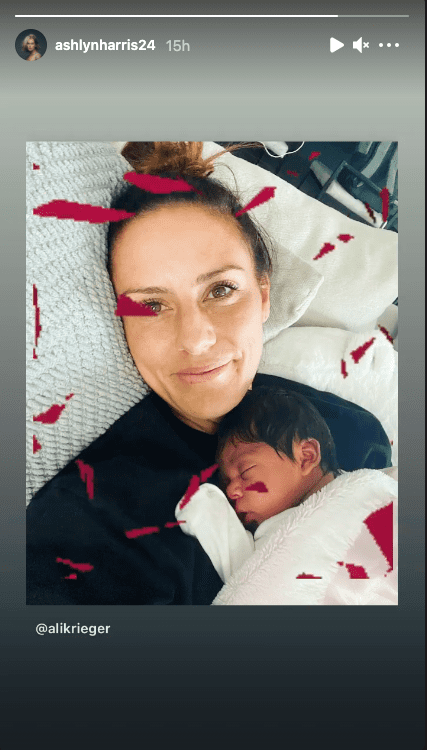 FAMILY OF THREE
The new moms, both 36, gushed about their daughter on their Instagram pages, with Krieger writing to Sloane's birth mom in the caption, promising to take care of their beautiful baby. She said: 
Dear Birth Mom.. Our promise to you: We promise Sloane will be loved every single day by us, our friends and our family. 
Krieger posted an adorable family photo of her and Harris holding Sloane swaddled in a floral blanket and a picture of the new family of three leaving the hospital together. 
VALENTINE'S DAY GIFT
Sloane became an official member of the soccer player's family on Valentine's Day, making her the grandest gesture of all time. Harris and Krieger got married in December 2019 and have always considered adoption to expand their family. 
The two moms still have an exciting soccer season ahead of them whilst navigating the new season of parenthood.
The professional athletes did not consider it fair for one of them to pause their career to birth their baby, so they decided to consider other options, with adoption working out the best for them. 
SOCCER FIGHTERS
A few months before welcoming Sloane into their family, both Harris and Krieger found out that they weren't selected for the USWNT's November training camp and weren't chosen for the SheBelieves Cup roster. 
Both of the players have been involved in fighting against gender discrimination within the soccer profession, primarily where their payment was concerned. Krieger elaborated on her support of the fight, saying: 
"We're not just fighting for women's footballers all over the world and just our team, we're fighting for women across all industries."
BUNDLE OF JOY
Forming part of the Orlando Pride roster, the two moms still have an exciting soccer season ahead of them whilst navigating the new season of parenthood that they have just stepped into. 
Beyond fighting within the soccer profession, the couple also works to fight for LBGTQ+ representation. Harris opened up about the need for representation to create a safe space for everyone to live their truth, something that she never had. 
The activists and professional athletes have added another exciting and significant title to their list, mothers. Both of them couldn't be more excited about raising their daughter together. 
The trailblazers have been willing to stand up for what they believe in and have had a true impact on the communities that they form part of. Their newest addition is sure to be a source of unending joy and love in their household.