Ciara's Look-Alike Infant Son Win Melts Fans' Hearts Playing with Her Custom Tribute Necklace
Iconic singer Ciara looks super cute alongside her look-alike baby boy Win, who is busy playing with her special necklace in new Insta stories shared by Russell Wilson.
NFL star Russell Wilson's devotion to his family is enviable but at the same time commendable. Despite his busy career, Wilson prioritizes his family and is very involved in raising his kids alongside his wife, Ciara.
The proud father thoroughly enjoys doting on his kids, and lately, it has been his cute seven-month-old son Win that has been stealing all of his attention.
More recently, Wilson took to his Instagram stories to share cute photos of his wife Ciara and their son sharing a sweet mother-son moment while lying on the bed.
In one of the photos, Ciara flashes a smile as she cradles her baby boy, who shares a striking resemblance with his famous mom. Win is wearing a green outfit and cannot be bothered by the camera as he plays with Ciara's gold necklace. 
Another photo captures Ciara planting a sweet kiss on Win's forehead. However, that did not get his attention off his mom's necklace as he continued to toy with it.
The necklace holds significant sentimental value for Ciara as she got it in honor of Win's birth. Since then, the lovely gold necklace has been a permanent feature on Ciara's neck.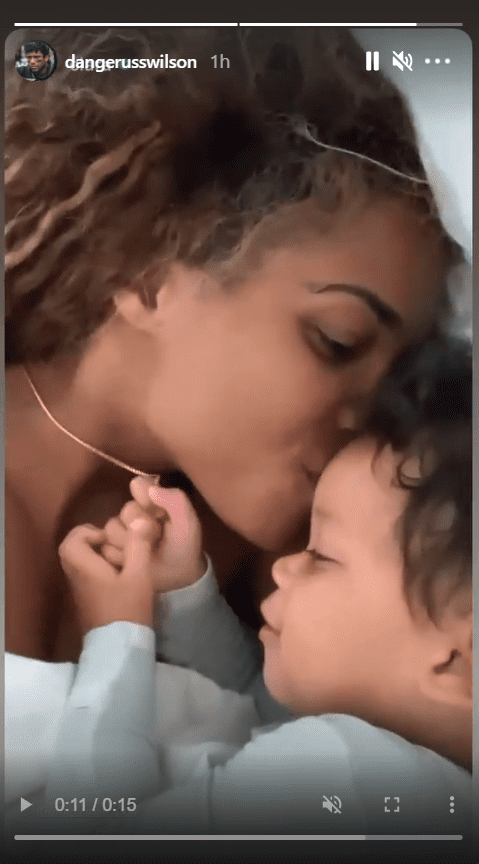 Ciara and her husband, Seattle Seahawks quarterback Wilson welcomed their baby boy Win Harrison Wilson on July 23, 2020, amid the novel coronavirus pandemic. 
Her son's middle name "Harrison" is a tribute to Wilson's late father, Harrison Wilson III.
The NFL star was with his wife all through the process and performed several roles in the delivery room, including cameraman, husband, father, and even helped in taking over the delivery of his baby boy at some point.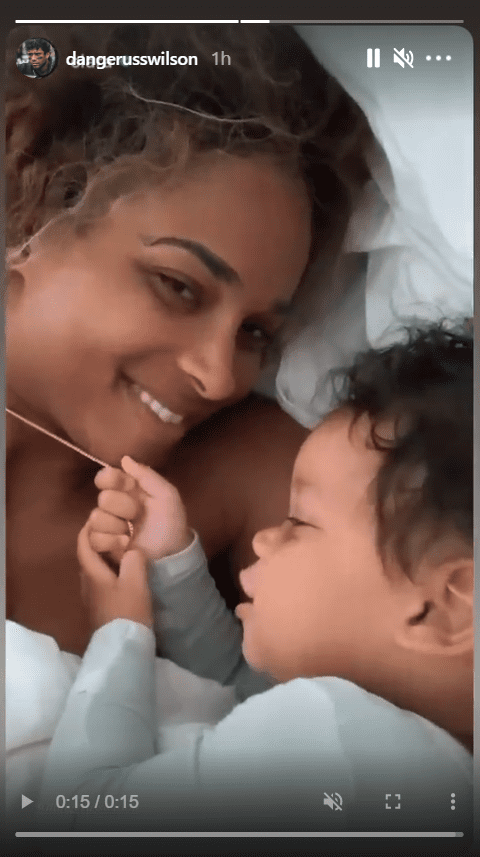 Shortly after her son was born, Ciara took to her official Twitter account to share the news with her fans alongside a video of her singing Happy Birthday to her little prince. She captioned the tweet:
"Happy Birthday WIN!!! Mommy & Daddy Love You! Win Harrison Wilson 7.23.2020 8lbs 1 oz."
As per the little prince's unique name, Ciara later revealed that her husband chose it. She also claimed that her son's middle name "Harrison" is a tribute to Wilson's late father, Harrison Wilson III, who died at 55 from diabetes complications.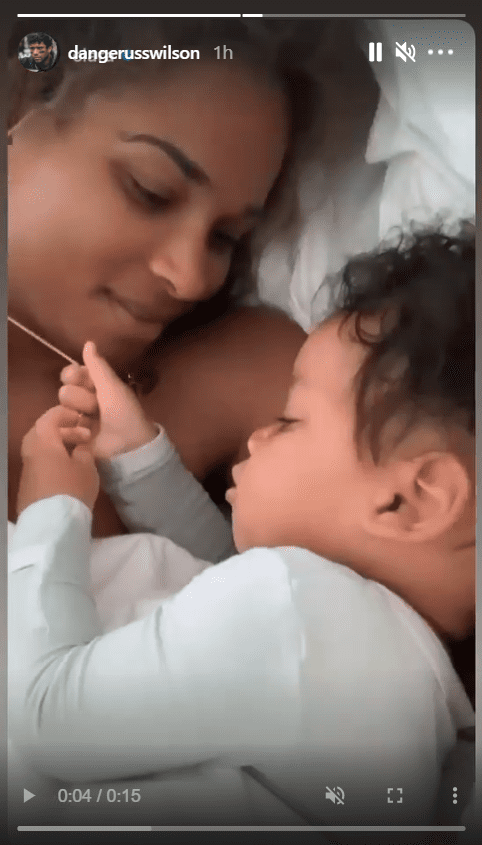 Apart from Win, the couple also shares daughter Sienna Dream Wilson, 3. Ciara also has a son, Future Jr., from a previous relationship with rapper Future. 
Wilson is all about his kids and also raises his stepson Future Jr. as his own. With the delayed 2020 NFL season finally kicking off in September, Ciara and the kids showed they completely had their dad's back as they cheered him from home.
Win has certainly added more to the Wilson pack, and the doting parents have relentlessly documented every step of his growth and development on their social media. Unsurprisingly, fans cannot get enough of his cuteness.