instagram.com/im_d_ollady
'Gorilla Glue Girl' Tessica Brown Dances in Yellow Outfit — Fans Have Mixed Reactions to Video
Tessica Brown, known for her viral "Gorilla Glue Girl" TikTok video recently made waves again on the platform where she danced in a yellow outfit. But viewers couldn't decide if they liked it or not.
Tessica Brown, now a well-known "Tik-Tokker" recently took to the social networking site where she shared a clip of herself dancing in yellow attire. Unfortunately, fans of Brown gave the TikTok video mixed responses.
In sun-bright yellow short pants as well as a matching jersey that revealed her midriff, Brown gave the camera what she probably thought to be an alluring dance. The viral TikTok star looked absolutely certain that her dancing was on point.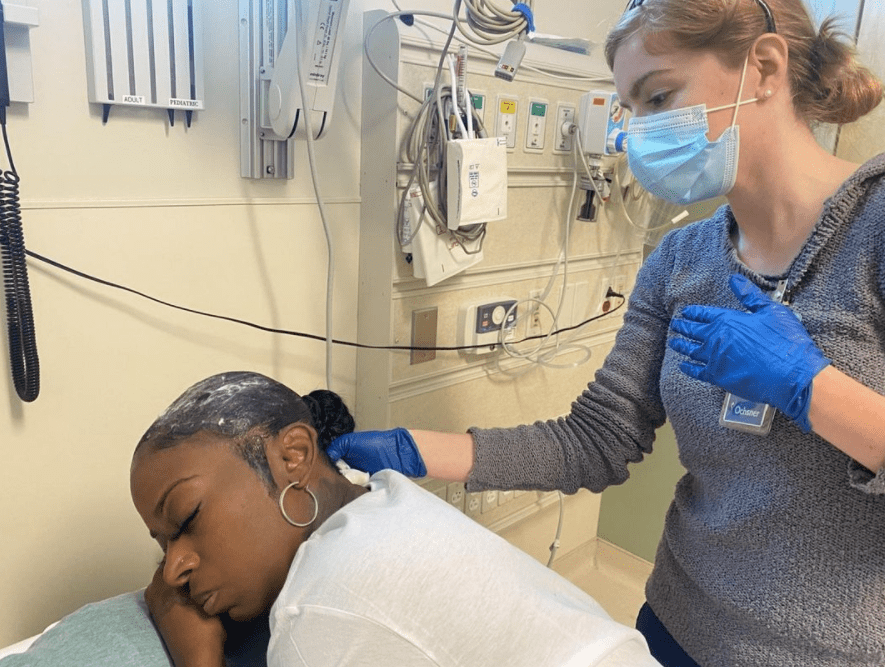 Tessica Brown having Gorilla Glue removed from her hair via surgery | Source: Instagram/im_d_ollady
There were a variety of reactions to this post on her Instagram with some praising her, some ridiculing her, and some simply finding the situation completely hilarious. One commentator, namely @topnotchmelvin wrote the following:
"idk about everyone else but I actually like her."
Brown doesn't seem like the type to give into mockery, with her slick and confident dance moves. With just over 42,000 likes, 1609 comments, and 729 shares on her video, one can at least say the clip is quite popular as a whole.
THE GOOD, THE BAD, AND THE UGLY
Positive comments stated that she looked quite good and there were compliments about her hair. On the other hand, negative reactions from fans and followers included individuals mocking her ability to dance as well as calling her out for thinking she's famous.
Brown became viral after she shared a TikTok video of how her hair had become molded.
The sad part about this turn of events is that those who are viral online tend to focus more on the negative than the positive. Let's hope that Brown doesn't stop dancing because of those trying to bring her down.

Fan's reaction to Tessica Brown's TikTok video of her dancing. | Source: Instagram/im_d_olladyoutfit.
Brown became viral after she shared a TikTok video of how her hair had become molded for over four weeks due to Gorilla Glue. Luckily, Brown was able to get her hair fixed via surgery but speaking about the experience she said:
"I don't know why it went viral. I still don't know."
Many used her hair in the comments section on Instagram, in response to the video, either to praise her or bring her down again. One kind commentator said the following with a clap emoji: "Hair still laid okay!"

Fan's reaction to Tessica Brown's Instagram TikTok video of her dancing in a yellow outfit. | Source: Instagram/im_d_ollady
Brown recently opened up about how the experience of going viral influenced her children. She stated that the consequences of her newfound virality sadly had a negative impact on her kids, with them now being teased at school.
The mother informed her kids not to listen to those who made fun of them because none of it was a reflection of their worth. Either way, this turn of events would affect any mother incredibly badly.
All in all, Brown feels down in the dumps about the whole situation. She spoke about how the online reaction to her hair only made her suffering worse.
She claimed that the situation even affected her physically, with her losing a lot of weight by skipping meals and missing out on sleep. Brown, as a whole, feels like she "can't win with the internet."
Please fill in your e-mail so we can share with you our top stories!