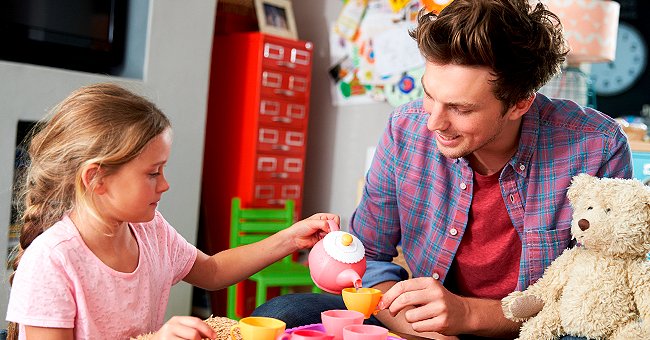 Shutterstock
Daily Joke: A Little Girl and Her Father Were Playing with Toy Tea Set
A father and daughter were bonding through a tea party until the mother came home and told her husband what he has been drinking.
Children have the most innocent minds that everything they do comes with good intentions. However, their actions don't always come out well with adults.
Suddenly, the adorable three-year-old came to the living room, holding a teacup, and offered her dad a cup of tea, which was really just water. Thinking his little girl was being sweet, he got the cup and drank it.
Amused, the toddler went back to her tea set, played, and gave her dad a cup of tea, which was still water, several more times. Again, the proud dad drank from the cup and smiled every time she came.
When the little girl's mom arrived home from shopping, her husband approached her and made her stop to see their little angel's tea ritual of handing him a drink.
When their daughter came to bring her dad another cup, he politely picked it up, smiled, and drank it. He then looked at the wife and asked her how adorable she thought their kid was.
The mother paused, then said: "Very nice… but has it occurred to you that the only place she can reach to get the water is the toilet?"
In their nearby neighborhood lived another young boy, who was not so innocent yet incredibly intelligent. The little lad entered a local barbershop, as he usually does, and looked at the barber.
The barber then whispered to his customer and revealed that the boy was really dumb and he could prove it. He then paused his haircut, brought out one bill in one hand and two quarters in the other, then asked the kid to choose which he wanted.
The little lad then took the two quarters then immediately left, leaving the barber amazed. When the customer left, he saw the young boy coming out of an ice cream store.
He then approached the boy and asked why he took the two quarters instead of the bill. The boy licked his cone before replying, "Because the day I take the dollar, the game is over!"
Did you like these jokes about kids? For more laughs, find out what a student did to challenge his linguistics professor in front of their entire class.
Please fill in your e-mail so we can share with you our top stories!