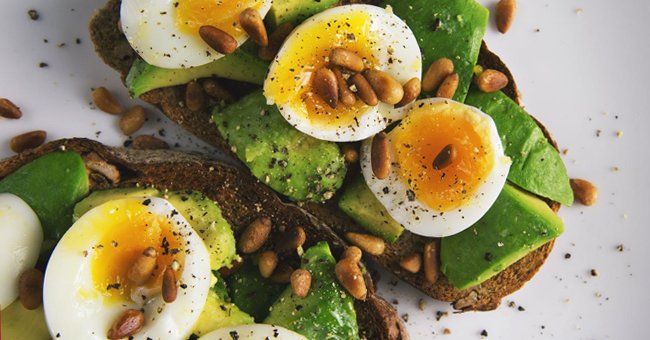 pexels.com/Foodie Factor
3 Quick Recipes for Breakfast So Easy Even Children Can Make It
Check out these 3 quick and easy recipes for breakfast that anyone can cook no matter their experience in the kitchen!
Breakfast has never been so easy, interesting, and delicious with these 3 recipes that are easy enough for any kitchen novice or beginner home cook!
Breakfast is supposedly the most important meal of the day. However, breakfast can sometimes feel so boring, consisting of just dry toast and cereal. Here are 3 recipes to totally brighten up the day from the start!
Need something to go with that coffee in the morning? Check out the 3 recipes below! | Photo: Shutterstock
MACADAMIA RICOTTA & TOMATO TOAST
Incorporating plant-based meals into the day is very good for overall health and the environment. This tasty macadamia nut ricotta and tomato toast will definitely fill someone up for a busy day.
If you cannot find nut ricotta, here is an in-depth recipe to follow. Use your favorite bread, generous helpings of the ricotta, and slices from a plump and juicy tomato! Top it with salt, pepper, and basil.
DOUBLE BERRY BREAKFAST PARFAIT
Got extra fresh berries lying around, well a light and fresh breakfast can be made easily with berries and yogurt! Soak your berries (strawberries, blueberries, blackberries, etc.) in a little bit of honey and lime juice.
Then layer the berries with generous helpings of Greek yogurt or flavored yogurt if you prefer. Feel free to top with a sprinkle of granola or an extra drizzle of honey.
SAVORY OATMEAL WITH CHEDDAR CHEESE
To make savory oatmeal, cook quick-cooking or instant oats as you usually would. Instead of adding sugar/honey and milk, season with salt, pepper and add the cheese after the cooking process.
Add a fried egg, bacon bits, or even fried tomatoes and other veggies for a perfectly warm and savory breakfast on those cold mornings when you need something a little extra for breakfast!
SPICE UP THE CLASSICS
A great way to make breakfast interesting is to add a few extra ingredients to your usual breakfast. Add ripe strawberries or bananas to your bowl of cornflakes.
Or a gorgeous sunnyside-up fried egg on your avocado toast. Sometimes trying a new type of bread can add a little flair to breakfast. Give rye bread or sourdough a try!
If you do not have time in the morning for breakfast before rushing out for the day, a good idea is to package your breakfast (the berry parfait or oats) in portable jars!
Breakfast should not feel boring and like a chore. It can be great fun to experiment with new flavors and food combinations to get the taste buds dancing! Check out other easy-to-make recipes.
Please fill in your e-mail so we can share with you our top stories!