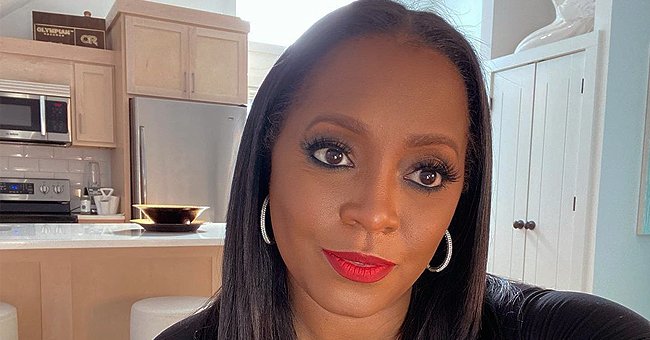 Instagram/keshiaknightpulliam
Keshia Knight Pulliam Posts Rare & Heartwarming Pic of Look-Alike Mom to Celebrate Her Birthday
Keshia Knight Pulliam took to Instagram to commemorate her mom's birthday with a slideshow of rare photos also featuring her adorable daughter, Ella.
It's no secret that actress Keshia Knight Pulliam and her daughter, Ella Grace Hartwell, share a strong resemblance, but recent photos prove that Pulliam and her daughter inherited their looks from her mom, Denise Pulliam.
The actress, best known for her role in the eighties sitcom "The Cosby Show," recently shared several photos of herself, Ella, and Denise on Instagram to celebrate Denise's birthday.
Keshia Knight Pulliam poses at "The Red Napkin" dinner at Coca-Cola Headquarters on September 4, 2015 in Atlanta, Georgia. | Source: Getty Images
The slideshow contained rare photos of Denise spending time with her granddaughter. The pair were pictured posing on a sandy beach, taking a walk hand-in-hand, hanging out in an office, and cuddling on the couch.
Pulliam is also featured in some of the photos. In the last picture, the "House of Payne" actress sported a big smile while posing for a selfie with her lookalike mom and daughter. She captioned:
"My mom and I go together like peas & carrots!! We are frick & frack...Now with Ella, we are three peas in a pod. Literally, wherever I go she goes & vice versa."
Pulliam further declared her love and appreciation for her mom as she recounted how Denise has been supportive and caring throughout her life and the precious moments they've shared.
One of those memories is a September 2019 trip that Pulliam, Denise, and an excited little Ella took to Niagara Falls, where they captured an epic scenic photo with the majestic waters falling behind them.
Pulliam's tribute to her mom is also a reflection of their close relationship. The "Kandidly Keshia" podcast host hopes to foster that kind of relationship with her daughter, who she shares with her ex-husband, Edgerton Hartwell.
The "Radio Christmas" actress already has an idea of the lessons she plans to teach her daughter, especially as a Black female in today's society. She told Revolt:
"I'm showing her through my actions as a woman [...] To not be afraid to live her best, most powerful, boldest, most loving, and spiritual self."
Pulliam wants her daughter to know that anything is possible, which is why she supports her dreams, no matter what she desires. Unsurprisingly, Ella already has her eye on a career in the film industry.
Ella is fortunate enough to have the guidance of her mom, who was nominated for an Emmy at only six years old. Alternatively, She can also seek advice from her mom's fiancé, Brad James, who is also a famous actor.
James proposed to Pulliam in December 2020 after dating for a year. The newly-engaged couple met while filming "Pride and Prejudice: Atlanta," and instantly took a liking to each other.
Both James and Pulliam have been married before. "The Apprentice" alum was previously married to former NFL player, Hartwell in 2016 but the couple split just two months into their New Year's Eve nuptials.
Please fill in your e-mail so we can share with you our top stories!