See Keshia Knight Pulliam's Adorable Daughter Ella's Happy Mood as She Poses in Stylish Outfit
American actress Keyshia Knight Pulliam shared an adorable snapshot of her daughter, Ella Grace, posing in a stylish dress as she gears up for her fourth birthday. 
Actress Keshia Knight Pulliam's daughter Ella Grace turns four years old on Saturday and is stylishly grooving into her new age, as observed in a recent post the former made on her Instagram Story. 
Pulliam shared a photo that showed Ella clad in a white dress that she matched with long grey socks. The little tot was also adorned in a grey jacket and hat. 
Ella completed her stylish look with grey and purple Nike sneakers and accessorized with dark shades. She posed with her fists raised to the air, pouting her lips as she did. 
In the post's caption, Pulliam wrote, "This is 4," before revealing that her daughter dressed herself up, adding that she was rocking her "party squirrel pose." 
Pulliam shares Ella with her ex-husband Ed Hartwell, a retired NFL player who she separated from six months after they tied the knot in January 2016. 
Following their separation and Pulliam's announcement that she was pregnant with Ella, Hartwell demanded a paternity test to prove that he was indeed the father. 
While her first marriage experience left a bitter taste in her mouth, Pulliam did not say no to love and has given it another chance.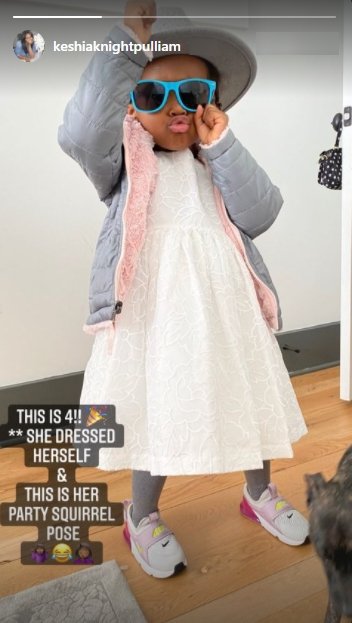 Pulliam maintained that the baby in her womb belonged to Hartwell and that she never cheated on him during their marriage. She was proven right when the paternity test results confirmed Hartwell was indeed Ella's father.
Despite those initial setbacks, the actress remained determined throughout her pregnancy, as she was focused on her baby's well-being and safe delivery. 
Pulliam eventually welcomed her daughter on January 23, 2017. The "The Cosby Show" actress announced her daughter's birth via a post on social media that showed a picture of Baby Ella's little feet. 
She and Hartwell finalized their divorce in April 2018. Their divorce settlement ended with the 41-year-old actress winning full custody of her daughter, who was one-year-old at the time. The courts also asked Hartwell to pay $3,007 a month in child support to his former wife.
While her first marriage experience left a bitter taste in her mouth, Pulliam did not say no to love and has given it another chance. She is presently engaged to actor Brad James.
 In an interview with MadameNoire, the mother-of-one revealed that James has a close bond with Ella and that they love and adore each other. 
The actress added that she would not be with James if that was not the case because her daughter's relationship with him is of the utmost priority to her.