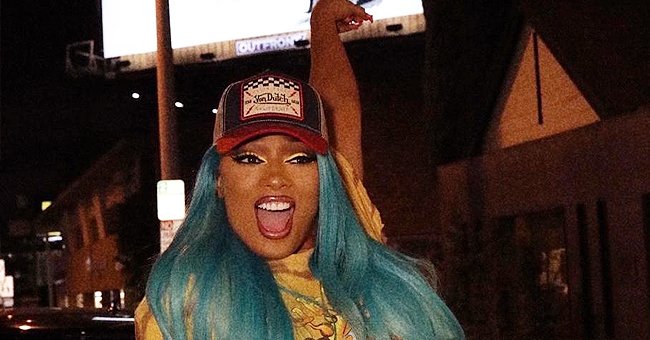 Instagram/theestallion
Megan Thee Stallion Smiles with Boyfriend Pardison Posing near Poster for Her Calvin Klein Ad
Megan Thee Stallion smiled and posed with her boyfriend Pardison Fontaine while standing next to a billboard of a Calvin Klein campaign advertisement featuring her in black and white.
Rapper and singer Megan Thee Stallion certainly seems happy to be the face of a Calvin Klein campaign advertisement. She posted a picture of her and her boyfriend Pardison Fontaine standing next to her billboard.
Megan was dressed in style as she posed for three snapshots. Sporting a casual yellow shirt with a red cap and gorgeous metallic blue hair, this famed music artist certainly seemed pleased with her knack for modeling.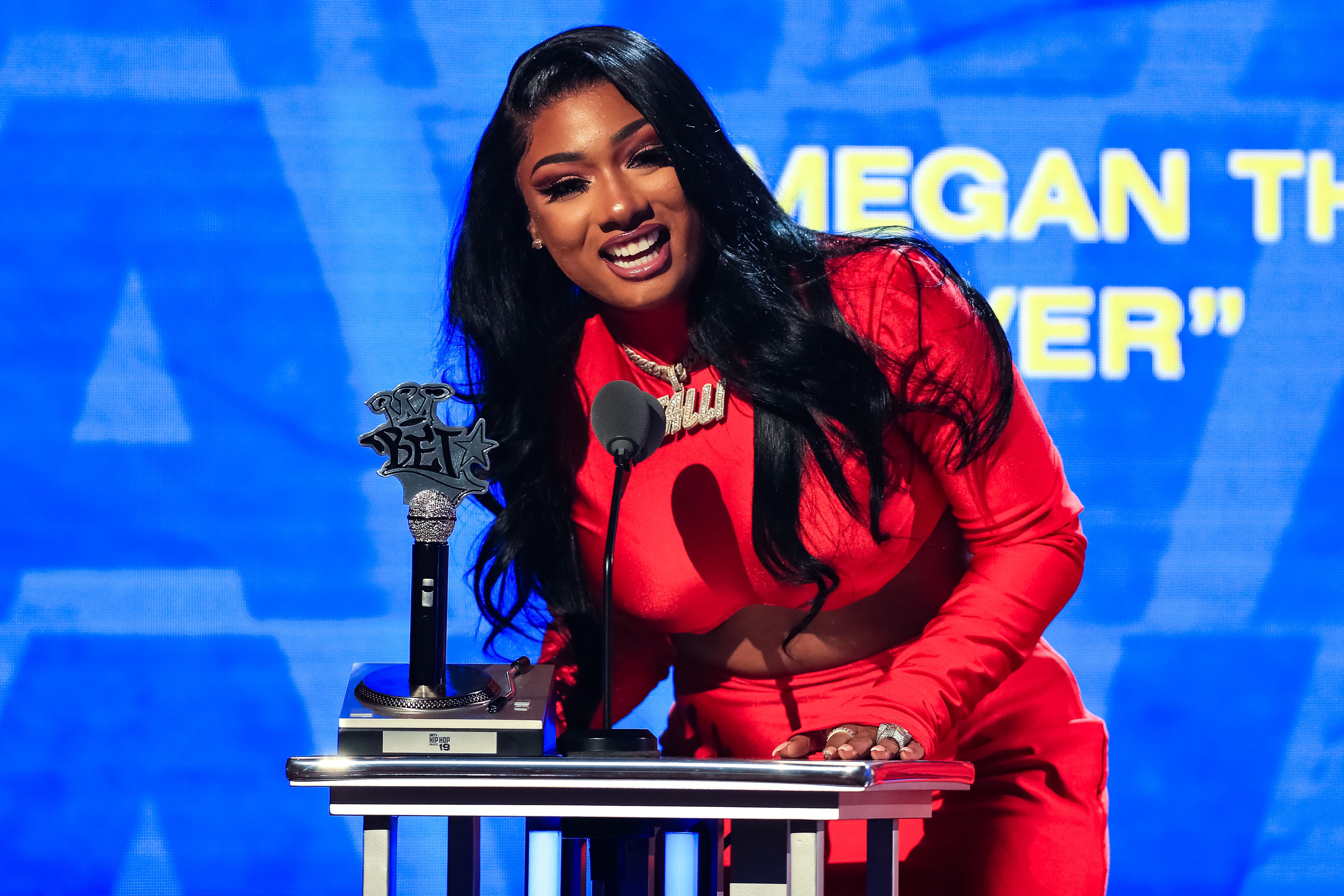 Rapper Megan Thee Stallion talking on stage at the BET Hip Hop Awards 2019 on October 5, 2019 in Georgia. | Photo: Getty Images.
In the first picture, Stallion is standing by herself, her excitement glaringly evident whilst she puts her one arm up and smiles widely in front of the Calvin Klein billboard. Expressing her exhilaration in the caption, the celebrity wrote:
"I'll be back , I'm bout to go crazy ? #mycalvins."
The following photo also featured her on her lonesome looking as cool as a cucumber with crossed legs, a peace sign, and a pouted mouth. Her yellow eyeshadow that matched her shirt brought together her entire quirky outfit.
It's only in the last snapshot that she is seen taking a selfie with her beloved and significant other Fontaine, who is a co-rapper himself. Both seem very happy about the ad, cutely smooshing their faces together and smiling with glee.
[T]his music artist didn't begin her rapping career until she was older than 21.
Fans of her Instagram account absolutely loved the snapshots, leaving an abundance of complimentary remarks as well as a bunch of loving emojis all throughout the comment section. The post attracted just over 760,000 likes in total.
Speaking about her campaign with the adored fashion company, the popular rapper said she had been a fan of Calvin Klein since she began wearing bras. She spoke about her dream as a kid, where she wanted to model for them, saying:
"When I grew up, I was like, 'one day, I want to [model for Calvin Klein].'"
She also admitted to wearing her pants a little below the waist in order to flaunt her branded underclothes when she was younger. In terms of fashion in general, she said that lately, she has been on the search for Black-owned clothing companies.
There's much more to know and discover about Megan that goes beyond rapping and modeling. For one, this music artist didn't begin her rapping career until she was older than 21 because her mom Holly Thomas said the field was too sexual.
Tina Snow and Suga are Megan's two interesting alter egos, with Snow being confident and ready to take on anything, and Suga acting as a more agreeable and vulnerable individual.
Speaking about Fountaine, Megan claimed that he is someone with a good heart as well as being quite protective. This seemed to be true when he took out all the stops on Valentine's Day, surprising his girlfriend with dinner and a jet ride.
Born in New York, he was originally given the name Kyle Lanier Thorpe. He admitted that he first took on the stage title "Pardi McFly" but changed it after thinking that someone like Jay-Z would never collaborate with someone called that.
Please fill in your e-mail so we can share with you our top stories!