Getty Images
Michelle Obama Says She & Barack Barely Get a Word in with Outspoken Daughters Sasha & Malia
Former First Lady Michelle Obama confessed that her two daughters are quite outspoken young ladies during an interview with Robin Roberts wherein she discussed various topics.
On Wednesday, March 3, 2021, Robin Roberts got to have a one-on-one remote interview with Michelle Obama. A short clip of the discussion was shared on Twitter by "Good Morning America."
In the video, Roberts was seen sitting in front of a large television screen where Obama, 57, appeared. In it, the former first lady spoke about some of her hopes for the future.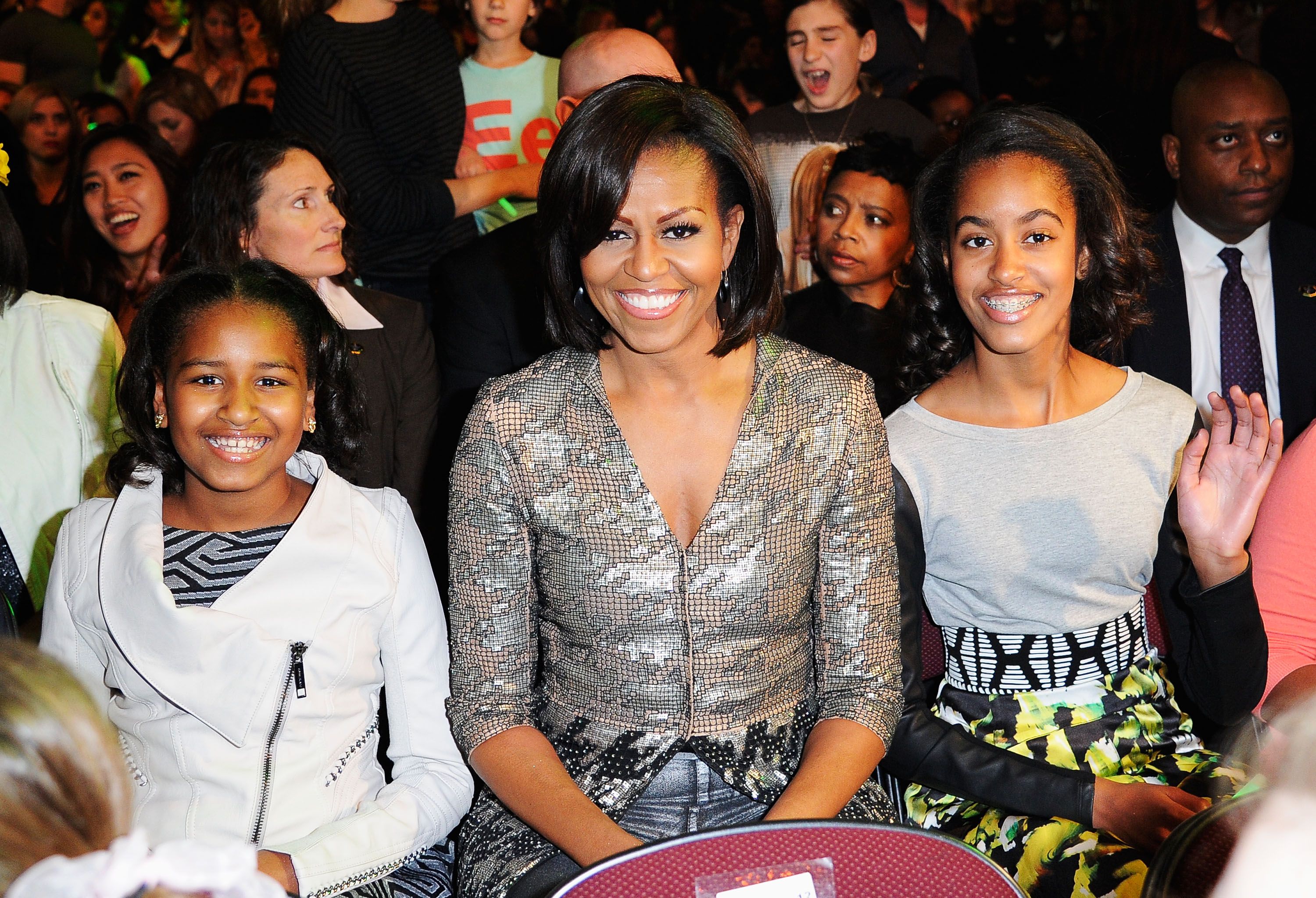 Sasha, Michelle, and Malia Obama at Nickelodeon's 25th Annual Kids' Choice Awards on March 31, 2012, in Los Angeles, California | Photo: Getty Images
The parent of two shared that she hoped she was becoming wiser, smarter, and more patient. Obama also wished to evolve into a person who was comfortable with getting out of the way.
She hoped stepping aside would allow the next generation to take her seat. The clip then cut to a past engagement that Obama had with young female students and future leaders.
In the video, the narrator also noted that the former first lady had a bestselling book, "Becoming," that was adapted for young readers. Roberts then turned the conversation to Obama's children.
The author and her husband, former President Barack Obama, share daughters Sasha, 19, and Malia, 22. Roberts noted that the former first lady knew the two young women very well.
Obama acknowledged them by jokingly saying, "Oh those two, yes." The television personality wanted to know what the first lady thought her girls learned from their mother's story.
Barack was referencing their participation in 2020's protests against racial injustice and police brutality.
The interviewee revealed that she hoped they'd learned that who they were at this moment was enough. She explained that she'd always wanted her daughters to practice the power of their voices from early on.
The parent confessed that she and her husband "couldn't get a word in edgewise" at the dinner table. However, the children being outspoken wasn't a bad thing in the Obama household, as the first lady explained:
"We want to hear their thoughts and their opinions."
During a "People" interview in November 2020, Barack confessed that he couldn't be prouder of his daughters. He was referencing their participation in 2020's protests against racial injustice and police brutality.
Talking about pride, Malia actually got hired for a writing post as part of Donald Glover's Amazon Project staff. As the past First Lady and President, Malia's parents were at Joe Biden's January 2021 inauguration.
Please fill in your e-mail so we can share with you our top stories!