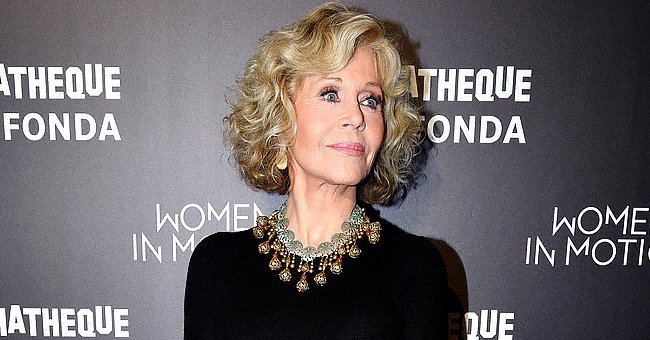 Getty Images
Jane Fonda, 83, Shares Her Excitement about Getting Muscles Back as She Exercises with Trainer
Actress-turned-activist Jane Fonda is getting her muscles back and is so excited about it that she shared one of her workout moments with her fans on Instagram.
If anyone needed the motivation to work out, then a picture showing an 83-year-old Jane Fonda keeping fit should serve as all the push they need.
The actress took to her Instagram page on Wednesday to share a snapshot that showed her with her trainer, Malin Svensson, during their workout session.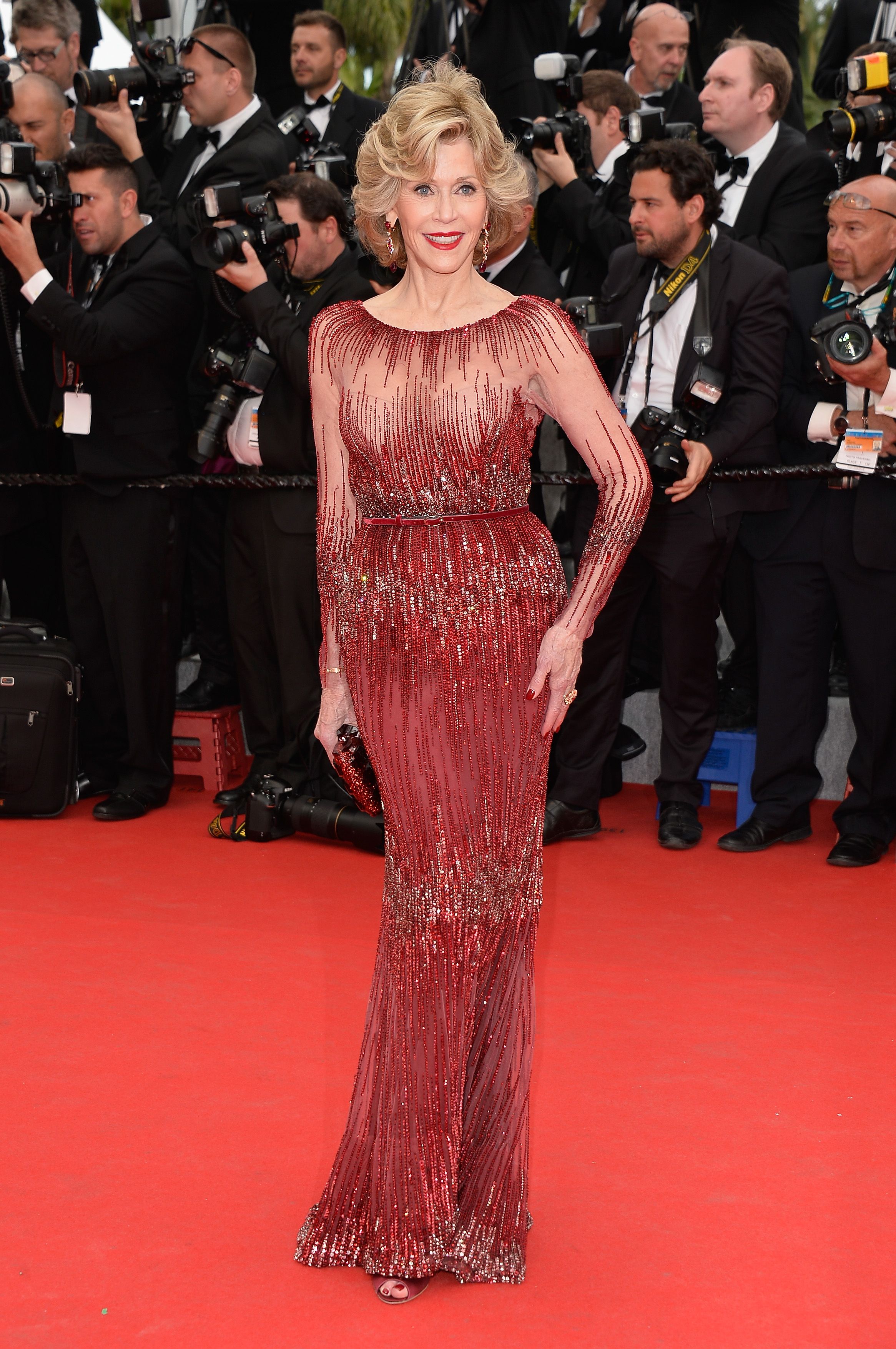 Jane Fonda during the Opening ceremony and the "Grace of Monaco" Premiere during the 67th Annual Cannes Film Festival on May 14, 2014 | Photo: Getty Images
In the snapshot, Fonda wore a white T-shirt with "I'm With Jane Fonda" printed on it. She matched the top with dark gray sweatpants and wore a gray head warmer. She also wore a white facemask and dark brown shades.
The actress sat on a gym ball. She posed, looking up to Svensson, who wore a black tank top, which she matched with tight lemon sweatpants with "Fonda" written on its sides.
Svensson posed, making a thumbs-up sign. She also wore a white facemask and had black shades hanging over her blonde hair. Fonda captioned the post:
"Back to work with my trainer, Malin Svensson, who specializes in people over 50 years. I'm getting my muscles back! At 83!!"
Fonda expressed her delight at the feat, adding that she was not sure such could happen at her age. She added multiple hashtags to conclude her post's caption.
Her elated fans shared in her excitement in the post's comment section, sharing their workout experiences with her and commending her for continuing to keep fit despite being over 80.
The actress revisited her iconic 1980s workout routine in a TikTok video to combat climate change while in quarantine.
Fonda has kept fit all her life and is credited with revolutionizing exercise with her 1980s at-home exercise routines. The "Jane Fonda's Workout" was released in 1982 and is one of the bestselling VHS tapes of all time.
The VHS tape followed on the heels of her New York Times bestseller of 1981, "Jane Fonda's Workout Book," and helped to galvanize her aerobic's empire, which held firm throughout the 80s and 90s.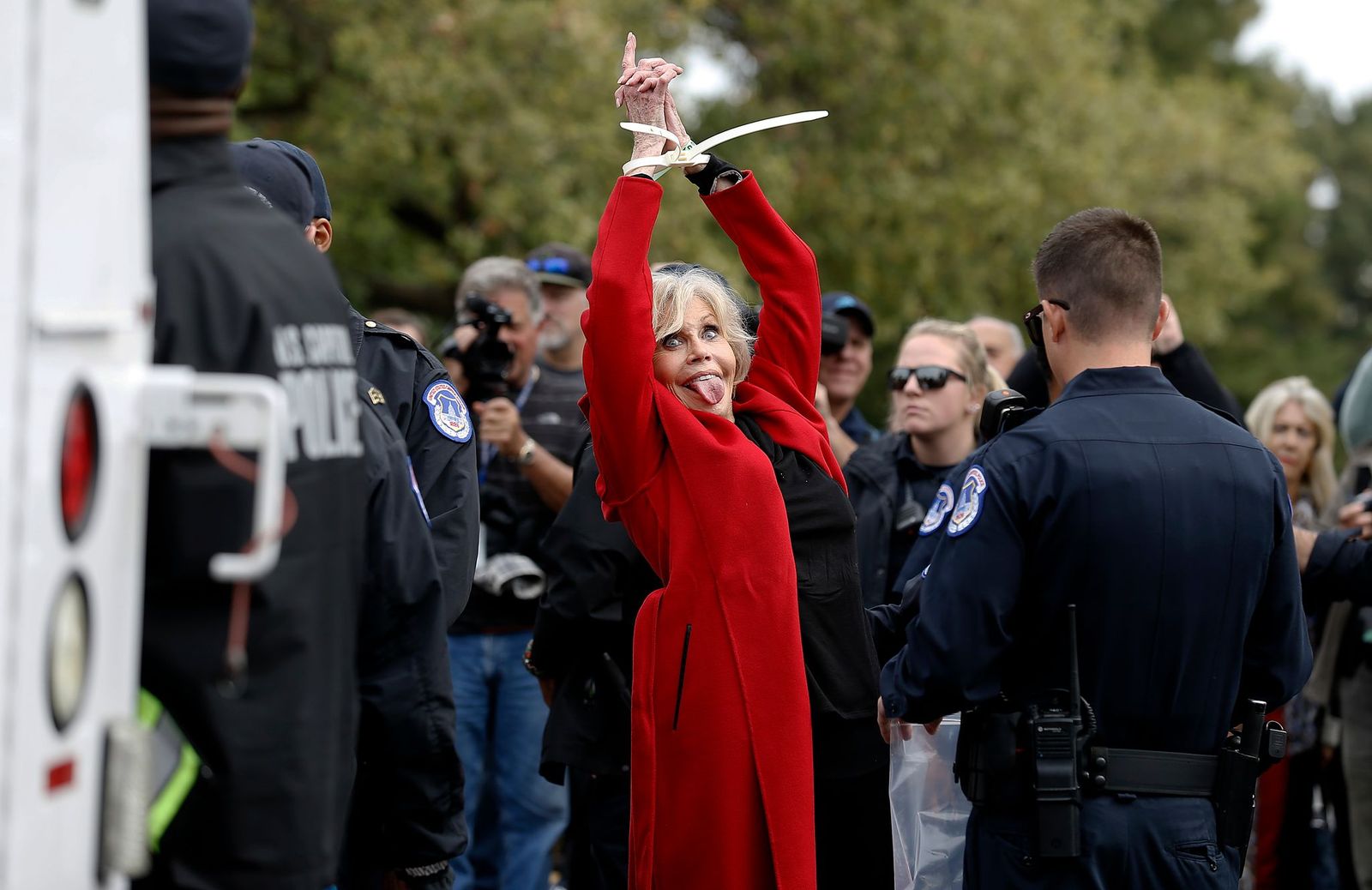 Jane Fonda getting arrested for the "Fire Drill Friday" protests. | Photo: Getty Images
With her VHS tapes, LPs, books, and videos, Fonda showed the world they did not need the gym to keep fit and laid the groundwork for the explosion of the fitness industry today and the hugely profitable home video industry of those years.
Fonda had many disciples worldwide, including Patricia Garcia, who wrote in a Vogue article that Fonda's 1982 workout routine is still the best exercise class out there today.
Last year, the actress revisited her iconic 1980s workout routine in a TikTok video to combat climate change while in quarantine. The video marked the first Fonda would ever post on the social media channel.
In the video, she recreated the leg lift workout routine from her famous 1980s videos before pausing to stress the importance of fighting climate change.
Please fill in your e-mail so we can share with you our top stories!