How '1000-LB Sisters' Star Tammy Slaton Reacted after Gaining 21 Lbs since Her Last Weigh-In
"1000-LB Sisters" star Tammy Slaton gained 21lbs since her last weigh-in and feels depressed about gaining more weight amid her journey to better health.
Tammy Slaton's weight loss journey recently experienced some obstacles, and the reality star is unhappy about it. Ahead of the season finale of "1000-LB," People Magazine gave fans a glimpse into the dramatic episode.
In an exclusive teaser clip shared, Tammy was seen having a virtual check-in with her doctor and her brother Chris to examine the progress of her weight loss journey. Due to complications from COVID-19, Tammy is keen on dropping some pounds.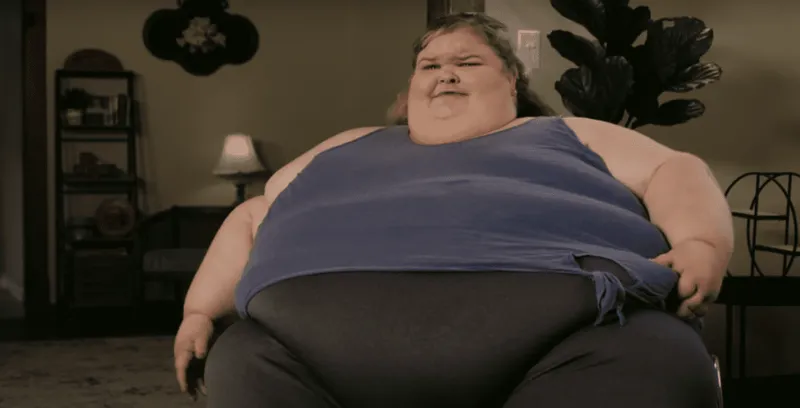 Unfortunately, Tammy discovered that she now weighs 665 lbs, meaning she gained an extra 21lbs since her last appointment. When asked by Dr. Eric Smith why she seems to be gaining weight, Tammy responded:
"I just wasn't doing what I needed to do. I mean, sometimes I try to eat healthier, and then other days I'm like, 'What the heck's the point?"
1000-Lb. Sisters' Tammy Slaton Is 'Even More Depressed' After She Hits 665 Lbs.​ https://t.co/m8El5F8zuE

— People (@people) March 4, 2021
Tammy explained to the doctor that after making poor choices about her health, she feels "even more depressed" because she knows it's not right to eat unhealthily, but she doesn't know how to stop.
Episode 7 of "1000-LB Sisters," which aired in February, saw Tammy open up about her sexuality.
1000-Lb. Sisters' Tammy Slaton Getting 'a Lot More Hate' About Her Weight: 'It's Not Helping'​ https://t.co/Q8YIpmJfsY

— People (@people) February 1, 2021
Amid her heartbreak, Dr. Eric Smith believes that Tammy's honesty paved the way for a breakthrough in her weight loss journey and praised her for being open with her struggles.
Tammy also revealed in the episode that she had been battling complications after testing positive for COVID-19 and is now on supplemental oxygen. Tammy and her sister, Amy's weight loss journey, is the focal point of the TLC show.
"It means love is love," Tammy Slaton proudly declared. https://t.co/4sJdFbbIfL

— The Real (@TheRealDaytime) February 15, 2021
For Amy, who managed to lose enough weight to undergo surgery, her wake-up call happened when she and her husband Michael Halterman tried to get pregnant, and they discovered it was a severe health risk.
However, while Amy has been able to make evident progress and was qualified for a weight loss surgery last year, the same cannot be said of Tammy. Episode 7 of "1000-LB Sisters," which aired in February, saw Tammy open up about her sexuality.
1000-Lb Sisters star Tammy Slaton's boyfriend Jerry Sykes is 'MARRIED' https://t.co/GeXFQUW0jt

— The Sun Showbiz (@TheSunShowbiz) February 17, 2021
The 32-year-old came out as pansexual to her longtime boyfriend Jerry, confessing that she would date anyone regardless of gender or sexuality. Tammy explained that it is all about how her partner makes her feel, not how they look.
Tammy disclosed that she found out about her sexuality while discussing it with a friend as she always thought she was bisexual. While the confession threw off Jerry, he noted that he is okay with it because he loves Tammy.