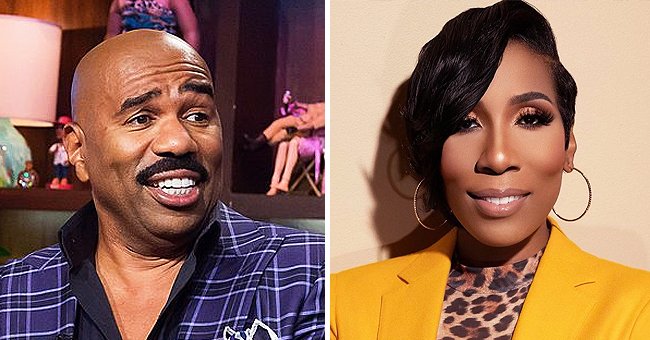 Getty Images and Instagram/iamsteveharveytv
Steve Harvey Praises His Twin Daughter Karli in a Post as She Wears Leopard Top & Yellow Jacket

Steve Harvey is an adoring father to seven children, no doubt proud of all their endeavors, such as his daughter Karli who he praised in an Instagram post.
Television presenter and father Steve Harvey took to his Instagram account to praise his twin daughter Karli on her business endeavors. In the post of his daughter, Karli is wearing a leopard top combined with a gorgeous yellow jacket.
Karli certainly looks like a professional and strong-headed businesswoman, with her arms crossed and posing in a power position. Her shoulder pad jacket also added to the executive feeling of the snapshot.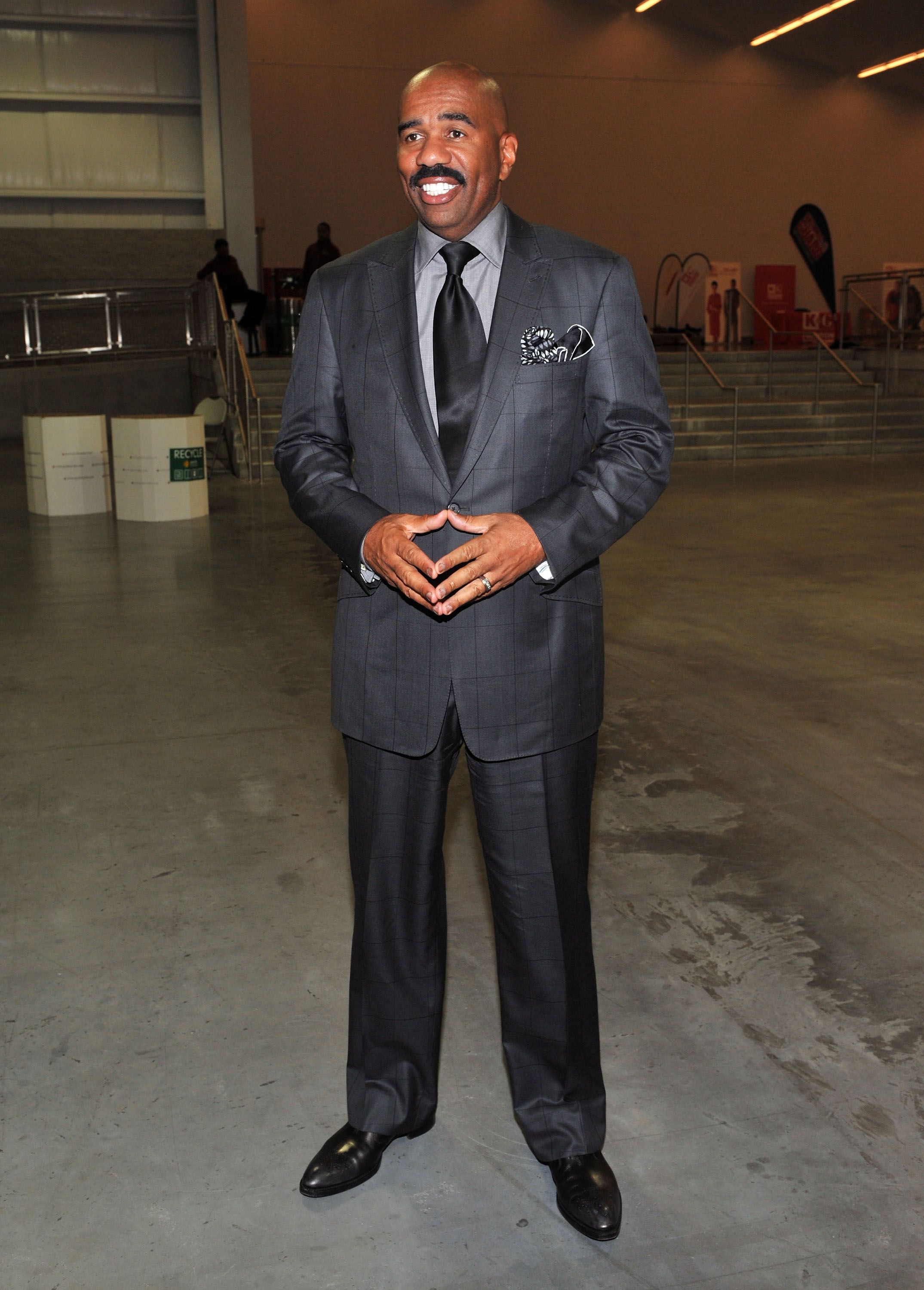 Steve Harvey at the 2011 Steve Harvey Mentoring Weekend on October 7, 2011 in New York. | Photo: Getty Images
A PARENT'S PRIDE
Karli seems cool and confident, posing in a gorgeous and bright yellow jacket, her glittering silver earrings complimenting its eye-catching look. Taking to the caption, Harvey wrote the following adorable words:
"So proud of my daughter Karli for opening her own business."
He continued, calling her a "Daddy's Girl" and expressing even more pride due to her receiving the "Honor Ring" in such a short amount of time. Many in the comment section were also impressed, congratulating the twin themselves.
The whole picture screamed yellow, black, and brown putting out a quirky yet serious ambiance. The light brown color of the wall caused Karli's colors to pop and also complimented her beautiful skin tone.
Harvey's track record with his seven kids has not been without controversy.
The leopard print underneath the business-like jacket also gave off a mischievous tone of pleasure mixed with play. Her glimmering eye-shadow finished off the look, complimenting her eyes as well as the general color scheme.
AN UNEXPECTED SURPRISE
Soon after her wedding to Ben Raymond, Karli found out that they were having a baby, which was a big surprise since they expected to experience a completely different lifestyle after being married. In her own words, she said:
"We were expecting to live the newlywed life of expensive dinners and travel."
However, the pair had to begin prepping for the birth of their son by creating a nursery on top of their pregnancy prep to-do list. Son Benjamin II eventually made his way into the world on June 16, 2016.
GRAND-DADDY
Harvey is not only a proud father but a proud grandfather as well. Taking to his Instagram page last November, the granddad posted a picture of him spending quality time with his grandchildren.
The comedian was surrounded by the little ones, holding the youngest in his lap, while another young one held onto the little baby's arm. With a full-faced smile, this celebrity looked to be enjoying this quality time to the fullest.
Although the post of Kali seems to imply a wonderful relationship between father and daughter, Harvey's track record with his seven kids has not been without controversy. In fact, he left Karli and her twin sister Brandi to pursue his career.
Luckily, the family came back together a few years later and made peace with each other. The twins admitted that it hurt them to see their father go but said that they now understood that the famous comedian "belonged to the world."
Please fill in your e-mail so we can share with you our top stories!